The Love Amendment To Release Debut EP February 25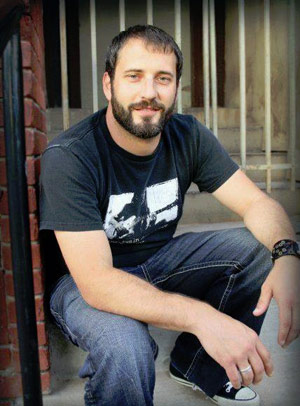 Vince Lichlyter
NEWS SOURCE: St. Muse Records
February 19, 2014
The Love Amendment is comprised of husband and wife duo, Vince and Amber Lichlyter. Vince, (founder and lead singer of Jonah33) had been known in the past for his aggressive portrayal of truth via loud drums, big guitars and gritty vocals. This time, however, he has teamed up with his wife, Amber, to deliver a much more intimate, personal worship project.
"All 5 songs have come directly from a place that we've been, whether good or bad," says Vince. "And that seems to be the key with people. We all want to know that we're on the right track, and if not, how to get back on it. Transparency will always be key, especially when it comes to leading worship."
Vince and Amber partnered with long-time friend and producer, Kyle Simpson from Tulsa, Oklahoma, to bring us their self-titled debut e.p. which was recorded in one long weekend in the Lichlyter's home.
"It was a whirlwind," recalls Amber. "Kyle showed up super late one night, and by the next morning, our living room was a full blown studio. Our hall coat closet became a vocal booth, and Vince tracked all the acoustic guitars in the bathroom. That's right. On the toilet! Combine that with juggling 4 kiddos and trying to keep them quiet while Vince and Kyle worked, like I said... It was a whirlwind!"
The balancing act paid off, as many Jonah33 fans and more will find out on February 25th (the E.P.'s scheduled release date to Itunes and Spotify among other various online sources.)
"I'm a little nervous because it's such a different sound from Jonah33," Vince says, as he fidgets anxiously in his chair. "There's nothing quite like taking your relationship with God and exposing it to the world."
Between Vince and Amber combined, they have almost 2 decades of leading worship and speaking to venues of all sizes. They currently reside in Northwest Arkansas with their 4 children: Jonah, Aubrey, Ava, and Jadyn, and their chocolate lab, Dave.
###
For more info on Jonah 33 visit the JFH Artists Database.