Rendezvous Music Announces The Release Of Gospel Praise Duets: Many Voices, One Message
Gospel Greats Collaborate On CD Available Online And In Stores May 27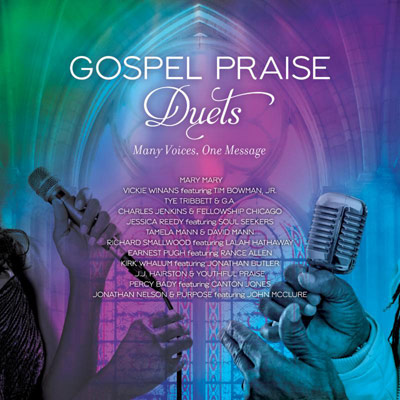 NEWS SOURCE: TKO Marketing
March 14, 2014
DETROIT (March 14, 2014) - Gospel's greatest artists have teamed up on Rendezvous Music's upcoming album, Gospel Praise Duets: Many Voices, One Message. The unique and inspiring album is available online and in stores on May 27, 2014. The task was to unearth the most unforgettable collaborations in Gospel music, and with only 12 slots to fill, the recordings on the project spotlight some of the finest callabos in the genre.
"Gospel Praise Duets is a collection of songs that not only features some of the best and popular vocal pairings in the genre, it will also get you up out of your seat, dancing in the aisle," said Denny Stilwell, Mack Avenue Records. "This set of songs was curated to be a real fan-pleaser, and we think it achieves that goal."
Gospel Duets: Many Voices, One Message features the harmonizing pairings of Charles Jenkins and Fellowship Chicago, JJ Hairston and Youthful Praise, Tye Tribbett and GA, Kirk Whalum and Jonathan Butler, David and Tamela Mann, plus more, for an aesthetically perfect set. The collaboration of these diverse talents trading off versus and choruses is a fine treasure, perfect for every Gospel music fan and aficionado.
Track listing for Gospel Praise Duets: Many Voices, One Message
1. Shackles - Mary Mary
2. How I Got Over - Vicki Winans & Tim Bowman
3. Bless The Lord - Tye Tribbett & GA
4. Awesome - Charles Jenkins & Fellowship Chicago
5. I'm Still Here - Jessica Reedy & The Soul Seekers
6. Heaven (The Love Song) - David & Tamela Mann
7. Praying For Peace - Richard Smallwood featuring Lalah Hathaway
8. All Things Through Christ - Earnest Pugh & Rance Allen
9. Falling In Love - Kirk Whalum & Jonathan Butler
10. The Victor - JJ Hairston & Youthful Praise
11. I Won't Give Up - Percy Bady & Canton Jones
12. Yes Lord- Jonathan Nelson & Purpose featuring John McClure
ABOUT RENDEZVOUS MUSIC
A division of Mack Avenue Records, Inc., Rendezvous Music is a record label founded in 2002, by multiple Grammy Award nominee and RIAA Certified Gold recording artist, Dave Koz, renowned radio entrepreneur, Frank Cody, and music business veteran Hyman Katz. Along with Rendezvous Music, Mack Avenue Records, Inc., is home to Artistry Music and Sly Dog Records, featuring musical artists in jazz, smooth jazz, traditional jazz and Gospel. For more information on Rendezvous Music, visit www.mackavenue.com/rendezvous_music.
# # #
For more info on Mary Mary visit the JFH Artists Database.