Unspoken's Successful Launch for Self-Titled Release Garners Top 20 Album Chart Position and Early Media Support
Band Wraps Radio Tour for Single, "Start a Fire," Impacting Stations Today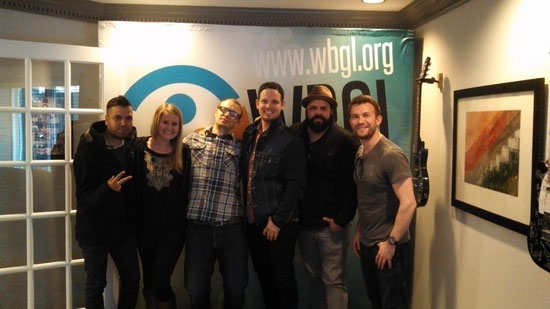 Left to Right: Mike Gomez/Unspoken; Lindsey and Johnathon, Co-Hosts of The Afternoon Show, WBGL; Chad Mattson, Ariel Munoz, Jon Lowry/Unspoken
NEWS SOURCE: Bozeman Media
April 11, 2014
NASHVILLE, TN (April 11, 2014) — Centricity Music's breakout band Unspoken celebrates a successful street week for its first full-length, self-titled album that released April 1st. Unspoken debuted last week at No. 35 on Billboard's Christian Albums Chart and quickly rose to No. 16 this week. The project is only for sale at retail through Lifeway Christian stores and available online at all music outlets. Lifeway's exclusive agreement will run through July 1st when Unspoken will become available at all retail outlets.
The band recently wrapped a well-received radio tour in support of the record and its lead single "Start a Fire," as stations welcomed the foursome in-studio for interviews and on-air performances, at such outlets as WFRN/Elkhart, IN,WHPZ /South Bend, IN, WCSG/Grand Rapids, MI, WJQK/Zeeland, MI and WLAB/Fort Wayne, IN. The single, "Start A Fire," is going for adds at radio today.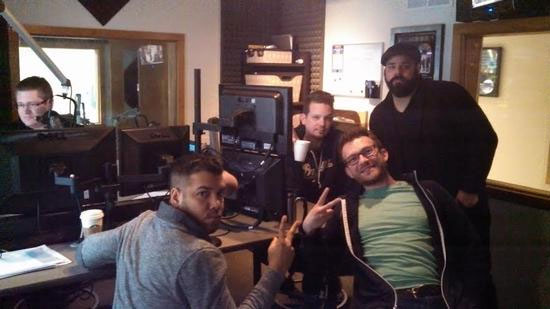 Unspoken In-Studio with John, Morning Show Co-host, WCSG-FM
Additional buzz surrounding Unspoken comes in the form of early media reviews with multiple outlets calling out its unique qualities, in particular the album's pioneering sound. Worship Leader Magazine praises the project for "redefin[ing] the sound of Christian modern pop," while NewReleaseTuesday.com describes it as "fresh" and "one of the best of the year."
Unspoken was produced by award-winning producer Seth Mosley (Newsboys, Francesca Bastistelli), with the exception of "Who You Are," produced by Jason Walker (Audio Adrenaline). In addition to highlighting popular songs from the group's two EPs, such as Top 5 singles "Who You Are" and "Lift My Life Up," the record also demonstrates Unspoken's continued growth with stellar new tracks including "Good Fight," "Call It Grace," "Real Thing," "My Recovery," and "Start A Fire."
Unspoken will continue to debut music from the album this fall while on tour with labelmates Jason Gray, Carrollton, and Lindsay McCaul. For an updated tour itinerary, visit www.unspokenmusic.com. Also, check out Unspoken's feature interview in this month's CCM Magazine, as well as on upcoming episodes of LeSea Broadcasting's "Harvest Show" and "Live From Studio B."
For more on Unspoken, visit www.unspokenmusic.com. Also follow the band on Facebook: www.facebook.com/unspokenmusic and Twitter: @unspokenmusic.
About Unspoken
Unspoken, a successful indie band before signing with Centricity in 2011, released its first label EP, Get To Me, June 2012. The project's lead single, "Who You Are," became a Top 4 radio hit, earning Unspoken a number of high profile appearances, including a performance at the Christian Music Broadcaster's premier event, Momentum. The following year, Unspoken released its second EP, The World Is Waking, which produced the Top 5 single "Lift My Life Up." Its first full-length, self-titled project released April 1, 2014. The group remains an active touring band having performed alongside Big Daddy Weave, Sanctus Real, and Chris August, among others, while also headlining many fundraising concerts in support of Celebrate Recovery, an organization that helps recovering addicts.
About Centricity Music
Centricity was founded in 2005 with a commitment to artist development and stylistic diversity. Based in Franklin TN, artists include Aaron Shust, Andrew Peterson, Carrollton, Jason Gray, Jonny Diaz, Lauren Daigle, Lindsay McCaul and Unspoken. The company's mission is to enable their artists to create life-changing experiences for the world. Providing label, management and publishing services, Centricity is a family owned organization and they like it that way. For more information on Centricity Music, please visit: www.centricitymusic.com.
###
For more info on Unspoken visit the JFH Artists Database.