Scott MacIntyre to Release New Album "Lighthouse" September 23rd
Project Presents Eleven New Songs and Features Fellow American Idol Alumni
Danny Gokey and Skylar Laine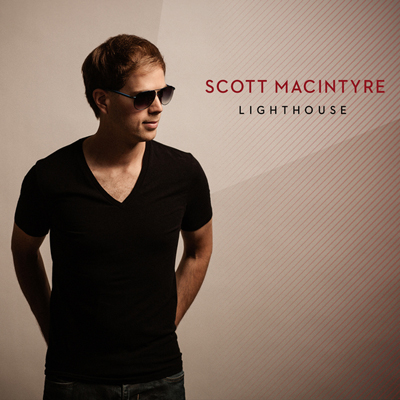 NEWS SOURCE: Bozeman Media
August 6, 2014
Nashville, TN (August 7, 2014) ------ The popular singer/songwriter and American Idol finalist, Scott MacIntyre, is scheduled to release his new album, Lighthouse, on September 23, 2014. The eleven song project was produced by Grammy nominated Matt Bronleewe (Plumb, Hayden Panettiere, Joy Williams), Dove nominated Kyle Lee (TobyMac, Michael W. Smith, Phillips, Craig & Dean), and MacIntyre joining in on the production duties. Ten of the eleven compositions featured on Lighthouse were written or co-written by MacIntyre. The album is being released through Mini Mac Music and will be distributed by New Day Distribution.
"I'm really excited about this new album," says MacIntyre. "I've been so blessed to work with incredible co-writers and producers, and I really feel like we've been able to capture the essence of the Christian walk in these songs."
MacIntyre also explains the meaning of the album's title. "One of the most comforting things I've learned is that no matter what craziness is going on in my life, God stays constant. He is like a lighthouse standing tall and true, guiding his children home."
The first single from Lighthouse is the powerful track, "Fifty Second Chances," that is currently going for adds at radio and is available online at iTunes and Amazon. The lyrics cut to the heart of our struggles with faith that are buoyed by the grace and forgiveness of Christ. I need fifty second chances/And a hundred near misses/A thousand more I'm sorry's/And a million questions why/Though I don't yet have a martyr's faith/I'm willing to try/Forgive me for all my circumstances/Thank you for fifty second chances. Other standouts on the album include the upbeat, hand clappin' tune, "Hallelujah Song," that features fellow American Idol alumni, Danny Gokey. Another American Idol finalist, Skylar Laine is featured on the heart-felt wedding ballad, "With This Ring." The project closes with MacIntyre's "I Am Hope," the well-known anthem for organ donation that is spotlighted with lyrics about God's continual promise of hope in the midst of adversity.
MacIntyre will maintain an active tour schedule for the rest of the year, with upcoming concerts throughout the states and in Canada. A kidney transplant recipient and strong advocate for the transplant community, several of his shows will be done in support of organ donation, including upcoming appearances this fall for the National Kidney Foundation Walks in New York City, Los Angeles, CA, Boston, MA, and Miami, FL. MacIntyre also works closely with Donate Life America to further promote the cause of organ donation.
The talented artist is also heading to Vietnam with his wife, Christina, for two weeks to perform in support of Viet UC Family, a privately-funded organization which aims to break the poverty cycle and provide opportunities for Vietnamese youth to improve their future.
For further updates on MacIntyre please visit online www.scottmacintyre.com, on Facebook www.facebook.com/ScottMacOfficial and at Twitter, @ScottDMacIntyre.
About Scott MacIntyre Scott MacIntyre inspired the world when he competed on American Idol and became a finalist in 2009. He was the first blind contestant in the shows history and one that will always be remembered due to his incredible talent and positive attitude. MacIntyre never publicly revealed he had a kidney transplant until he released his book, By Faith, Not By Sight published by Thomas Nelson in 2012. In 2013, the book was translated and published in Indonesian. The autobiography details MacIntyre growing up as a child prodigy, when he began playing piano by ear at 3-years-old. This led to MacIntyre learning to play guitar, bass, drums and organ, before graduating from college with a Piano Performance degree at 19-years-old. MacIntyre attended several esteemed universities in the states and abroad, and was awarded Marshall and UK Fulbright scholarships, while being ranked by USA Today as one of the top 20 undergraduate seniors in the nation. MacIntyre has enjoyed a successful solo career and has shared the stage with such notable artists as The Band Perry, Michael W. Smith, Jeremy Camp, and Joel Crouse, among many others. His previous album, Heartstrings, debuted at No. 18 on the iTunes Pop Album Chart and his holiday album Christmas in Paris featured his original song "Christmas Angel" which enjoyed radio success in 2010. His upcoming project, Lighthouse, releases September 23, 2014. MacIntyre resides in Nashville, TN with his wife, Christina.