FIRST-EVER CHRISTMAS RECORDING FROM LEGENDARY VOCALIST JOHN SCHLITT HITS
BRICK AND MORTAR RETAILERS TODAY
Grammy and Dove Award Winner Releases
The Christmas Project For Holiday Season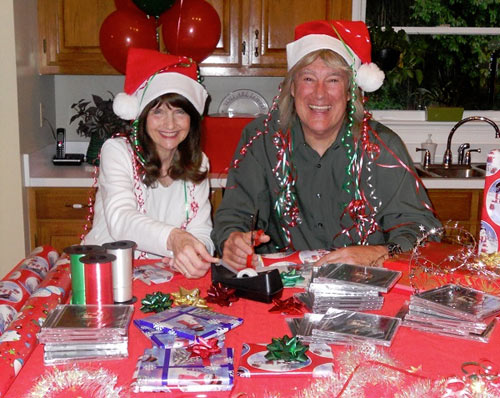 John Schlitt, right, and his wife, Dorla, left, prepare to fill Christmas stockings throughout the world with today's brick and mortar release of the legendary vocalist's first-ever recording of holiday music, The Christmas Project. (McCain & Co. Public Relations photo)
NEWS SOURCE: McCain & Co. PR
September 2, 2014
NASHVILLE, Tenn. (September 2, 2014) - Grammy and Dove Award winning vocalist John Schlitt is set to fill Christmas stockings with today's brick and mortar release of his first-ever recording of holiday music, The Christmas Project.
The CD, available through Elevate Entertainment and Send The Light Distribution, can also be found at retailers including Lifeway Christian Stores, Family Christian Stores and Munce Group member stores, as well as online through BestBuy.com, walmart.com, Amazon, iTunes and others.
"This is the first time I've had almost a full year to promote a CD, and The Christmas Project is worth it," says Schlitt, who released the project in digital format only in November 2013. "We have created a wonderful package, thanks to the skill and belief of my producer and the musicians who gave 100 percent. The reaction to the digital release last year was amazing and I'm excited that this project is now in retail stores. Christmas is one of my favorite times of the year and I'm so humbled to have a CD out there celebrating this blessed season."
The full-length CD is comprised primarily of beloved traditional Christmas carols, but that doesn't mean The Christmas Project is all egg nog and holly. This album rocks with the unmistakable John Schlitt style that legions of fans have come to know and love. The icing on the Christmas confection is an original tune, "What Christmas Needs to Be," which is destined to become a seasonal classic.
Schlitt launches The Christmas Project with what is arguably the greatest Christmas song of all time, "The Hallelujah Chorus." While Handel's masterpiece has been interpreted by a multitude of musicians over the past 250 years, no one sings "hallelujah" like Schlitt. "The Hallelujah Chorus" transitions seamlessly into a guitar-driven, barn-burning version of "Do You Hear What I Hear." "Little Drummer Boy" gives Schlitt the freedom to explore his full range of vocal prowess, starting at a muted whisper before embracing his full-throttle, wailing rock roots while holding fast to the traditional melodies of the beloved carol. A music video of "Little Drummer Boy" by the award-winning Saylors Brothers (Israel & New Breed: Live From Another Level Concert DVD) is available on YouTube (YouTube.com/LittleDrummerBoy)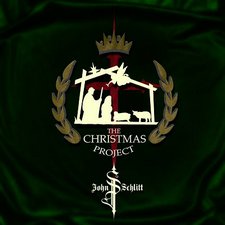 Schlitt reins in his potent vocals for a gentle, reverent interpretation of "O Holy Night," then ratchets up the intensity on "God Rest Ye Merry Gentlemen," a rock-inflected fist-pumper that is guaranteed to get the listeners' blood flowing. The versatile vocalist shifts moods to one of pure fun with the funky Irish reel "Good Christian Men Rejoice," then slides comfortably into the mellow, bluesy "That Spirit of Christmas," made popular by the legendary Ray Charles.
Melancholy keys and strings embellish Schlitt's emotion-laden vocals on the traditionally arranged "We Three Kings." The gently rocking "What Christmas Needs to Be" leads into the project's closing tune, the reflective "What Child Is This." "What Child Is This" provides the perfect foil for Schlitt's signature vocal stylings, allowing him to channel his passionate delivery through a filter of awe at the enormity of this central event in history.
Schlitt utilized the popular crowd funding platform Kickstarter to raise financial support for the new album.
To purchase The Christmas Project, visit schlittshop.com or your favorite retailer.
About John Schlitt:
For more than three decades, John Schlitt has enjoyed a stellar musical career as a solo artist, as the lead singer for Grammy Award-winning Christian band Petra, one of the most successful Christian rock bands of all time, and as the former lead singer for popular '70s mainstream rock band Head East. He has been inducted into the Gospel Music Hall of Fame as the lead singer of Petra during the years when the band won 10 Dove Awards and four Grammy Awards. Named the best rock singer in Christian music history by GospelMusicChannel.com, Schlitt "remains one of the most distinctive and impactful men to ever stand behind a microphone," according to the website. Schlitt was also named Male Vocalist of the Year in About.com's 2011 Readers' Poll in a category that included Chris Tomlin, Jeremy Camp, Brandon Heath and Bebo Norman.
During the last several years, the legendary vocalist's busy schedule has included appearances on The Mike Huckabee Show, 700 Club Interactive, TBN's Praise the Lord, 100 Huntley Street, Cornerstone TV's Focus Four, Jay Sekulow Live! and the Faith & Freedom Celebration--the faith-based kick-off to the Republican National Convention, as well as extensive international touring.
For more information on Schlitt and The Christmas Project, visit johnwschlitt.com or follow him on Twitter (@johnwschlitt) or Facebook (facebook.com/johnwschlitt).
- ### -
For more info on John Schlitt visit the JFH Artists Database.