Switchfoot's Tim Foreman Sings First-Ever Live Lead Vocals Song In Bloomsburg Last Night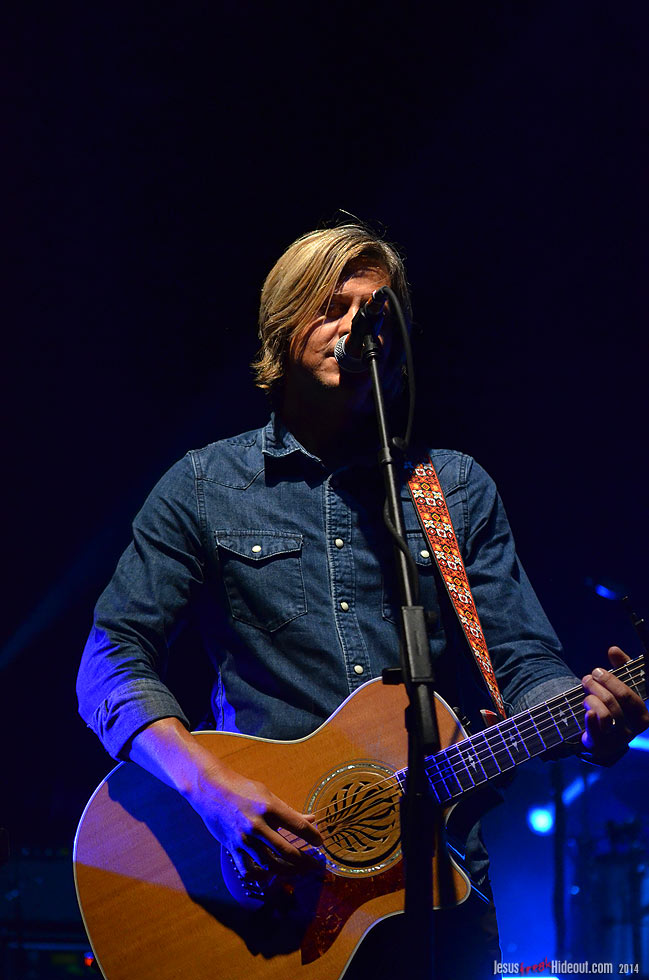 NEWS SOURCE: Jesusfreakhideout.com
September 15, 2014
Jesusfreakhideout.com had the pleasure of being in attendance at Switchfoot's second stop on their fall Fading West Tour when Uprise Events brought the show to Bloomsburg University last night in Bloomsburg, PA. This past Tuesday, Switchfoot had released their new EP, The Edge of the Earth, compiling 7 more songs from the soundtrack for their feature film Fading West. In the film, the band's bassist Tim Foreman wrote a song in the wake of an emotional moment involving the Foreman family, inspiring Tim to sing lead vocals for the first time ever for a Switchfoot song. The song, titled "What It Costs," didn't appear on the band's full-length Fading West album earlier this year, but was finally released to the public on The Edge of the Earth.
To celebrate the release of the EP, Switchfoot performed "What It Costs" live for the Bloomsburg audience, with the younger Foreman trading his usual bass for an acoustic guitar. Tim took the spotlight for the song, with his brother Jon singing back-up, and the song followed with an outpouring of praise from Jon about his brother's performance. They admitted that they didn't want there to be any "fanfare" leading up to Tim's performance, but Jon couldn't help but gush about his brother's first time singing lead in a live setting. Tim added, "That was scary! I don't know how you do that every night."
Check out a video clip we snapped below last night of part of Tim's performance. And be sure to grab The Edge of the Earth EP on iTunes!
After the Switchfoot concert, Jon Foreman did an acoustic after show, performing a couple Switchfoot songs that weren't played during the main event. He then played as of yet to be released fan favorite solo song, "All of God's Children" for the Bloomsburg fans and added that it will be part of a new series of solo EPs to release in 2015. We caught some of that song on video, too, which you can view on YouTube here.
A full write-up on the show including photo gallery will be coming soon.
JFH Review Links:
Fading West movie
Fading West album
The Edge of the Earth digital EP


For more info on Switchfoot visit the JFH Artists Database.
For more info on Jon Foreman visit the JFH Artists Database.