Dr. Ben Carson Helps Teens Use Their Brains to Overcome Obstacles
The #1 New York Times bestselling author applies his
T.H.I.N.K. B.I.G. principles to help teenagers succeed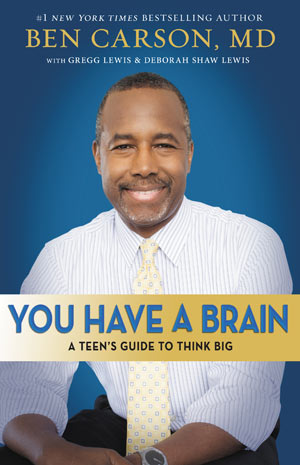 NEWS SOURCE: HarperCollins
January 27, 2015
Grand Rapids, MI-January 27, 2015- Make no mistake, Dr. Ben Carson-a world-renowned surgeon, bestselling author, and nationally respected political pundit-knows about hardship. Dr. Carson grew up in inner-city Detroit. His mother was undereducated, and held several jobs to support her sons after their father left the family. He struggled academically in grade school and was often the target of ridicule from his classmates. His violent temper got him into trouble on numerous occasions. In every respect, Dr. Carson's harsh circumstances seemed only to point to a troubled end. But that's not what happened. Dr. Carson rose from his tough life to one filled with amazing accomplishments and international renown. In his new book, You Have a Brain: A Teen's Guide to Think Big, Dr. Carson offers teens hope for the future, drawing on his own tried and true inspirational philosophy that led to his success.
Based on the concepts found in Dr. Carson's New York Times bestselling book Think Big: Unleashing Your Potential for Excellence, You Have a Brain unpacks the eight important parts of Thinking Big-Talent, Honesty, Integrity, Niceness, Knowledge, Books, In-Depth learning, and God (T.H.I.N.K. B.I.G.) on a level that is applicable to the lives of teen readers. Dr. Carson also shares the stories of the people who demonstrated each characteristic in his life and encourages readers to look closely at the people in their lives for positive examples to follow.
Dr. Carson writes with empathy for teen readers and gives hope to those who can only imagine their life as a series of shattered dreams, demonstrating that they have the potential to be successful too. He presents a positive future to those who feel discouraged, and he offers a means of guidance for those who are seeking well-roundedness for success. An advocate for young people, Dr. Carson is dedicated to providing opportunity, through programs like the Carson Scholars Fund and Ben Carson Reading Rooms, and offering hope through his books, including You Have a Brain. Dr. Carson wants his readers to know that life is BIG-far bigger than they've imagined.
Inside You Have a Brain are keys to recognizing the full potential for life. You Have a Brain will be available in stores nationwide and online on February 3, 2015 in a hardcover format for $16.99
About the Author: Dr. Ben Carson, MD is an emeritus professor of neurosurgery, oncology, plastic surgery, and pediatrics at the Johns Hopkins School of Medicine. In 1984, he was named director of pediatric neurosurgery at Johns Hopkins Children's Center, a position he retired from in 2013. In 2008, he was awarded the Presidential Medal of Freedom, the highest civilian honor in the land. Dr. Carson has written six bestselling books, and his fifth book, America the Beautiful: Rediscovering What Made This Nation Great, released in early 2012, making the New York Times Bestseller List. His sixth book, One Nation: What We Can All Do to Save America's Future, was released in 2014, and became a number one New York Times bestseller.
Zondervan is a world-leading Bible publisher and provider of Christian communications. Zondervan, as part of HarperCollins Christian Publishing, Inc., delivers transformational Christian experiences through its bestselling Bibles, books, curriculum, academic resources and digital products. The Company's products are sold worldwide and translated into nearly 200 languages. Zondervan offices are located in Grand Rapids, MI. For additional information, please visit www.zondervan.com.
- ### -