CAPITOL CHRISTIAN MUSIC GROUP AND JESUS CULTURE MUSIC ANNOUNCE THE NEW LIVE RECORDING FROM JESUS CULTURE RELEASING JANUARY 15, 2016
NEW ALBUM TITLE, LET IT ECHO, AND COVER ART REVEALED TODAY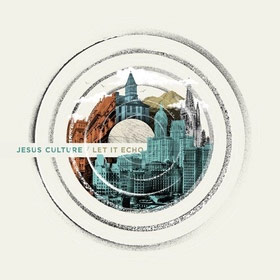 NEWS SOURCE: Merge PR
December 7, 2015
NASHVILLE, TENN. (DECEMBER 07, 2015) Capitol Christian Music Group (CCMG) and Jesus Culture Music announce the new album and ninth live recording from Jesus Culture releasing on January 15, 2016. Jesus Culture revealed the album title and artwork earlier today to their fans via social media. The album title - Let It Echo - captures the heart of the community of the one-year-old church in Sacramento, CA seeking Jesus with a desire to know Him more and to see this passion spread from cities to nations.
"This last year was a tough season for us as a community, and the songs we wrote for this album reflect the breakthrough, the victory, and the growth we have experienced through that," shares Kim Walker Smith President of Jesus Culture Music and Jesus Culture Publishing. "I believe there is a new maturity in our writing that comes from a place of deep intimacy with Jesus. My hope is that as people listen to the album they will encounter Jesus and be filled with hope, life, joy, and fresh passion for His presence. I pray that the message of life and Jesus that fills these songs would echo within the hearts of the listeners and across the nations."
Let It Echo is the first album recorded live in front of their congregation in their new city where they planted the local expression of the Jesus Culture movement. The church celebrated the first anniversary of the campus in September, and these new recordings will go from their home base in California to the nations with the release of Let It Echo. This album includes 12 new songs featuring Kim Walker-Smith, Chris Quilala, Bryan & Katie Torwalt, and more.
"As we chose to praise through every circumstance, we became even more aware of the eternal kingdom that we are anchored in," states Jesus Culture worship leader Chris Quilala. "Music and song have been healing for my soul, and as I began writing my heart was renewed with the truth that God is always good and always with us. One of the most rewarding moments of the year was the privilege of leading these songs at our new church. The church has been such a huge support through the hardest season of my life, and hearing them proclaim these songs at the top of their lungs felt like a beautiful sound of victory, not only for myself but for us as a community."
This is the first Jesus Culture live recording that will be released since the CCMG partnership with Jesus Culture Music. Jesus Culture will be debuting the new songs live at their annual conference in Sacramento on January 23rd-24th. To register please visit www.jesusculture.com. Their last release from Jesus Culture, Unstoppable Love (2014), climbed to No. 2 on the iTunes overall chart and debuted at No. 25 on the Billboard Top 200 chart and No. 1 on the overall Top Christian/Gospel Albums Billboard retail chart.
ABOUT JESUS CULTURE MUSIC: Jesus Culture Music is Sacramento, CA-based and led by Senior Team Director Banning Liebscher. Jesus Culture was formed through the momentum of a movement that is focused on equipping a generation to transform society by bringing people into an encounter with God's love through worship and discipleship. Jesus Culture Music albums capture the heart of this movement. Jesus Culture Music has sold more than one million albums worldwide since their debut project in 2005 and garnered more than 3.8 million followers on social media and over 34.5 million views on YouTube.
Jesus Culture Music is a label that contains 12 artists including: Jesus Culture Band, Kim Walker-Smith, Bryan and Katie Torwalt, Chris Quilala, Kristene DiMarco, Derek Johnson, Justin Jarvis, Andrew and Mary Kat Ehrenzeller, Chris McClarney, Skyler Smith and Josh and Amberly Klinkenberg. To date, the Jesus Culture Band has recorded ten albums and released a total of 25 projects on their music label.
Throughout this year, CCMG and Jesus Culture Music have released four successful projects to the worship community: the debut solo release from worship leader Derek Johnson with Real Love; Chris McClarney released a Top 10 Billboard's Top Christian Albums Chart with his album Everything And Nothing Less; Kristene DiMarco's album Mighty was the highest selling debut for Jesus Culture Music as a new and developing artist, and this fall, Jesus Culture Music released the first live album from renowned singer/songwriter John Mark McMillan titled Live at the Knight.
###
For more info on Jesus Culture visit the JFH Artists Database.