JAYDEN FROST, FORMER TOURING LEAD VOCALIST FOR WHEN IN ROME (U.S. VERSION), RELEASES LATEST SOLO PROJECT TITLED EVERYTHING
EP Produced By Ian Eskelin, Barry Weeks

First Single "Everything" Lyric Video Out Now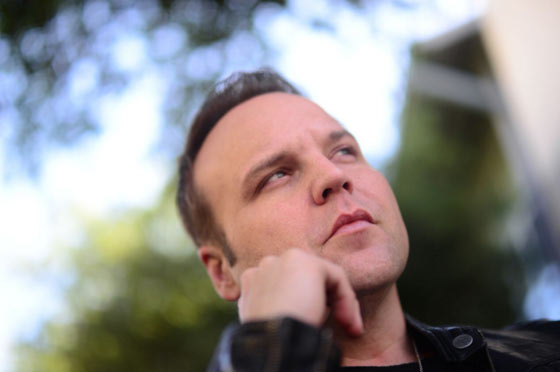 NEWS SOURCE: Merge PR
April 21, 2016
21 April 2016 - Nashville, Tenn - The former touring lead vocalist for 80's iconic band When In Rome (U.S. Version), Jayden Frost, has just released his latest project, an EP titled EVERYTHING. The six songs found on Everything were co-written by Frost and produced in Nashville along with Dove Award-winning producers Ian Eskelin and Barry Weeks. With a deep influence for 80's music, the songs found on Everything are influenced in the spirit of the iconic decade, yet very relevant to today. The lyric video for the EP's first song, "Everything," is below.
"The song 'Everything' really took the lead from the moment we started recording it," Frost shares. "I really enjoy singing this one. I would say the song is very 'wear your heart on your sleeve' and to the point. 'Youíre everything I need and more, and everything I am is Yours.' Iím looking forward to performing this one live."
Finding his faith in 1996 after a serious bout with depression and even considering taking his own life, Jayden Frost has always loved Christian music but always found himself on the outside of the industry. ďI always thought in the back of my mind that one day I would pursue a career in Christian music, but deep down I never thought I would be good enough or that my past would allow me to belong. Thereís no doubt in mind that it took a tragedy to bring me to this place of surrender. I was on a fast track to what I was calling success and suddenly I was derailed, then humbled to a point of realizing that there may not be a 'one day,' that thereís only today."
Frost began to research producers that were charting on the Christian music charts and sent a plea of sorts to about a dozen. "I began to ask God to direct me towards those that are where I want to be," he shares. "Literally one day later, Barry Weeks contacted me and said he liked what I was doing and wanted to help, so he and his writing and production parter Ian Eskelin produced the EP and helped me form my demos into a story and make them sound radio ready. I believe in this project, and so does Ian and Barry. Iím knocking on the door of Contemporary Christian Music, bringing 18 years of stage and studio experience as well as a unique sound. I want to help make this industry even stronger, to help reach the lost, as well as to help teach (through my music) others how they can follow their dreams."
MORE ABOUT JAYDEN FROST: He began his touring career with When In Rome ("The Promise") in 2005 when friend Michael Floreale, one of the band's original members and co-writer of "The Promise," moved to Dallas when the band broke up. When Frost was working on his own music during this time, Floreale came on board to produce and play on it. When Frost's album, Blue, debuted in 2005, that same year an agent trying to get When In Rome back on tour, heard Blue and asked Frost to be the lead vocalist for a handful of shows since the original vocalist was not going to be part of the tour. He ended up touring for 37 of their shows around the U.S. and sharing the stage with many iconic 80's bands, such as DEVO, Psychedelic Furs, The Motels, Tone Loc, A Flock of Seagulls and more.
After the extensive tour, in the years following Frost began working as a DJ around his hometown of Dallas and also performing with 80's tribute band Retro Pop Academy. Their heavy touring schedule took its toll, eventually losing his voice due to nodules on his throat. The time of rest allowed him to fulfll another dream of running a vintage toy store. In 2013, Frost opened DFW Vintage Toys in Dallas suburb Carrollton.
Thankfully, running the store also allows him to continue to make music as well as tour. Frost will be touring the Everything EP this month and in May with Information Society's Christopher Anton. Visit here for more information.
In his career, Frost has performed more than 2,000 live shows, most recently to a sell-out crowd in Dallas. He also co-written DF Dub's song "Country Girl" (Sony Music), which reached top 20 (Rick Dee's Weekly Top 40). As a former pro wrestler on the indie circuit, he ventured into acting and stunt work, leading him eventually to his singing career.
Jayden Frost and his wife have two children, residing in the Dallas area. To find out more, please visit www.JaydenFrost.com and on the social links below.
EVERYTHING EP:
1. Crash
2. Everything
3. Fall Into Your Arms
4. I Can Do Anything
5. My Hero
6. The Promise
###
For more info on Ian Eskelin, visit the JFH Artists Database.