LINDY CONANT & THE CIRCUIT RIDERS MAKE THEIR NO. 1 DEBUT ON CHRISTIAN BILLBOARD ALBUM CHART WITH EVERY NATION FROM RMA (ROGUE MUSIC ALLIANCE)
So, Who Is Lindy Conant & The Circuit Riders...And Who Is RMA?
NEWS SOURCE: Merge PR
June 14, 2016
14 June 2016 - Franklin, Tenn - To the surprise of many music industry insiders, this week's Christian Billboard No. 1 album is Every Nation by Lindy Conant & The Circuit Riders, a previously unknown independent worship artist.
Every Nation released June 4th in partnership with RMA (Rogue Music Alliance), the brainchild of worship industry mainstays Gabriel Wilson and David Staley. Fueled only by Wilson's production, Staley's social media marketing hackery, and grassroots word of mouth momentum from the Circuit Riders, Every Nation debuted at No. 1 on the Christian Albums Charts, No. 97 on the Billboard Top 200 and No. 19 on the Billboard Digital Albums Charts - completely independent of physical retail distribution.
Lindy Contant describes the record as the "heart cries" of a movement releasing God's desire to "activate a generation with selfless love to go to every nation and reach every soul." Every Nation was produced by Gabriel Wilson (Bethel Music, KXC, John Mark McMillan), mixed by Sam Gibson (UNITED, Delirious, etc.), marketed by David Staley and released in partnership with RMA. The members of Conant's band, The Circuit Riders, are Gem Ceniza, Spencer Brennt, Chloe Brennt, Daniel Bryan and Kendall Fowler.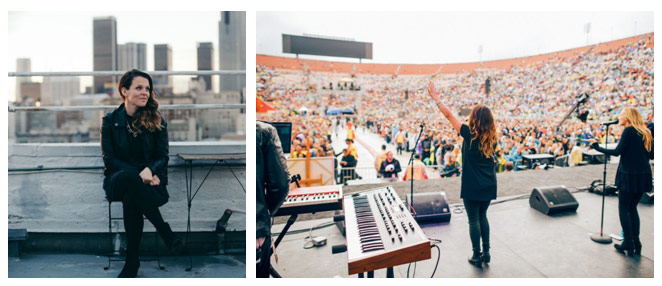 Lindy Conant's message not only resonates with those who love worship music but also with leaders of the largest worship movements in the world today. Jesus Culture founder/director Banning Liebscher called Conant "one of the most authentic and powerful worship leaders I know." Bethel Music artist Steffany Gretzinger endorsed Every Nation saying, "Your message is clear. It's unmistakable that you burn to lead a generation into total abandonment. You've drawn a line in the sand with your worship that is calling them to cross and never look back. To be a generation that can't be swayed or bought by anything the world is offering them." Fans have also posted their comments about Every Nation:
"One of the most moving and inspiring worship records I've heard in a long time. Her heart shines through on every track!"
"Every single song has a profound message to latch onto."
"This album will motivate you to want more of Jesus."
"...like nothing else being sung in the church. Wherever she plays, people are activated toward missions."
ABOUT LINDY CONANT & THE CIRCUIT RIDERS: Missionary, songwriter, worship leader - Lindy Conant is all three with one passion: to see every nation and every soul radically experience the love of Jesus. Her debut album Every Nation is available everywhere digital music is sold or streamed.
Lindy Conant leads and serves with YWAM Circuit Riders, a missions ministry focused on leading a generation to Christ. For the past several years their main focus has been at college campuses in the U.S. Their music reaches hundreds of campuses each year with seven bands comprised of over 60 musicians touring more than 100 college campuses, all performing songs written by Lindy Conant & the Circuit Riders. The result? Hundreds of salvations and countless lives forever impacted by the Gospel. As awareness has grown about Conant's passion for Christ, doors have flung open for her and the Circuit Riders. Conant has lead worship at some of the largest Christian gatherings of our day, including Jesus Culture Conferences, The Call Azusa Now at the Los Angeles Memorial Coliseum, and more.
ABOUT RMA: RMA (Rogue Music Alliance) is the brainchild of worship industry mainstays Gabriel Wilson and David Staley. Wilson and Staley were the dynamic production/marketing duo behind Bethel Music's breakout records Tides (debuting at No. 1 on the Christian Billboard Album chart, No. 30 on Billboard Top 200) and You Make Me Brave (debuting at No. 1 on Christian Billboard, No. 10 Billboard Top 200 - and is Bethel Music's highest charting album to date). They've also worked alongside many other notable and current Christian artists and influencers including John Mark McMillan, Gungor, Kari Jobe, John Bevere, Bill Johnson, and a host of smaller independents.
Exhausted by many years of witnessing the old "record deal" model and its share-cropping ethos, Staley and Wilson formed RMA bent on creating a business model which provides "Equity for Artists." Wilson described RMA's vision to "provide label-like services in a model which doesn't acquire, lock up, and own the work of artists, forever keeping them from owning the rights to their creative property, but rather seeks to create literal partnerships with artists in the joint venture of their work. Perhaps most unconventionally and most importantly, a model in which the 'label' never makes more money from the artist's work than the artist does."
RMA operates as a hub of label-esque services partnering with artists to form their own micro label - an independent legal entity - in which the artist is the majority stakeholder. Artists contribute the master recordings and publishing for the initial release to the new artist-owned company and RMA matches their investment with marketing dollars and services. According to Staley, "In our model, the artist and the label have equal skin in the game. It's equal risk and equal reward. All revenues are split 50/50 and since the artist and RMA have each made equal investments 'recoupment' is essentially irrelevant. Each micro label is run as an independent business venture and we rise or fall together."
Further, RMA has structured their micro label model to put the artist in the driver's seat of their career. Staley describes it this way, "We believe the impetus should be on the label to continually prove their value add to the artist, rather than the other way around where labels lock artists up to long term exploitive contracts regardless of what value they do or do not bring to the artist's career. If we're not proving our value and holding up our end of the bargain, an artist can fire us at anytime and retains 100% ownership in their master recordings and publishing."
RMA, who has also partnered with artist development and music delivery service IndieHitMaker, views their model as a disruptive experiment which will inspire many other artists to step outside the status quo. As Wilson describes, "We believe when this model is proven it will inspire many other artists to venture beyond the walls of music business slavery into new ways of doing music business."
ABOUT INDIEHITMAKER: Indiehitkmaker.com helps artists #makeitcount on dozens of charts and media outlets including Billboard, Pollstar, MusicWeek, A2IM, Hypebot, MusicBiz and more by reporting all their online, live show and mobile retail music sales to both Soundscan and BuzzAngle for as little as $10/mo. Artists wanting to win more fans or sell more music and merch use Dropkick, IHM's artist development service and direct-to-fan music delivery platform, to strategically plan upcoming releases and increase fan engagement online and at live shows. Since 2007, IHM has helped hundreds of artists make their sales count for more than gas money and hosting fees, with the best hitting No. 1 on Billboard Heatseeker and Album Genre Charts and even breaking into the coveted Billboard Top 200. For more information visit indiehitmaker.com, email artists@indiehitmaker.com or call 877.994.6446.
For more information, please visit: www.LindyConant.com
###