WORLD VISION PRESENTS
THE EARTH SHAKER TOUR
FEATURING BUILDING 429 AND COLTON DIXON
WITH SPECIAL GUESTS FINDING FAVOUR
20-City Fall Tour Kicks Off Oct. 20
Tickets On Sale Now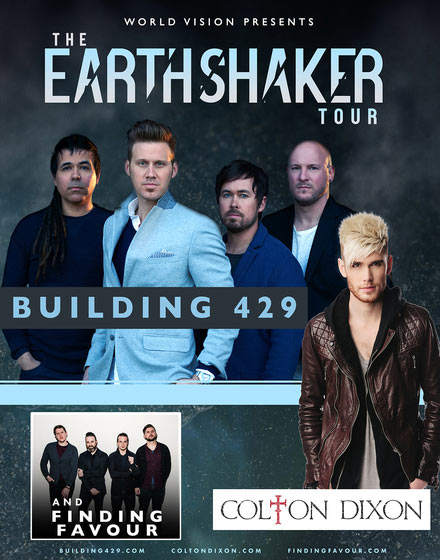 NEWS SOURCE: Southside Entertainment
July 22, 2016
NASHVILLE, Tenn. – July 22, 2016 – Following a successful spring run with sell-out performances, Grammy-nominated band Building 429 is joining forces once again with Dove Award-winning "American Idol" alum Colton Dixon for the Earth Shaker Tour, slated for 20-plus cities this fall. Presented by World Vision, the Earth Shaker Tour also features special guests Finding Favour, and will kick off Oct. 20 in Springfield, Missouri.
The Earth Shaker Tour derives from a song on Building 429's current top-selling album UNASHAMED, which debuted at No. 2 on Billboard's Top Christian Albums Chart. The album's title track and recently released video (see it here) was filmed in front of thousands at a recent concert stop in Seattle. The tour will launch on the heels of the band's brand new single "Be With Us Now," going to radio Aug. 12.
"It's an honor to be leading the charge on a tour that is going to be an incredible night of ministry and music," says Building 429's Jason Roy. "It is truly a rare thing to be sharing the stage with Earth shakers like Colton and Finding Favour. Get ready for a deep and meaningful night of worship and ministry as we celebrate the gift of Jesus Christ!"
Tickets for Earth Shaker Tour dates are on sale now, and special "VIP Experience" ticket packages are available in most markets, featuring premium seating, a pre-show artist Q&A and photo op.
EARTH SHAKER TOUR w/ BUILDING 429, COLTON DIXON & FINDING FAVOUR – FALL 2016
* Additional dates to be added. Dates, markets and venues subject to change without notice.
Oct. 20 – Springfield, Mo. – Crossway Baptist Church
Oct. 21 – Wichita Falls, Texas – Evangel Temple
Oct. 22 – Waco, Texas – Hippodrome Theatre (no Colton Dixon)
Oct. 28 – Jacksonville, Fla. – Faithbridge Church
Oct. 29 – Thomaston, Ga. – Upson Lee Fine Arts Building
Oct. 30 – Greeneville, Tenn. – Niswonger Performing Arts Center
Nov. 2 – Stamford, Conn. – The Palace/Stamford Center for the Arts
Nov. 3 – Pottersville, N.Y. – Jack Wyrtzen Center
Nov. 4 – Youngstown, Ohio – Victory Christian Church
Nov. 5 – Shipshewana, Ind. – Blue Gate Theater
Nov. 6 – Summersville, W.Va. – WV Nazarene Campground
Nov. 10 – Eau Claire, Wis. – Calvary Baptist Church
Nov. 11 – St. Cloud, Minn. – Rivers Edge Convention Center
Nov. 12 – Naperville, Ill. – Community Christian Church
Nov. 13 – Campbellsville, Ky. – Elkhorn Baptist Church
Nov. 17 – Dothan, Ala. – Ridgecrest Baptist Church
Nov. 18 – North Augusta, S.C. – First Baptist Church
Nov. 19 – Winchester, Va. – Patsy Cline Theater
For ticket information and the most up-to-date list of concerts, please visit www.building429.com.
ABOUT BUILDING 429
GRAMMY®-nominated Building 429 – comprised of band members Jason Roy, Michael Anderson, Jesse Garcia and Aaron Branch – has become one of today's top Christian artists due to their high-energy live shows, lyrically-driven anthemic songs and constant message of hope through Christ. Their breakout No. 1 radio hit "Glory Defined" earned the band a Dove Award for New Artist of the Year in 2005, and numerous accolades have followed. The group's RIAA Gold-certified single "Where I Belong," from their fifth studio project Listen to the Sound, spent a consecutive 15 weeks at No. 1 on Billboard's Christian Audience chart and became Billboard's Christian Song of the Year in 2012 and BMI's 2013 Song of the Year, earning the band a 2013 K-LOVE Fan Award nomination as Breakthrough Artist of the Year. Building 429's We Won't Be Shaken (2013) garnered a GRAMMY nomination for Best Contemporary Christian Music Album and featured the hit singles "Press On" and the chart-topping title track. The Grammy-nominated project also helped earn the band a nomination in 2014 for Billboard's Top Christian Song and a K-LOVE Fan Award nomination for Group or Duo of the Year. The group's latest project, UNASHAMED (September 2015), debuted at No. 2 on Billboard's Contemporary Christian Album chart. The album's first single, "Impossible," made label history this spring by receiving an astounding 95 radio adds on its add date. The single went No. 1 and was selected as one of the Best Songs of 2015 in the Christian/Gospel genre according to the editorial team at iTunes. UNASHAMED was also named one of the Top 10 albums of the year. For more information, visit www.building429.com.
ABOUT COLTON DIXON
Colton Dixon quickly became a household name in 2012 when he made it to the top seven on Season 11 of Fox's hit show "American Idol," and his career has been on the fast track ever since. Dixon's 2013 debut, A Messenger, set the record for biggest first-week sales by a new solo Christian act, becoming the No. 1 selling album by a new Christian artist and the No. 9 best-selling album of 2013 in the Christian genre overall. In just a few short years, Dixon has already played live for more than 1 million fans, performing at festivals like Winter Jam and touring with acts such as Third Day, TobyMac and Casting Crowns. Colton Dixon has also been named the latest Steinway artist, following in the footsteps of legendary artists such as Harry Connick, Jr. and Billy Joel. Dixon's sophomore effort ANCHOR includes the most played Hot AC single of 2014, "More Of You," which spent three weeks at No. 1, as well as "Through All of It," his fourth consecutive No. 1 at Hot AC Radio. In 2013, Dixon won a Dove Award for Best Rock/Contemporary Album Of The Year, along with two additional nominations. In 2015, ANCHOR was honored with the Dove Award for Rock/Contemporary Album of the Year. Dixon received back-to-back K-LOVE Fan Award nominations for Male Artist of the Year in 2014 and 2015. Dixon's dual EPs Calm and Storm are available now. For more information, visit www.coltondixon.com.
ABOUT FINDING FAVOUR
Finding Favour released their first full album, Reborn, June 23, 2015, and the first single "Cast My Cares" is the group's fastest rising song to date, charting in the Top 10 on Billboard's NCA chart, the Top 15 on Billboard's Christian AC Monitored chart and the Top 40 on Billboard's Hot Christian Songs of the Year. Finding Favour was formed in 2005 in Vidalia, GA and consists of band members, Blake NeeSmith (vocals), Allen Dukes (guitar), Dustin Daniels (bass guitar) and Josh Duckworth (drums). The band signed with Gotee Records in 2012 and released their first studio EP, Finding Favour EP, in March 2013 followed by tours with Building 429 and Hawk Nelson. Their first single, "Slip On By," reached Billboard's Top 25 Christian AC chart. The song also became a Top 40 Country radio hit for country artist, Austin Webb. Finding Favour's second single, "Say Amen," released in 2014 and peaked Top 25 on Billboard's NCA chart. Finding Favour has had the opportunity to perform in front of thousands, on tours with artists like Kutless, Audio Adrenaline and the Newsboys. For more information, visit www.findingfavour.com.
ABOUT WORLD VISION
World Vision is a Christian humanitarian organization dedicated to working with children, families, and their communities worldwide to reach their full potential by tackling the causes of poverty and injustice. World Vision serves all people regardless of religion, race, ethnicity, or gender. For more information, please visit www.WorldVision.org/media.
###
For more info on Building 429 visit the JFH Artists Database.
For more info on Colton Dixon visit the JFH Artists Database.
For more info on Finding Favour visit the JFH Artists Database.