Natalie Grant Announces Miracle In Music City, The Third Title
from her Glimmer Girls Book Series
Award winning singer unveils her newest fiction book for pre-teen girls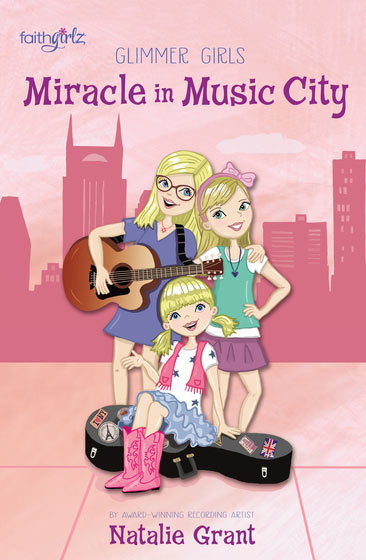 NEWS SOURCE: Zondervan
August 2, 2016
Grand Rapids --- August 2, 2016 --- Written by Natalie Grant and informed by her three daughters - Bella, Gracie (twins, 9) and Sadie (5) - the multi-Grammy nominated singer released the first two titles of her Glimmer Girls series - London Art Chase and A Dolphin Wish - in February. Miracle in Music City is the third book in the four-book series, and will be available nationwide August 2, 2016. Known for her music, this is Grant's first series for kids. Like the first two books, the third title will follow Mia, Maddie and LuLu, three adventurous, smart and unique sisters, on amazing family adventures around the globe. Glimmer Girls is the newest series in the Faithgirlz line, the popular brand for tween girls from Zonderkidz, the children's publishing division of Zondervan. Faithgirlz books, Bibles, and products empower girls ages 8-12 to joyfully explore, grow and proclaim their Christian faith.
Knowing how important these resources of faith are, Natalie Grant shares, "As the mother of twin 9 year old girls, the tween years are upon me. I am so grateful for Faithgirlz and the products they provide. I'm excited to create content for the line, allowing girls like mine a deeper understanding of faith and a better understanding of Jesus."
In The London Art Chase, book one of the series, Gloria Glimmer sweeps her family off to London on concert tour. Maddie, her twin sister, Mia, and their little sister, Lulu, have a list a mile long of all the sites they want to see-the Crown Jewels, Big Ben, Buckingham Palace. But when Maddie witnesses the theft of a painting at the National Gallery, she determines to chase the thief down, and leads her sisters and nanny, Miss Julia, on a mad-cap chase across London to they hunt down clues and solve the mystery.
In book two, A Dolphin Wish, Gloria Glimmer's concert tour takes the family to San Diego. On a rare day off, the entire family splashes together at the local water park. Gloria arranges for a private backstage visit with the dolphins, and while there, Mia overhears interns discussing trouble at the park-someone is letting marine animals out of their habitats! Mia enlists her sisters to help her hunt down clues and ultimately, to find a way to keep the animals safe.
In Miracle in Music City, the Glimmer Girls are at it again-looking for a mystery to solve. The girls' famous mom, Gloria Glimmer, wants her daughters to learn they aren't too young to make a difference, so she gets them involved in her annual benefit and auction in Nashville, TN. But as things often do with the trio of smart and spunky sisters, they get themselves, and their nanny Miss Julia, involved in a lot more than just helping mom raise money for a worthy and wonderful cause.
Grant taps into her life and the adventures with her own family on the road, to create each Glimmer Girls story. Readers get to join the Glimmer family as they travel the world finding new opportunities for the adventurous sisters to discover clues, solve puzzles, and often even get into some mischief along the way. Together with their famous mother, and their eccentric nanny, the three sisters learn important character-building lessons about being good friends, telling the truth, faith, and a whole lot more.
Miracle in Music City is available in soft cover for $8.99 at retailers nationwide and online on August 2, 2016. Review copies of Miracle in Music City are available upon request. An audio newsrelease is available upon request and may be used for broadcast and online interview content. Reply to this email to request a copy of the book and/or the audio file. The fourth and final book in the Glimmer Girls series, Light Up New York, will release in winter 2017.
About Natalie Grant: Four-time Grammy nominated Natalie Grant has remained one of the top-selling Christian & Gospel artists since her 2005 breakout RIAA Gold certified album, "Awaken." She has since gone on to have over 3 million in career sales. The Gospel Music Association has named her Female Vocalist of the Year 5 times and she has had multiple number 1's on the Billboard singles and albums charts, including her most recent record titled, "Be One." Beyond her music career, Natalie is the author of several books, has a successful jewelry line called NG by Natalie Grant, and most importantly, since 2005, she has used her platform to be an outspoken advocate for victims of human trafficking. Grant co-founded Hope for Justice International, an organization that identifies and rescues victims of trafficking and then provides them with complete restorative care. The organization now has 6 offices spanning 4 countries and 3 continents.
About Faithgirlz: Faithgirlz empowers girls to joyfully explore, grow and proclaim their Christian faith. Young women are encouraged to have fun and grow in a personal relationship with Jesus, understanding of God, and studying His Word-the Bible. Being a Faithgirl isn't about rules and people who lived thousands of years ago, it's about knowing you are loved, sharing with others, and resting in God's promises. Learn more at www.faithgirlz.com Zonderkidz™, the children's division of Zondervan, inspires young lives through imagination and innovation. As the leader in Christian children's communications, it creates products that awaken the hearts and touch the souls of kids under 14. Zonderkidz is also publisher of the NIrV (New International Reader's Version) Bible translation, the third grade reading level edition of the NIV. For additional information, please visit www.zondervan.com.
Zondervan is a world-leading Bible publisher and provider of Christian communications. Zondervan, as part of HarperCollins Christian Publishing, Inc., delivers transformational Christian experiences through its bestselling Bibles, books, curriculum, academic resources and digital products. The Company's products are sold worldwide and translated into nearly 200 languages. Zondervan offices are located in Grand Rapids, MI. For additional information, please visit www.zondervan.com.
###
For more info on Natalie Grant visit the JFH Artists Database.