BadChristian Plan to Create Documentary on Christian Music Industry What Would Jesus Sell?
Crowdfunding Incentives Available Now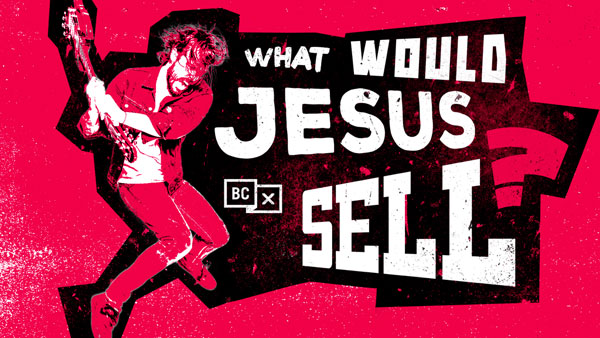 NEWS SOURCE: BadChristian
February 14, 2018
Seattle, WA: BadChristian, a media co-op producing alternative Christian podcasts, music, books and more, announced and launched today a Kickstarter campaign to crowdfund their first feature-length documentary project centered around the Christian music industry. Learn more at wwjs.film
The film, with the current working title of What Would Jesus Sell?, aims to, "explore the intersection of art, faith, and profit within the Christian music industry." According to producer Matt MacDonald, "This isn't necessarily meant to be an exposé, but we hope this exploration will create space for reflection, discernment, and honest conversations."
Matt Carter, CEO of Bad Christian, explains, "I've been involved with the Christian music industry for 15 years. There are these huge gulfs between the insiders and the consumers, and between the consumers and the general mainstream public. This creates so many weird, interesting, and often depressing realities and stories. We are excited to bring some of it out into the light of day."
This announcement follows a trend of new ventures and publicity for BadChristian, who have seen their podcast grow significantly after being spotlighted on other platforms such as NPR, as well as hosting their very own, "BadChristian Conference" earlier this year.
The documentary is being directed by James Wightman, a long-time filmmaker for Emery and BadChristian. "Internally we've been brainstorming and developing this idea and proof of concept for almost two years, and it seems like the perfect story for BadChristian to be able to tell like nobody else can. Everyone involved with this project has at different times, benefitted from, believed in, and been burned by this crazy industry. The whole goal with the documentary is to tell those stories honestly, because it seems that the public is largely unaware of the inner-workings and the nature of it, both good and bad."
The crowdfund goal is set at $20,000, and includes a number of limited "early bird" price discounts on reward tiers. The project is additionally being financially sponsored in-part by Renew The Arts, a non-profit foundation whose mission is to help liberate Christian creativity.
To read more about the crowdfund project, as well as see a trailer for the documentary, visit http://wwjs.film
BadChristianMedia.com
WWJS.film
@badchristianpod
BadChristian is a thriving community that focuses on interacting with culture from an alternative Christian point of view. We do this by being transparent, entertaining, honest, and artistic. The Bad Christian community has grown rapidly because of partnerships with independent artists, podcasters, and writers, who by fueling the Bad Christian movement, are able to build and sustain their careers.
###
For more info on Emery, visit the JFH Artists Database.
For more info on As Cities Burn, visit the JFH Artists Database.
For more info on The Classic Crime, visit the JFH Artists Database.