MULTI-TALENTED SINGER/SONGWRITER ANITA FAYE PREPARES TO UNVEIL KINGDOM JOURNEY
Long Awaited Full-length CD to Impact Retail in September 2018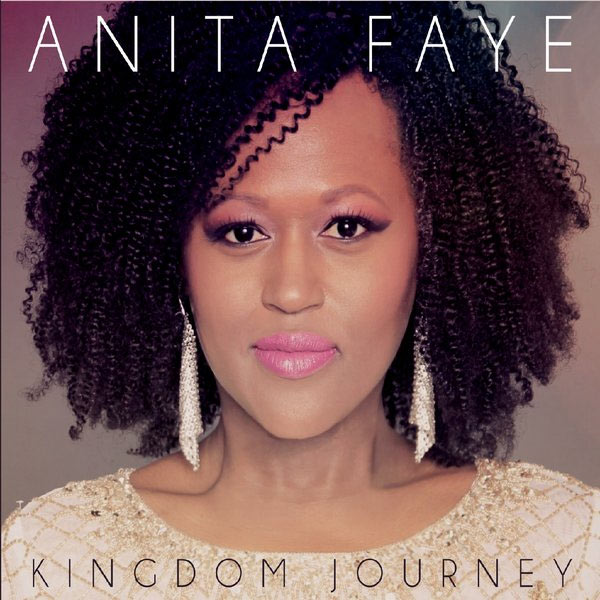 NEWS SOURCE: McCain & Co. PR
August 29, 2018
NASHVILLE, Tenn. (August 29, 2018) - Las Vegas-based singer/songwriter Anita Faye is busy prepping for the release of her long-awaited new CD, Kingdom Journey. The stellar new 13-song CD is slated to impact retail in September, 2018, from NiNiTunes, and will be available from major online retailers including iTunes, Amazon.com, and Google Play. Running the stylistic gamut from smooth jazz and bouncy hip hop to swaying reggae, Anita wraps her mellifluous, multi-octave soprano around each song, imbuing it with a soaring spiritual burst of energy.
Faye burst onto the music scene in 2005 with her independent release R U Willing, which earned a Gospel Album of the Year nomination from the International Independent Music Awards, and has shared the stage with Gospel music legends including Martha Munizzi, Kim Burrell, and the Edwin Hawkins Youth & Young Adult Mass Choir, among others.
But Faye says she still feels like a late bloomer who is just now coming into her own. "If you want to make God laugh, just tell him your plans!" she quips. "Our society tends to applaud people who achieve remarkable things at a very early age, but sometimes I think you appreciate things more once you have some life experience under your belt. It makes you more thankful for what you receive, and better prepared to give back to those in need."
That impulse to help those in need inspired one of the songs on the album. Faye and her husband, Robby Thomas, wrote "Angels in Heaven (Vegas Strong)," as a tribute to the resilient spirit of the people and city of Las Vegas, Nevada, following the tragic mass shooting that rocked their hometown in October 2017.
"We lived in Boston during the time of the Boston Marathon bombing in 2013, so we already had a sense of how life can change in the blink of an eye," Faye remembers. "We understand how those who are affected by such a senseless act of violence may never be the same. And while no amount of compensation will ever be sufficient for those directly impacted, we felt a deep sense of compassion and wanted to do what we could to honor the victims and encourage our community to persevere in love."
The project's first radio single, the smooth, jazz-inflected piano ballad, "Cast My Cares," is an intensely personal confession of faith in the midst of trials. "Life isn't always easy," Faye notes, "and testimony is not always pretty. Sometime there are tears involved. Sometimes there are crises. Like most folks, I've had my share of hard knocks."
"All of the Above," features Anita's collaboration with Grammy Award winner Betty Wright, who wrote and produced the track. "What can you say about having the opportunity to work with a legend like Betty Wright?" says Faye. "Her resume speaks for itself, but beyond that, she is such as sweet person. She grew up in the church, she is humble, and she is just so grounded. 'All of the Above' is a cleverly written song that encourages listeners to pass their tests in life by making the right choices. When it comes to living for Christ, sometimes the answer to the question is not just A, B, C, or D, but 'all of the above!'"
Faye continues the recurring theme of trusting God in the hard times on "Anchor of my Soul," a jazz-inflected Gospel number that effectively showcases her multi-octave soprano, and on the more electrified dance track, "My Destiny," which insists on giving praise to the Savior despite the storms of life. "I Gotta Know," an unapologetic, deeply personal tune, explores those times when nothing goes right and life seems to be nothing but disappointment after disappointment. I've gained and I've lost, but my womb is still a grave, she cries out in the song. I gotta know! Is God there? Does he care?
"I had a miscarriage in my early 20s," Faye explains. "I've never conceived again. Something dies inside of you when you carry that loss. Sometimes we experience trials and struggles that we don't have answers for, and sometimes God doesn't give us the answer we want. But God still loves us. 'I Gotta Know' is a song about questioning God, about almost giving up on my faith. It's about dealing with the aftermath of life's disappointments, and seeking answers to those disappointments. Ultimately, it is me being transparent and sharing that difficult process, and finally discovering that God still cares--regardless of what I've been through or how I feel."
Drawing on a wealth of influences, Faye injects a bouncy, hip-hop vibe into "P.U.S.H." (a twist on the saying, "Pray Until Something Happens") and embraces a swaying Caribbean reggae rhythm on the joyous praise song, "With Gladness." She pays homage to the legendary Ella Fitzgerald on "Untraceable," a song that offers a sweet tribute to her husband's grandmother. With tears running down her face, I can hear Grandma say, 'you can run this race, sufficient is His grace,' she croons.
The title track, "Kingdom Journey," gives Faye full rein to explore both her extensive vocal range and her skills as a jazz stylist. "Sugar Rush" encourages listeners to seek spiritual meat rather than settling for a superficial sugar high, and Faye showcases her genre-defying vocal prowess on her fresh interpretation of the beloved hymn, "Take my Hand, Precious Lord."
Kingdom Journey gives a reason to rejoice to Faye's long-time fans as well as music lovers who are just now discovering her amazing talent. Sometimes the best things in life truly are worth waiting for.
For more information on Anita Faye and Kingdom Journey, visit anitafaye.com.
About Anita Faye:
Las Vegas-based singer/songwriter
Anita Faye burst onto the national consciousness in 2005 with the release of her critically acclaimed, independently released CD, R U Willing, which earned a Gospel Album of the Year nomination from the International Independent Music Awards.
Since then, she has continued to hone her considerable skills as a song crafter and vocal stylist by sharing the stage with some of Gospel music's legends, including Martha Munizzi, Kim Burrell, and the Edwin Hawkins Youth & Young Adult Mass Choir, among others.
Along the way, she has written, produced, and performed the title track to the independent feature film, Mama's Eyes, made history by becoming the first singer to perform "Lift Every Voice and Sing" (the Negro National Anthem) at a Major League Baseball game, and released her EP, Late Bloomer, which included Anita's fresh, inspirational take on The Carpenters' classic, "Close to You."

Faye's upcoming album, Kingdom Journey, is slated to release in September 2018. For more information on Anita Faye and Kingdom Journey, visit anitafaye.com.
###