FRANCESCA BATTISTELLI'S LONG-AWAITED LP, OWN IT , IS AVAILABLE NOW;
Wraps Up Headlining Tour This Weekend; Early Album Reviews Touting Own It As "Exceptional" And "Engaging"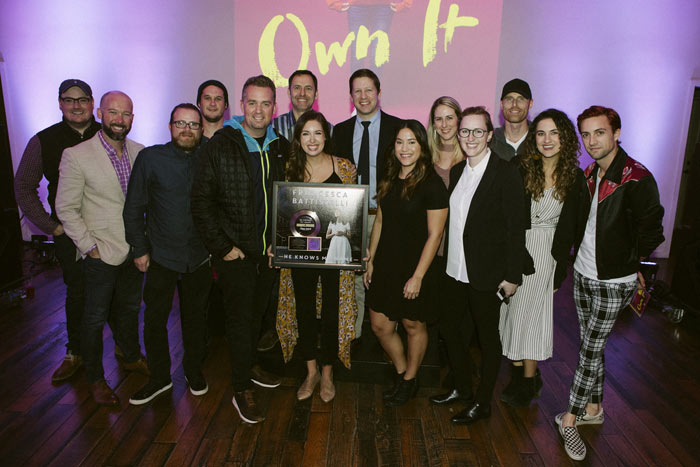 Battistelli is presented with her RIAA Gold certified single plaque for "He Knows My Name"

NEWS SOURCE: Merge PR
October 26, 2018
26 October 2018 - Nashville, TN -
Own It
, the latest release from multi-award winning Curb | Word Entertainment artist
Francesca Battistelli,
is
available now
. With critics already touting the album as "exceptional" and "engaging," Battistelli's long-awaited fourth studio album has been in the making for two and a half years.
Own It
is the follow-up to her GRAMMY®-nominated album,
If We're Honest,
which features the GRAMMY-winning song, "Holy Spirit."
Comments have been pouring in regarding her new songs, especially the album's first single "The Breakup Song." Here are just a few highlights from the media and fans:
"Francesca's vocals will soothe your soul, and the vertical lyrics will direct your attention and focus to Jesus... If you like female singers that make you think while you enjoy their catchy and empowering songs, Own It is for you. This is a solid upbeat pop album with positive biblical messages that is a great alternative to mainstream pop artists...[and] is easily my top pop album of the year and Francesca's 'very best' overall album." - NewReleaseToday.com
"On
Own It
, Battistelli not only sounds great but confident. Four years is a long wait, but it's hard to ask for more from her latest pop gem. She'll be owning the top of the charts for the forseeable future."
-
CCMMagazine.com
"It is the BEST album...I've heard in a long time. I love every single track...All of them. I can't even tell you which is my favorite, because they are all amazing...I can sense God's presence when listening/singing. Seriously so amazing and so anointed...[my] new favorite for sure." - a fan post from iTunes
"I absolutely love this song! I struggle with severe anxiety and this reminds me that God is with me and that I can overcome it...Thank you for your beautiful art Francesca! Beautiful song to a beautiful God." - a fan post from Amazon
To celebrate the album's launch, Battistelli joined her label, family and friends at a special VIP event held earlier this week in Nashville. Sharing stories about the making of the album, she also gave the attendees an early listen to a few of the new songs. A special surprise during the event was when Ryan Dokke, SVP/General Manager of Curb | Word Entertainment presented her with a Gold plaque for the RIAA® certification of her top-charting single, "He Knows My Name."
CCMMagazine.com
was also on hand to exclusively chat with Battistelli on the making of her album. Be sure to watch the interview
here
.
Francesca Battistelli, who was named Artist on the Rise from YouTube Music, co-wrote nine of the ten songs found on Own It with such songwriters as Matt Maher, Bart Millard of MercyMe, David Garcia, Mia Fieldes, Jeff Pardo, Molly Reed, Ellie Holcomb, Seth Mosley and Josh Bronleewe. The video to the album's first single, "The Breakup Song," exclusively debuted on Apple Music. Her latest music video, for the song "This Could Change Everything," just released and can be viewed below.
Battistelli has been sharing many of her new songs and many of her previous hits and fan favorites headlining her very own "The Breakup Tour" throughout this fall. Wrapping up this weekend in Lexington, South Carolina, big news about her upcoming tour plans will be announced in the coming weeks.
Track Listing
:
The Breakup Song
The Very Best
Love Somebody
Royalty
This Could Change Everything
As Good As It Gets
You Belong
Let The Light In
Defender (feat. Steffany Gretzinger)
Freedom
About Francesca Battistelli:
GRAMMY award-winning artist Francesca Battistelli began writing and performing original songs at age 15. A childhood immersed in art, music, dance and theatre prepared her for a future career on the stage. Since her 2008 Gold-certified debut, My Paper Heart, Battistelli has propelled three consecutive studio projects to the top of Billboard's Christian Albums chart and notched seven No. 1 radio singles, including multi-format, 15-week chart-topper "Holy Spirit." The wife and mother of four has appeared on "Good Morning America" and "FOX & Friends" and has seen her music placed in a variety of high-profile films and television networks, such as ABC, NBC, FOX, TLC, MTV, Lifetime, TriStar Pictures' "Soul Surfer," Columbia Pictures' trailer for "Julie and Julia," and she also had a role in the film "Woodlawn."
In addition to one GRAMMY® win and four career GRAMMY nominations, Battistelli has garnered a Billboard Music Award nod, two K-LOVE Fan Awards, six Dove Awards, including being named the Gospel Music Association's Artist of the Year, a Gold album and two Gold certified singles. With total on-demand streams exceeding 228 million, YouTube views of 50 million, and total equivalent albums of two million, this singer/songwriter continues to be one of the strongest voices in Christian music. For the latest information, please visit her website.
###
For more info on Francesca Battistelli, visit the JFH Artists Database.