MICHAEL W. SMITH ANNOUNCES 2018 CHRISTMAS TOUR
FEATURING "AMERICAN IDOL" ALUM MELINDA DOOLITTLE
Popular Annual Holiday Tour Launches Nov. 28 In Dallas,
Hits 18 Major U.S. Markets Through December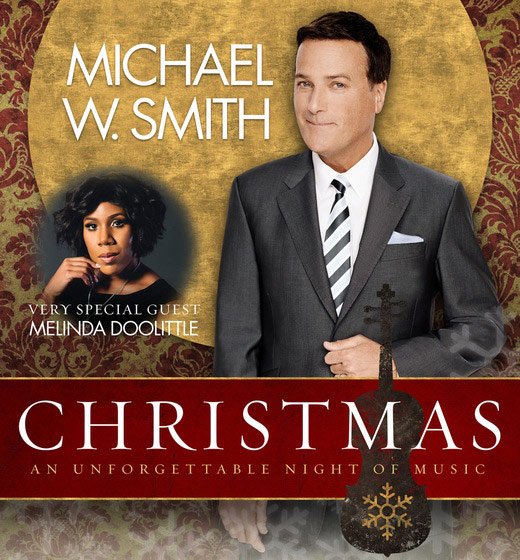 NEWS SOURCE: Southside Entertainment
November 19, 2018
NASHVILLE, Tenn. – Nov. 19, 2018 – Multi-Platinum, three-time Grammy® Award winning artist and best-selling author Michael W. Smith returns with his popular Christmas tour this holiday season. With multiple sellout crowds expected, the tour launches Nov. 28, in Dallas and travels to 18 major markets across the U.S., with stops in Texas, Louisiana, Alabama, Florida, South Carolina, North Carolina, Virginia, Georgia, Tennessee and Ohio.

Smith will be joined on this seasonal crowd-pleaser by special guest Melinda Doolittle, an "American Idol" alum who last appeared on the tour in 2008. "This is a tour that I look forward to every year!" Smith exclaims. "It's pure joy to lead these songs, sharing a celebratory message of hope. And with the addition of Melinda Doolittle, this is about as good as it gets for me!"

Tickets for the Christmas tour are available now at michaelwsmith.com/tour. Many markets include a VIP ticket option that offers premium seating and a pre-show Q&A session with Smith. In addition to the performance, and in support of his 27-year relationship with Compassion International, Smith is meeting with people in each city who sponsor a child through the organization prior to the concert and through the website www.meetmichaelwsmith.com. This "Compassion Meet & Greet" is an opportunity to learn more about the Compassion International's child sponsorship experience and will include a photo opportunity with Smith. (Tickets to each concert must be purchased separately through the event's normal ticketing outlets.)

"Helping children in need around the world through the work of Compassion International is a timely message during the Christmas season," says Smith, who has generated more than 70,000 child sponsorships for Compassion through his concerts. "I hope we create a memory for everyone that attends the tour, and, at the same time, we impact the lives of some very special children."

Smith's recordings have become part of the backdrop of Christmas for families all over the world. His most recent holiday release, Michael W. Smith & Friends: The Spirit of Christmas, featured collaborations with Carrie Underwood, Amy Grant, Vince Gill, Lady Antebellum, Bono, Little Big Town, Martina McBride, Jennifer Nettles and Michael McDonald. And Smith's Christmas tours have become some of the most anticipated holiday events of the season.

Known as one of the most influential Christian music artists in the world, Smith also released two back-to-back, 5-star acclaimed albums in February. His USA Today, Yahoo! Music and Billboard-acclaimed studio album A Million Lights and Parade, Good Morning America-featured live worship album Surrounded have together become Smith's 30th and 31st Top 10 hits on Billboard's Top Christian Albums chart, more than any other solo artist in history. His current single, "A Million Lights," continues to climb the Pop AC charts, nearing the top 20 at press time. Smith also recently launched the new infant and toddler series Nurturing Steps™ with the NBC TODAY-lauded release of his first children's album, Lullaby, and book, Nighty Night and Good Night.
MICHAEL W. SMITH CHRISTMAS TOUR 2018
Dates, markets and venues subject to change without notice.

Nov. 28 – Dallas, TX
Nov. 29 – San Antonio, TX
Nov. 30 – Austin, TX
Dec. 01 – Bossier City, LA
Dec. 02 – Houston, TX
Dec. 06 – Montgomery, AL
Dec. 07 – Panama City, FL
Dec. 08 – Tallahassee, FL
Dec. 10 – Clearwater, FL
Dec. 11 – Jacksonville, FL
Dec. 12 – Charleston, SC
Dec. 13 – Newberry, SC
Dec. 14 – Wilmington, NC
Dec. 15 – Woodbridge, VA
Dec. 18 – Nashville, TN
Dec. 19 – Atlanta, GA
Dec. 21 – Kent State, OH
Dec. 22 – Lynchburg, VA
ABOUT MICHAEL W. SMITH
Michael W. Smith has been releasing new music regularly and performing around the world to sold-out crowds for the last 30+ years. During his storied career, he's written 32 No. 1 singles, been honored with three Grammy Awards and 45 Dove Awards, was inducted into the Gospel Music Hall of Fame and has sold more than 15 million albums. He's also given back to the global community. Smith has raised funds to battle AIDS in Africa; started Rocketown, a safe haven for young people in Tennessee to meet and find hope; and has helped more than 70,000 children through Compassion International. For more information, visit www.michaelwsmith.com.

ABOUT MELINDA DOOLITTLE
Melinda Doolittle, who became a household name during season six of American Idol in 2007, is a soul–stirring songstress with irresistible artistry and effortless style. Hailed as one of the most "phenomenally gifted" singers in years by The New York Times, and with her vocals likened unto Tina Turner by People Magazine and "a young Gladys Knight" by Simon Cowell, Doolittle continues to thrill audiences everywhere from the Rock and Rock Hall of Fame to The White House, from the Kennedy Center to Carnegie Hall. In addition, she has been a featured guest with the Boston Pops, Charlotte Symphony and United States Air Force Orchestra to name a few, including a featured performer at the 2015 Boston Pops Fourth of July Spectacular. For more information, visit www.melindadoolittle.com.

ABOUT COMPASSION INTERNATIONAL
Founded in 1952, Compassion International is a Christian child development organization that works to release children from poverty in Jesus' name. Compassion revolutionized the fight against global poverty by working exclusively with the Church to lift children out of spiritual, economic, social and physical poverty. Compassion partners with more than 6,700 churches in 25 countries to deliver its holistic child development program to over 1.8 million babies, children and young adults. It is the only child sponsorship program to be validated through independent, empirical research. For more information, visit www.compassion.com.
###
For more info on Michael W. Smith, visit the JFH Artists Database.