Passion Leads With New Album Follow You Anywhere, Available Now
Live Record Released At Passion Event Held In Four Venues To Nearly 40,000 People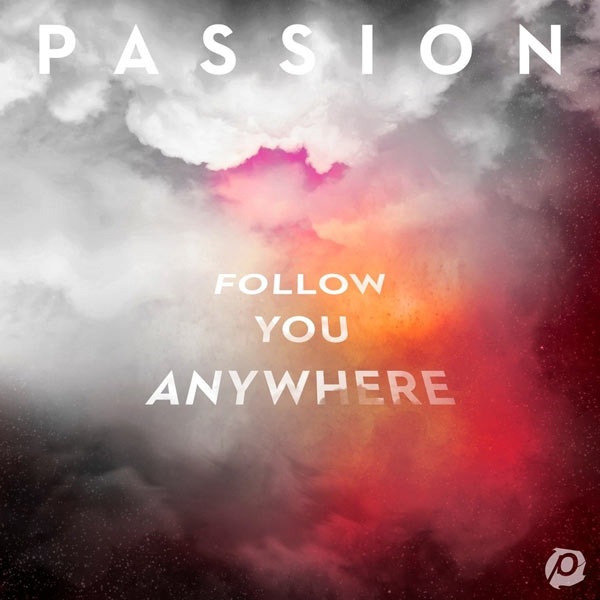 NEWS SOURCE: The Media Collective
January 4, 2019
Nashville, Tenn. (Jan. 4, 2019) - Helmed by Passion (comprised of Kristian Stanfill, Brett Younker and Melodie Malone), Follow You Anywhere released yesterday, unveiling a new 10 track album which features the trio alongside Crowder and Sean Curran. Follow You Anywhere dropped at the sold-out Passion 2019 where nearly 40,000 young adults from across the globe filled arenas in Atlanta, Dallas and Washington, D.C. The collection of music is perennially created for the thousands of 18 to 25 year-olds that unite for the Passion gathering, but the intention of each song is to empower worshippers around the world. Follow You Anywhere marks the first time a Passion record has been recorded at the conference's home base, Passion City Church in Atlanta. A physical release of Follow You Anywhere will hit shelves on Feb. 1.

"So much hard work and heart went into writing these songs over the last year," explains Kristian Stanfill. "Our band, the songwriters, our design team and our sixstepsrecords/Capitol CMG team all leaned in together to make this album what it is. To now lead these songs at Passion 2019 and see a real love and devotion to Jesus come to life in these students is a beautiful thing. It's why we do this. It's why we write these songs. We believe that God is calling us to join him in the story he is telling in this moment and in this generation."

A live video version of "More To Come" is available today exclusively on Apple Music. Follow You Anywhere accompanies a long line of chart-toppers. The previous album debuted at No. 1 on Billboard's Top Christian Albums Chart, making Whole Heart the ninth release from Passion to do so.
Attendees gathered in Atlanta's State Farm Arena and Infinite Energy Center; The Theatre at Grand Prairie in Dallas; and The Anthem in Washington, D.C., for Passion 2019 comprising four locations, three cities and two capitals for one gathering. In addition to the live gathering, Passion 2019 was livestreamed simultaneously from the four locations to students from hundreds of universities and 36 countries. Passion founders Louie and Shelley Giglio and Passion Music were joined by guests Christine Caine, Matt Chandler and Chad Veach. Worship leaders and bands included Passion Band, Crowder, Lecrae, Kari Jobe and Cody Carnes, Travis Greene, Andy Mineo, Mosaic MSC, Tasha Cobbs-Leonard and Trip Lee. Passion believes that worship and justice go hand in hand, so students serve as well as worship. In the past few years, attendees have given some $8.3 million to fight modern-day slavery through Passion and The END IT Movement, assisting in awareness, prevention, rescue and restoration. Ending modern-day slavery was still a focus of Passion 2019, however, Passion is also calling students to give towards the Deaf Bible Society as part of Hope in Every Language.
here.

Follow You Anywhere Tracklisting:
1. Welcome The Healer (feat. Sean Curran)
2. Lift Up Jesus (feat. Brett Younker)
3. Behold The Lamb (feat. Kristian Stanfill)
4. Follow You Anywhere (feat. Kristian Stanfill)
5. Fade Away (feat. Melodie Malone)
6. Hundred Miles (feat. Crowder)
7. More To Come (feat. Kristian Stanfill)
8. Bigger Than I Thought (feat. Sean Curran)
9. It Is Finished (feat. Melodie Malone)
10. Yet Will I Praise You (feat. Crowder)
About Passion:
From its start in 1995, Passion has been rooted in the confession of Isaiah 26:8 – "Yes Lord, walking in the way of Your truth we wait eagerly for You, for Your name and Your renown are the desire of our hearts" - existing to glorify God by uniting students in worship, prayer and justice for spiritual awakening in this generation. Passion has encountered millions of students and 18-25 year olds, young people whose lives have been transformed by the power of the Holy Spirit. One of the most impactful and stirring aspects of the movement has been the sea of voices uniting together to lift up the name of Jesus, currently helmed by Kristian Stanfill, Brett Younker and Melodie Malone. The band has seen worship leaders such as Chris Tomlin, Matt Redman, Crowder, Christy Nockels and more unite over the years, writing, recording and leading arenas in worship. Transcending the conferences, songs from Passion have become some of the most recognizable and unforgettable worship anthems of this generation. With over 2 million units sold (SEA) and a multitude of chart-topping singles such as "How Great Is Our God," "God Of This City," "One Thing Remains," "Even So Come" and "10,000 Reasons (Bless the Lord)," listeners across the world continue to be impacted by the music of Passion. Delivering new projects annually, songs from records such as Here For You, White Flag, Let The Future Begin, Take It All, Even So Come, Salvation's Tide Is Rising and Worthy Of Your Name have become timeless staples in the Church. The four-time GMA Dove Award winners have had nine albums debut at No. 1 on Billboard's Christian Albums Chart with three hitting the Top 5 on the Billboard 200. Through it all, Jesus continues to remain at the center. Passion is more than music. More than events. Passion is a generation living for His name. Their latest, Follow You Anywhere, is available now.

About sixstepsrecords:
Founded in 2000 by Louie Giglio, sixstepsrecords is a worship label and a division of Passion Conferences. sixstepsrecords' artists include Crowder (I Know A Ghost) and Passion (Follow You Anywhere). The label partners with Sparrow Records/Capitol Christian Music Group for A&R, marketing, sales and distribution operations. For more information on sixstepsrecords, visit: www.sixstepsrecords.com.

Get Connected With Passion:
www.passionmusic.com
twitter.com/passionmusic
facebook.com/passion268music
instagram.com/passionmusic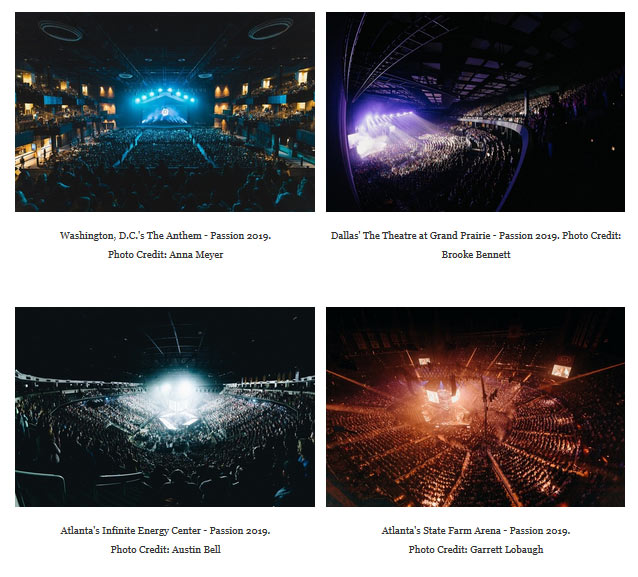 ###
For more info on Passion, visit the JFH Artists Database.