MATT MAHER ANNOUNCES THE RELEASE ONE OF FOUR NEW MUSIC BUNDLES;
Alive & Breathing, Vol. 1 Debuts Today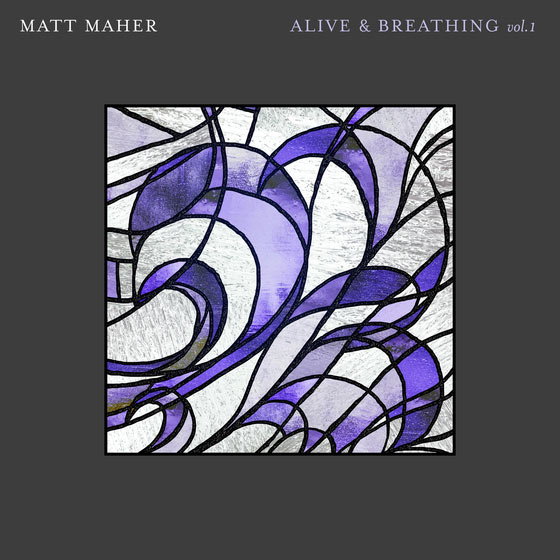 NEWS SOURCE: Merge PR
September 13, 2019
13 September 2019 - Franklin, Tenn - Provident Label Group's multi-award-winning singer, songwriter and touring artist Matt Maher announces the release of new music. Alive & Breathing Vol. 1, the first of four music bundles, debuts today and features three songs.
Each bundle will highlight new songs, songs that Maher has written for other artists but hasn't recorded himself, live versions of some of Maher's previous songs, or as in the case of "Lord, I Need You," recorded in a different language.
Alive & Breathing Vol. 1
features "
Run To The Father
," "Lord, I Need You (Se ñ or, Te Necesito) [Live] [feat. Blanca]," and "White Flag [Live]." The remaining volumes will release consecutively in October, November, and January. Listen to
Alive & Breathing
, Vol. 1
here
.
Maher elaborates on these unique recordings found on the four bundles, "Over the course of the past 20 years of music, my two greatest joys in this area of my life are playing music live and writing songs with friends. That is why I gravitate so much to writing congregational church music - they're songs that are meant to be sung live and they're songs that come out of the gift of friendship. It's part of what inspired me to record the live songs on Alive & Breathing, for example, 'White Flag,' which I enjoyed writing alongside great friends at a writing camp for the Passion Conference. That year at the conference, unbeknownst to us, thousands of white flags were hung in front of the Georgia Dome in unison, representing everyone in the stadium's surrender to Christ.
"The new song that appears on this first installment of Alive & Breathing, 'Run To The Father,' is a song I had the honor of writing alongside Cody Carnes and Ran Jackson," Maher continues. "Cody is a gifted worship leader, writer, and artist in his own right; he had already recorded and released the song, but it reached me in a deeply personal way and I felt like I wanted to record a version of it, so my friend Bernie Herms agreed to produce it and I'm so happy to share it with everyone."
Explaining the Spanish version of Maher's major hit "Lord I Need You." which he recorded with Blanca, Maher shares, "One of the things that makes worship music powerful is to sing songs in your 'heart language.' For me, that is English, the language of my culture. But when English isn't your primary language, you have to convert the words and even the ideas about the words. 'Lord, I Need You (Señor Te Necesito) [LIVE f. Blanca]' is such a primal song - to need God is a primal need. I wanted a version that helped people whose heart language is Spanish, to be able to pray it this way, so I asked my friend Blanca to join me in recording a new, live version of this song, in both of our heart languages."
ABOUT MATT MAHER: Since his 2008 major label debut, Matt Maher has become a staple in the artistic and songwriting community. A nine time-GRAMMY® nominee and three time-GMA Dove Award winner, he has garnered multiple radio successes, writing and recording songs such as his Top 5 CCLI song "Lord, I Need You" and the chart-topping radio single "Because He Lives (Amen)." Along with other hits such as "Hold Us Together," "Christ Is Risen," "All The People Said Amen," and "Your Grace Is Enough," Maher has written or co-written five No. 1 radio singles.
Penning numerous songs recorded by Chris Tomlin, Crowder, Third Day, Jeremy Camp, Matt Redman, Hillsong, Casting Crowns, Meredith Andrews, Jesus Culture, Jars of Clay, and Passion, he's had multiple titles on the CCLI chart's Top 500 list. With career album sales of more than 550,000 units to date, Maher was recently awarded his first RIAA Platinum certification for his popular single "Lord, I Need You." He's released nine studio albums, including his 2017 GRAMMY-nominated album Echoes. He also released his first Christmas album and children's book, both titled The Advent of Christmas , during the 2018 holiday season.
Matt Maher achieved a career highlight in 2013 when he performed at the Vigil Mass presided by Pope Francis, in front of a crowd of three million people for World Youth Day in Rio de Janeiro. Two years later he performed again for the Pope in downtown Philadelphia as part of the World Meeting of Families, appearing along with The Fray, Aretha Franklin, Juanes, Jim Gaffigan, and Mark Wahlberg, among others. Maher also recently joined the elite group of musicians and artists as an official Steinway Artist.
TOURING: Since 2006, Matt Maher has been on the road headlining his own tours and performing at major Catholic and Evangelical events. Maher has also participated in the industry's biggest tours and festivals, such as the Worship Night In America with Chris Tomlin, Compassion Live's The Roadshow, and Tobymac's Hits Deep Tour. Maher has also toured with such artists as Michael W. Smith, Tenth Avenue North, Mercy Me, Third Day and Casting Crowns. Maher will be joining The Roadshow tour again in spring 2020.
RADIO: Maher is no stranger to the top of the radio charts with his hit songs like "Lord I Need You," "All The People Said Amen," "Hold Us Together," "Alive Again," "What A Friend" and "Your Grace Is Enough." Maher has also topped the radio charts at Christmastime with "Glory (Let There Be Peace)", and outside of the holiday season, most recently hitting No. 1 with "Because He Lives (Amen)," which held the top spot for nine weeks.
###
For more info on Matt Maher, visit the JFH Artists Database.