VEVO & TORI KELLY RELEASE LIVE PERFORMANCE OF NEW SINGLE "PRETTY FADES"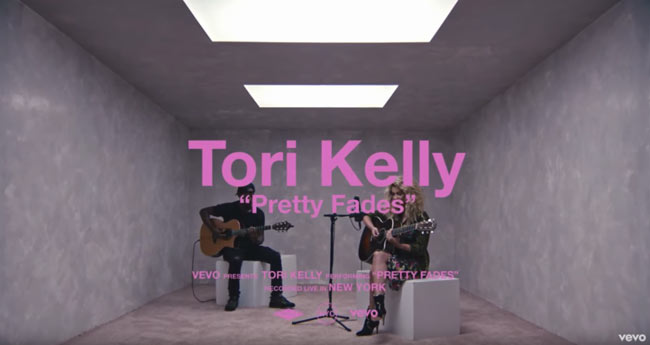 NEWS SOURCE: Big Hassle Media
September 26, 2019
Vevo and Tori Kelly announce the premiere of "Pretty Fades" from Tori's latest album, Inspired by True Events. A Vevo LIFT alum, Tori Kelly is an emotive, gospel- and R&B-influenced singer/songwriter who initially attracted fans online before gaining wider fame with her 2012 independent breakthrough Handmade Songs by Tori Kelly. Buoyed by the hit single "Should've Been Us," Kelly's major-label follow-up, 2015's Unbreakable Smile, fared even better, landing at number two on the Billboard 200.
In 2018, Tori issued her third studio album, Hiding Place, which found her more outwardly expressing her Christian faith and embracing a gospel-influenced sound. Included on the album was the Kirk Franklin-produced single "Help Us to Love," featuring Anthony Hamilton's the Hamiltones. The album earned Kelly two Grammy Awards, including Best Gospel Album and Best Gospel Performance/Song for the song "Never Alone." She returned in August 2019 with the Jimmy Napes-produced Inspired by True Events.
"Pretty Fades" is now streaming on all platforms. Keep up with exclusive content from artists all over the world on
YouTube.com/Vevo
.
ABOUT VEVO: Vevo is the world's largest all-premium music video provider, offering artists a global platform with enormous scale through its distribution partners. Vevo connects artists with their audience globally via music videos and original content, working directly with them to find unique ways to bring their music to life visually. Vevo also works with emerging artists, providing them with a platform of global scale and reach, to find and grow their audience. Reaching 26 billion monthly views globally, Vevo has over 400,000 music videos in its catalogue.
###