COMPASSION LIVE ANNOUNCES RESCHEDULED DATES FOR THE "GET OUT OF YOUR HEAD TOUR" WITH JENNIE ALLEN
Tour Will Run Nov. 14 - 22 And Will Also Feature Jefferson Bethke And Davy Flowers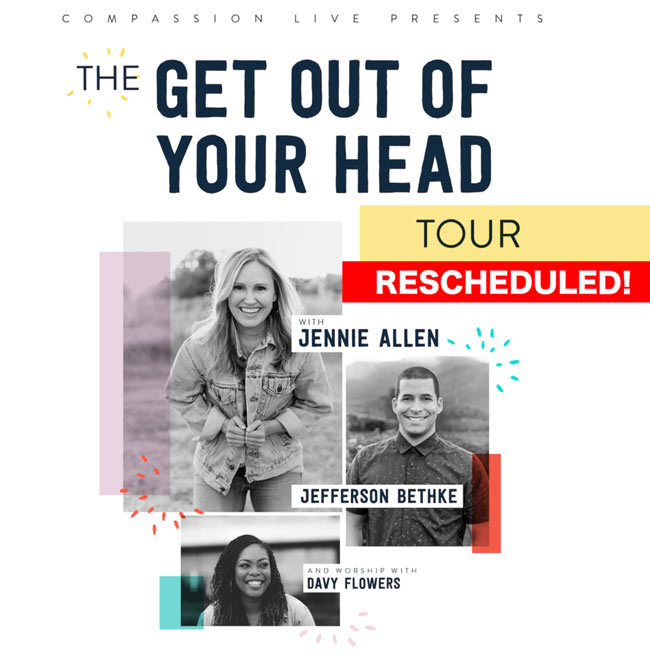 NEWS SOURCE: Merge PR
June 12, 2020
12 June 2020 - Nashville, TN - Today, Compassion LIVE announces the rescheduled dates for the "Get Out Of Your Head Tour" with Jennie Allen. Also set to feature speaker Jefferson Bethke and worship music from Davy Flowers, the tour will begin November 14 in Jonesboro, AR, and wrap in Rochester, NY on November 22.
"It is with hope and a lot of prayers we have rescheduled as many of our 2020 tour dates as possible and we can't wait to be with you in your cities this November!" Jennie Allen shares. "We know times are uncertain, but our team is working closely with each venue to make sure it is safe for us to gather at a smaller capacity, so grab a ticket quick and let's worship together! Jefferson, Davy, and I are over the moon at the chance to spend these nights together with you!"
Originally scheduled for an eight-city run this past March and April, Compassion LIVE is thrilled to be able to reschedule most of the tour for later this year. Tickets that were purchased for the original tour dates will be automatically valid for the new date. For those who cannot attend the rescheduled date in their city, refunds are available through July 10 by visiting the original point of purchase.
The previous tour stops in both Knoxville, TN and Elizabethtown, KY are not able to be rescheduled at this time. Anyone who bought tickets to either show will receive automatic refunds within the next 30 days and no action is required.
NEW TOUR DATES FOR THE 2020 "GET OUT OF YOUR HEAD TOUR":
Nov. 14, 2020 // Jonesboro, AR // First United Methodist Church (Wesley Hall) //
Tickets
**
Nov. 15, 2020 // Denton, TX // First Denton //
Tickets
Nov. 19, 2020 // Charlotte, NC // First Baptist Charlotte //
Tickets
Nov. 20, 2020 // Anderson, IN // Madison Park Church of God //
Tickets
**
Nov. 21, 2020 // Greensburg, PA // Word of Life Church //
Tickets
**
Nov. 22, 2020 // Rochester, NY // Browncroft Community Church //
Tickets
** Shows marked are designated "at capacity" due to restrictions for COVID-19 transmission prevention. Fans are welcome to join their preferred tour date's waitlist by visiting the ticket link above and will be notified should additional seating become available
ABOUT JENNIE ALLEN:
Jennie Allen is a Bible teacher, author, and the visionary behind the million-strong IF:Gathering. A passionate leader following God's call on her life to catalyze this generation to live what they believe, Jennie is the author of
Restless, Anything, Nothing to Prove
, and her forthcoming book,
Get Out of Your Head
. Her Bible studies include
Stuck, Chase, Restless
, and
Proven
. She is also host to the popular podcast "Made For This." Jennie has a master's in biblical studies from Dallas Theological Seminary and lives in Dallas, Texas, with her husband and teammate, Zac, and their four children, Conner, Kate, Caroline, and Cooper. More info at
jennieallen.com
and follow her @jennieallen
ABOUT JEFFERSON BETHKE:
Jefferson Bethke is a New York Times bestselling authors of
Jesus > Religion, It's Not What You Think
and
Love That Lasts
. Additionally, he makes YouTube videos and hosts a podcast with his wife about family and faith that can be found on iTunes. They are also passionate about helping families be equipped to build their multi-generational family team on a mission with resources, live events, and courses over at
familyteams.com
. They live in Maui with their daughter, Kinsley, and son, Kannon, and the newest addition to the family, Lucy! Follow him @jeffersonbethke
ABOUT DAVY FLOWERS: A recording artist, a songwriter, and worship leader, Davy Flowers currently resides in Jackson, MS where she serves on the worship staff at Pinelake Church. Originating from Houston Texas, Davy has been leading worship and writing music since her teenage years where she came to radical and all-encompassing faith in Christ. Her music and ministry flow from a heart that longs to see Jesus rightly treasured for who He is, and to see hearts radically transformed by the love and presence of a very real and very personal Savior. Davy released her debut EP entitled "I Belong Here," which paints the picture of her personal journey out of abandonment and isolation and into the glorious realization that "home" is a Person. The person of Christ and the place where we are fully known, fully loved, fully accepted, fully enjoyed is with Him and in Him. That is a home to which nothing can be added or taken away. Follow her @davyflowers
ABOUT COMPASSION LIVE:
Compassion LIVE, established in 2014 by Compassion International, provides the highest quality events for families to join together and grow with others in faith. Compassion LIVE partners with impact making leaders, artists, and communicators to produce life-changing events that share the message of faith and impact the church for children around the world. For more information, visit
www.compassionlive.com
. Founded in 1952, Compassion International is a Christian child development organization that works to release children from poverty in Jesus' name. Compassion revolutionized the fight against global poverty by working exclusively with the Church to lift children out of spiritual, economic, social, and physical poverty. Compassion partners with more than 6,700 churches in 25 countries to deliver its holistic child development program to over 1.8 million babies, children, and young adults. Compassion's child sponsorship program has been validated through independent, empirical research. For more about the ministry, visit
compassion.com
or follow them on Twitter @compassion.
Hashtags:
#GetOutOfYourHeadTour; #JennieAllen; #JeffersonBethke; #DavyFlowers; #CompassionLIVE
###