More than 150,000 Join July 28 'Better Together' Livestream with Lecrae, Crowder, for KING & COUNTRY
Concert to be Re-broadcast a Second Night, July 29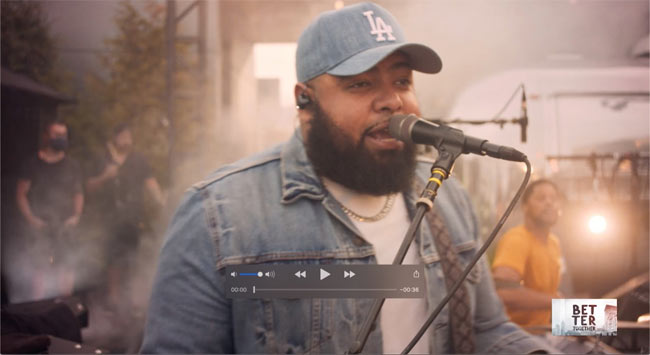 NEWS SOURCE: A. Larry Ross Communications
July 29, 2020
Nashville, July 29, 2020 – More than 150,000 individuals across the nation tuned in last night as some of the best artists in the music industry were featured in the "Better Together" concert designed to unite voices and hearts across genres, race, and political divides. Hosted by the national organization"American Awakening," the concert has been made available for a second night via free livestream at 8 p.m. eastern on the group's Facebook page and YouTube channel.
When the American Awakening movement launched 18 months ago to fight cultural division and despair, it originally planned a live show, but pivoted to a livestream format as a result of the COVID-19 crisis so that all Americans struggling in this global moment of strife could have access to the American Awakening message. The overwhelmingly positive response has shown the movement's organizers its message of unity and togetherness is resonating, and as founder John Kingston said, "What bonds us together is far greater than what separates us."
As Lecrae, Crowder, for KING & COUNTRY, Jonathan McReynolds and The New Respects recorded the rooftop concert in June, each shared hopes for our nation and expressed their appreciation for being included in this one-of-a-kind event. The New Respects kicked the concert off with their songs, "Freedom" and "Something to Believe In," which perfectly fit the theme. They emphasized that "our love for the Lord and His love for us should be what unites us."
Crowder followed with his set: "Prove It," "Run Devil Run," "Come As You Are/How He Loves," and "All My Hope." He said that what is what is most needed right now is a focus on grace. "I love that this moment opens the door to express and bring that truth to people," he said. "People are scratching to know what is true and we get to carry that balm to people who need it."
Jonathan McReynolds performed next, leading with his hit, "Cycles," remarking that he "hopes the tension we all feel allows us to break the cycles." He then sang "Make Room," "Best Things," and "Not Lucky, I'm Loved." He also agreed that "the answer to all this humanity has always been grace."
Lecrae began his set with "Set Me Free" and "Blessings," then shared an encouraging message: "For everybody who's struggling, it may seem difficult, but every time you open your eyes, realize that God's not done with you yet. His plan is in motion and you're part of a bigger plan." After singing "I'll Find You," he added, "we need unity not for unity's sake, but for accomplishing a God-sized goal. And we need to come at it together to tear these walls down." He finished with "Coming in Hot," and added, "Division is not something that's been unearthed – it's always been there. We are not homogenous, but we need each other. I find strength in remembering the history of my faith, the empty tomb and death defeated. Because none of this is bigger than death."
for KING & COUNTRY finished out the concert with their set: "Fix My Eyes," "Joy," "God Only Knows," "Priceless," and "Together." They added that, "the theme running through humanity is that you have to go through difficulty to find redemption, and it feels like we're doing some really important work to rise together."
American Awakening co-founders John Kingston and Marisa Prince closed out the livestream with a message of encouragement and invitation: "I believe in us, in the possibilities of this land, and that our greatest destiny lies in front of us," Kingston said. "Together, we can discover purpose, meaning and true community, and now is the time to become who we're meant to be."
To which Prince added, "I challenge us to unify and encourage one another…People of God, keep fighting the good fight of faith."
American Awakening partnered with Premier Productions -- the largest producer of live faith and family events -- for the "Better Together" concert, which was closely tied to the July 28 release date of the movement's book project, "American Awakening" (Zondervan). It draws on wisdom from history, science, faith and culture, along with author Kingston's personal experiences, to offer eight principles for discovering purpose, meaning, and true community for "restoring the soul of America," and has been called the perfect post-pandemic/racial awakening bounce back playbook.
"We have something to say, 'for such a time as this.' Now is our time to be light in the darkness and model radical togetherness through this music and message," Kingston said. "We want to point people to the source of our strength and invite them to join us for a true American awakening."
To learn more about the "Better Together" concert, visit www.americanawakening.us. Following tonight's repeat livestream, the concert will be archived for 1 week on the Q media platform.
About American Awakening
American Awakening is a nation-wide venture including a book, concert production, podcast, docuseries, and inclusive gatherings to bring people together around the nation. Uniting Black, White, Latino, and Asian as well as Democratic, Republican, Independent and Green voices, the movement was launched before the coronavirus pandemic. However, its message of hope was clearly meant 'for such a time as this" as the nation struggled with racism, death and despair.
The multi-million-dollar effort includes a thrice weekly Facebook Livestream and podcast, a docuseries, a daily online devotion ("The Daily Dose") and this new concert, with potential future events to be added. This comprehensive and far-reaching initiative convenes key spiritual and thought leaders across generations and traditions, to inspire our nation to come together to heal, unite, and to cherish what we share instead of being fixated on what divides us.
About John Kingston
John Kingston, a lawyer by training and businessman by experience, is a social entrepreneur who has invested his fortune in Awakening America to the values that made her a nation unrivaled in human history. Kingston shot to the attention of the nation in the 2016 and 2018 political cycles with innovative and inclusive campaigns, positioned against the extremes of American politics. Kingston has been active in national arts, culture, and political movements for two decades.
###
For more info on these artists, visit the JFH Artists Database.