New Track "Light Pink Roses" By We Are Leo Now Available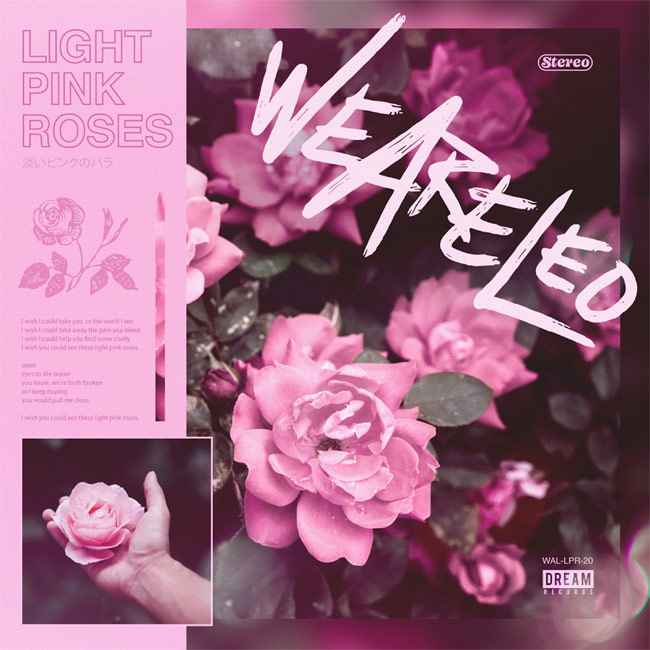 NEWS SOURCE: DREAM Records
July 31, 2020
Los Angeles, CA (July, 2020) — DREAM Records Artist, We Are Leo release their next track, "Light Pink Roses" today. The track, part of a long tail strategy of releases culminating into an EP, was produced by singer David Duffield. "Light Pink Roses" showcases the band's musical transition with a blend of beautiful vocals and packed with fun programmed instrumentation.
"Light Pink Roses is a song we wrote about finding the beauty, joy + grace of God when life's at its darkest. Having personally struggled with Mental Health issues such as anxiety and depression, this song is written to come alongside those in that fight to let them know they are not alone, and as a reminder of the hope and healing for us in the Love of Jesus. This topic is something that has deeply impacted us over the last 3 years as we've toured to 150+ schools talking about hope and mental health to students. We've been moved by the stories we've heard from people who are dealing with everything from anxiety, bullying, abuse, and loss of faith to suicidal thoughts. It is our hope and prayer that Light Pink Roses will help people feel like family and find joy in the things that are True, Noble, Lovely, and Excellent. (Philippians 4:8)" - David Duffield, We Are Leo
Check out "Light Pink Roses" below:

Connect with We Are Leo:
WeAreLeoMusic.com | Twitter | YouTube | Instagram | Facebook

ABOUT WE ARE LEO:
We Are Leo is a Christian Pop trio from the Chicago area made up of the producer David J., singer Joseph Sanborn, and guitarist Matt Gainsford. They make their own beats and write their own songs. Over the last 3 years, they've performed at 200+ schools, churches, and youth conferences leading worship and talking about hope to students dealing with mental health challenges.
ABOUT DREAM RECORDS:
DREAM provides artists with a genuine approach to how real artist development should be done. By allowing for a partnership as a business model, DREAM artists empower themselves to develop and carry out a real vision for their lives as they affect other people's lives with their music and message. Incorporating social media, press, radio and touring, DREAM is helping its artists grow together as a family. DREAM was founded in 2008 and has grown to multiple labels and a publishing company.
###
For more info on We Are Leo, visit the JFH Artists Database.