AOH Music Deliver Debut EP, "RELENTLESS", On October 13th
"His love you can't undo, Makes all things new, Always"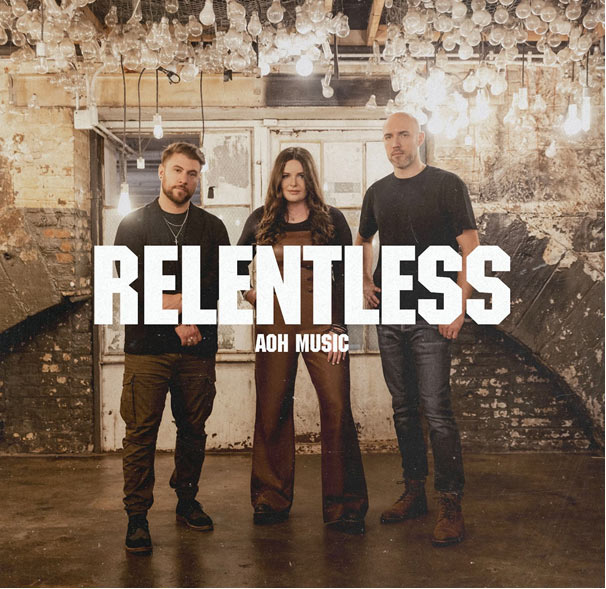 NEWS SOURCE: AOH Music
October 12, 2023
New York, NY. (Oct. 6, 2023) — AOH Music (vocalist Brianne Nealon, drummer Jimmy Meier, and guitarist/producer Jack Garno) completes it's debut EP, RELENTLESS, with the release of it's final track, Always, being released on Friday, October 13th.
When trying to come up with the EP title for this collection of songs, the word Relentless kept coming to mind. "God loves us relentlessly, always. His love is not dependent on the bad things we've done or the good things we do for Him, but who we are in Him. We are made from His perfect love, and we are deserving of it, despite the lies the evil one tries to convince us of", says the band. They hope this EP brings that to mind for all who listen to it.
This is the band's second EP release, following their first EP release, "Live at Ocean Way Nashville" which featured the songs "Abba Father", "Heal Our World" and "Light of the World". They earned immediate adds on hundreds of playlists, most notably Spotify's New Music Friday Christian and Amazon Music's Worship Now.

The band is out on tour for the fall, playing faith-based concerts and events across the nation. In addition to AOH Music, Nealon, Meier and Garno lead worship nights and perform at faith-based concerts and retreats through the Array of Hope Ministry, where they met four years ago.

PRE-SAVE the 'RELENTLESS' EP before 10/13
Listen to 'RELENTLESS' EP after 10/13
Follow AOH Music on social media:
Instagram: instagram.com/aohmusic_
Facebook: https://www.facebook.com/aohmusic
TikTok: https://www.tiktok.com/@aohmusic_
Youtube: https://www.youtube.com/@aohmusic
Spotify: https://open.spotify.com/artist/1llt760POSmdKmBFiMaz3m?si=NzcyhZAsR7y06hQYOdMmVw
About AOH Music:
AOH Music is a three-piece band based in New Jersey, composed of vocalist Brianne Nealon, drummer Jimmy Meier, and guitarist/producer Jack Garno. AOH music has performed events on both coasts. The trio recently recorded a three-song EP at the iconic Ocean Way Nashville Studios which was released this past May and was received with great reviews and enthusiasm. They will be releasing their next EP titled, Relentless, in October.
###