Hailing from West Virginia,
GENTILES
is a hard rock/metal band that just started releasing music in the summer of 2021. The band played the singles game until it came time for their first official release, an EP called
Temporary Revered As Divine
. The lyrics for these songs were written as an offense against the complacency and idolatry of not only the world, but also the church (specifically the latter). From the hypocrisy of imperfect people demanding perfection in others ("Plank Eye") to our turning a blind eye to the needy ("Confined"), down to our apparent love for war ("Warmonger"), GENTILES seeks to call it all out and pull no punches in the process. As a result, it may challenge the listener's sensibilities on occasion with its biting critiques ("
We keep our kindness confined / thanking God we're not like the others / poor, hungry, naked, blind / we've grown numb to the suffering of others / made our peace with our kindness confined
" from "Confined"). However, lyricism aside, the main issue that really brings the album down is the musical portion. The band is heavy and ferocious at times, with a great deal of potential, but sloppy playing and poor production really get in the way of it. Take "Plank Eye," for example. There's a lot that could've made this song great, but it's heavily weighed down by the instruments not being in sync. It's far too noticeable and distracting to be overlooked. "Warmonger" suffers from not only having too much going on (deathcore to metalcore to symphonic metal to acoustic to industrial), but also a bizarre effect on the clean vocals that almost creates an uncanny valley between human- and robotic-sounding. The same thing happens in the closer, "Transfiguration," but is taken a step further, with a guest vocalist whose vocal effect is so intense that it ends up sounding painfully warbly. I really like the attitude GENTILES brings to their lyrical themes, but it's unfortunately drowned out by poorly-produced vocal work and unskillful musicianship. Hopefully more experience with production will result in stronger albums in the future. - Review date: 12/15/22, written by
Scott Fryberger
of Jesusfreakhideout.com

Record Label:
None

Album length:
8 tracks: 25 minutes

Street Date:
November 28, 2022

Buy It:
iTunes

Buy It:
Amazon
Stones (Intro) (0:38)
Plank Eye (3:12)
Persecution Complex (4:12)
Confined (3:18)
Red Savior (2:26)
Warmonger (3:30)
Hearts of Men (4:15)
Transfiguration (feat. Lori Marie) (4:04)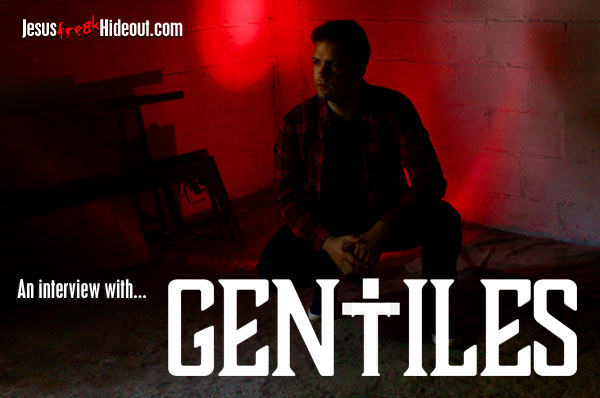 Jesus freak Hideout (Scott Fryberger): To start off, can you tell us the quick story of how GENTILES came to be?
Anthony Conn: This was a pandemic project for me. I've always wanted to record my own music, but didn't realize how doable it was in this current era of home recording. I decided to take the plunge and give it a shot. A couple of name changes later and I settled on GENTILES, a reference to how through Jesus God made salvation accessible to everyone, even non-Jews.
JFH (Scott): A big theme of the album is calling out hypocrisy in the church. Do you plan to continue with this type of lyricism in future albums, or was this specific to this album?
Anthony: This theme is just specific to this album. I'm happy to say I have less controversial lyrical content moving forward. The themes are taken from two major influences. The last couple of years I've been disheartened by some of my fellow Christians' actions, on both personal and national levels, so there's some of that in there. These songs are also a letter to my younger self, in a time when I was judgmental of others and narrow minded. It was sort of therapeutic to hash out some feelings this way, though it does make for some tough listening. I decided to pair the content with the idea of the golden calf and how we, like the Israelites, often focus on the wrong things.
JFH (Scott): Who are your biggest musical influences?
Anthony: Demon Hunter, Red and Dead Poetic are probably reflected most with this release. I also really enjoy Everything in Slow Motion/Hands and Comrades.
JFH (Scott): Is/will GENTILES be a touring band? Or does it just exist in the studio?
Anthony: I see this being just a studio project. I play bass at my church but I don't imagine taking this on the road.
JFH (Scott): What can you tell us about how the album was produced, mastered, etc?
Anthony: I self-produced this one, with some mixing advice from a friend of mine. I'm looking to learn more on the production end for my future projects.
JFH (Scott): What message do you hope people take away from the album?
Anthony: I think the lyrics in "Hearts of Men" are what I'm striving to hit home. That God loves us, even as we mistreat each other and fall short. If we loved each other like He loves us, we wouldn't be fighting over all these temporary things. His salvation is so much bigger than the boxes we put Him in.
JFH (Scott): Lord willing, what do you hope 2023 has in store for GENTILES?
Anthony: I have a full-length album of new songs written and recorded that I hope to release this upcoming year. It deals with the Garden of Eden, sin, and self-denial. I'm hoping to put out some singles this spring. I also have an EP about the disciples that I am stoked about, and hoping to put out some time in 2024, Lord willing.
JFH (Scott): Where can listeners find you online?
Anthony: You can find my links here: https://linktr.ee/gentilesmusic My music is on streaming services and I am also active on Youtube and Bandcamp.
JFH (Scott): Is there anything else you'd like to share?
Anthony: Thank you to anyone who gives my music any of their time. Thank you to JFH for the opportunity!