Dizmas Signs to Forefront Records, Releases Self-Titled Album April 29
First Single "Yours" at Radio Now,
Dizmas Headline '5 For 5' Tour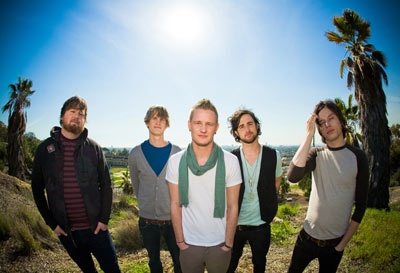 NEWS SOURCE: Forefront Records
March 24, 2008
NASHVILLE, TN (March 24, 2008) – After releasing two albums with EMI imprint Credential Recordings, southern California rock band Dizmas begins a new chapter with Forefront Records. Forefront is home to artists TobyMac, Audio Adrenaline, Rebecca St. James, as well as former tour mates This Beautiful Republic. The change in labels reinforces the focus and commitment to the Christian marketplace that has long been at the heart of Dizmas' ministry.
"Dizmas personifies the type of artist that has defined Forefront Records over the years," EMI CMG Label Group president Peter York comments on the signing. "They have demonstrated a passionate commitment to authentically communicate an eternal message with an intense, no compromise sound. It's a privilege to partner with Dizmas and share their music with a generation searching for truth."
New fans will be brought up to speed on Dizmas' recording history via the bands first Forefront release (April 29). In addition to four brand new songs written specifically for this release, the self titled album will feature six re-mastered tracks pulled from the two Credential releases, making Dizmas the perfect introduction to the band - past, present and future.
"We're stoked to be a part of the history that is Forefront Records," shares frontman Zach Zegan. "The past few years have been spent learning and growing, and we now feel ready to step forward and begin a new day where anything can happen."
First single "Yours" is one of the four new songs and has already seen early traction at Christian radio. Fans can purchase the song at iTunes and listen to the track on the band's MySpace page, www.myspace.com/dizmas , which is the hub for all interaction with the band. Fans can find Twitter updates from each band member, record and listen to voicemails for the band via their SayNow application by calling the band's phone number (661)349-7204 as well as watch regularly updated webisodes of " The Dizmas Factor ."
Throughout the month of March and most of April, Dizmas will be out in front of fans live and in person, headlining the "5 For 5" Tour. After wrapping up the tour Dizmas will be stopping through Nashville for Gospel Music Week and then spending the summer playing several major festivals.
March
27 - St. Louis, MO - The Upper Room
28 - Kansas City, MO - Main Street Cafe
29 - Salina, KS - The City
30 - Allen, TX - Cottonwood Creek Baptist Church
31 - Tulsa, OK - Crush Lounge
April
2 - Macomb, IL - Macomb Assembly of God
3 - Minneapolis, MN - Club 3 Degrees
5 - Marquette, MI - Northern Michigan University
7 - Holland, MI - Park Theater
10 - Pittsfield, MA - New Life Church
11 - Binghamton, NY - Boulevard United Methodist
12 - Clarksburg, WV - Clarksburg Baptist Church
13 - Dayton, OH - The Attic Club
16 - Lakeland, TN - Visible School
17 - Danville, IN - The X
18 - South Bend, IN - Underground Cafe
19 - 23 - Nashville, TN - GMA Week
25 - 27 - Mechanicsburg, PA - West Shore Evangelical Free Church
May
1 - Huntsville, AL - Shae's Cafe
3 - Camden, AR - 4U
11 - Bakersfield, CA - Calvary Chapel Westbrook
June
6 - Las Vegas, NV - Valley Bible Fellowship
7 - Huntington Beach, CA - Beachside Summer Fest
8 - Lake Arrowhead, CA - Community Baptist Church of Lake Arrowhead
21 - Warsaw, IN - Pro-Life Music Festival
26 - Shirleysburg, PA - Creation East - Fringe Stage
July
10 - Mason, OH - Spirit Song - Timberwolf Amphitheater
11 - Lafayette, IN - Sacred Ground
17 - Willmar, MN - Sonshine Festival
24 - George, WA - Creation West - Fringe Stage
August
8 - Camas, WA - Lacamas Conference Center
9 - Tacoma, WA - Club Impact
29 - Quincy, CA - Joshua Fest - Plumas County Fairgrounds
30 - Morgan Hill, CA - Live Oak High School
*Dates in BOLD denote 5 For 5 Tour dates
###