SARAH MACINTOSH SIGNS WITH KOCH ENTERTAINMENT DISTRIBUTION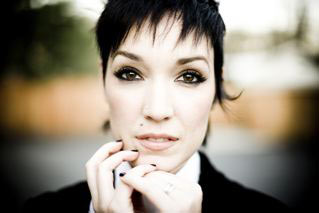 NEWS SOURCE: BookEnd Media
May 23, 2008
(NASHVILLE, TN) MAY 23, 2008 --Sarah MacIntosh continues to brand herself as a stand-out solo artist with her critically acclaimed album The Waiters, The Watchers, The Listeners, The Keepers, And Me. In addition to her radio success and praise from music critics, MacIntosh recently signed an extensive distribution deal with KOCH Entertainment.
"Sarah's voice is unlike any I have heard and not soon forgotten," said Barry Landis, Head of KOCH Records' Christian label activities. "Her talent is among the best I have ever had the privilege of working with; a natural gift, not fabricated and obviously God given."
KOCH Entertainment is the leading and fastest-growing independent music company in the U.S. KOCH's operations encompass record and video labels as well as distribution companies in the U.S. and Canada. KOCH Entertainment is the market leader among independent labels and distributors in both the U.S. and Canada and its record labels had the largest number of Billboard charting albums among independents in 2006/2007.
"I am so excited to be working with KOCH Entertainment," said MacIntosh. "With the radio airplay and traveling I am doing right now it will greatly help in getting my CD into the hands of those who are looking for it. This will be a huge help for me as an indie artst."
In addition, MacIntosh's radio single "More Than Hands" has made quite an impression on Christian radio. "Sarah's first radio single "More Than Hands" hit top 3 for 10 consecutive weeks on CRW's IAA chart through CRW Platinum Gold Radio Promotions, was #1 for 2 weeks and is currently airing on over 89 stations across the U.S." said Dave Koch,CRW Publisher/Editor.
Produced by her husband Jonathan MacIntosh (Luna Halo, Trevor Davis), the album holds a powerhouse of musical backing with Vinnie Colaiuta (Sting, Billy Joel, Josh Groban) on drums, Brent Milligan (Michael W. Smith, Tobymac) on bass, and Jonathan on guitars. This incredible melodic landscape blended with MacIntosh's angelic and hauntingly vulnerable vocals sets the stage for an original and riveting musical experience that is making fans and critics sit up and listen.
For more details and information on Sarah MacIntosh, please visit www.sarahmacintosh.com
# # #

[2020]
Jan. | Feb. | March | April | May | June | July | Aug. | Sept. | Oct. | Nov. | Dec.
[2019]
Jan. | Feb. | March | April | May | June | July | Aug. | Sept. | Oct. | Nov. | Dec.
[2001 - 2018]
Visit our complete MUSIC NEWS ARCHIVE