Centricity Music's Lanae' Hale Performs At Major iTunes Event In San Francisco, CA
NEWS SOURCE: Bozeman Media
October 6, 2008
Centricity Music's exciting new artist, Lanae' Hale, has been embraced by the digital music service, iTunes, since her debut in January 2007. She was selected as Discovery Download the week of January 2nd and received nearly 100,000 downloads for "Spring Again," the first single from her self-titled six song EP. Recently she was tapped to perform for iTunes executives in San Francisco, CA at a showcase for artists with new projects and strong up and coming artists. Hale shared the stage with such artists as Sammy Hagar, Eric Hutchinson, Lights, and the Spill Canvas.
Following the iTunes trip, Hale immediately left for Atlanta, GA where she appeared on "Every Day With Marcus and Lisa" on Family Net TV, performed for the staff at Gospel Music Channel, and taped six songs and an interview for Atlanta Live. Then last week Hale taped an upcoming feature in Nashville for CBN's 700 Club.
Due to the strong response from fans and media, Hale is heading into the studio to finish recording her first full project for Centricity Music that will be released in spring 2009.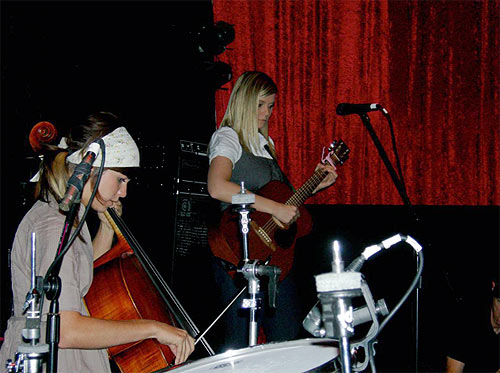 Photo (left to right): Claire Indie, cellist, and Lanae' Hale tune up before iTunes performance.
###