- PROVIDENT'S FRIDAY BUZZ -
FOR THE WEEK ENDING OCTOBER 17, 2008
MICHAEL W. SMITH HONORED WITH TRIBUTE

CASTING CROWNS, THIRD DAY GARNER
AMERICAN MUSIC AWARD NOMINATIONS

RED RECOGNIZED FOR SUCCESS OF 5 NO. 1 RADIO SINGLES

BRANDON FEATURED ON ALL AT&T PHONES; "GIVE ME YOUR EYES"
HOLDS NO. 1 SPOT FOR A FOURTH WEEK AT RADIO

CASTING CROWNS' THE ALTAR AND THE DOOR LIVE
IS CERTIFIED RIAA GOLD

TENTH AVENUE NORTH PARTNERS WITH COMPASSION INTERNATIONAL
NEWS SOURCE: Provident Label Group
October 17, 2008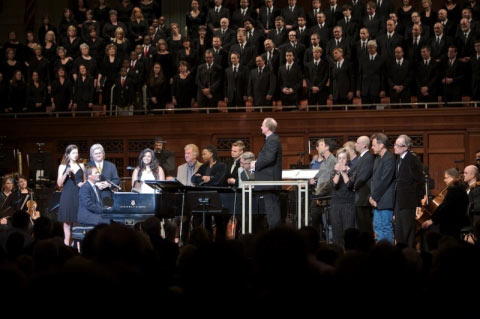 Photo Caption: Michael W. Smith honored with tribute that celebrated his 25-year-career. (Photo Credit: Wade Schuerman.)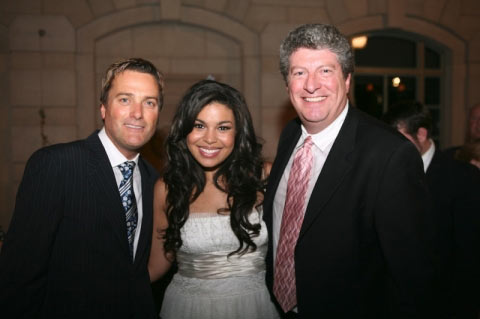 Photo Caption: Michael W. Smith pictured with Jordin Sparks and Dan Keen, Vice President, Membership ASCAP, at the post event dessert reception that ASCAP sponsored after the Tribute at the Schermerhorn. (Photo Credit: Wade Schuerman.)
Michael W. Smith Honored with Tribute: The Nashville Choir's third annual "A Light for the City" event celebrated the 25-year-career of GRAMMY® award-winning and multi-Platinum selling artist Michael W. Smith. The star-studded tribute took place on Sunday, Oct. 12 at Music City's Schermerhorn Symphony Center. The show, which has been described as a cross between "This Is Your Life" and the "Kennedy Center Honors," was open to the public and included special appearances by the Rev. Franklin Graham and author Max Lucado and performances by Amy Grant, Jordin Sparks, Melinda Doolittle, Bill Gaither, Wynonna, Ricky Skaggs, Phil Stacey, Michael Tait and others. All proceeds benefitted The Nashville Choir which is a non-profit organization. For more information on Michael, please visit www.michaelwsmith.com.
Casting Crowns, Third Day Garner American Music Award Nominations: Casting Crowns and rock band Third Day received American Music Award (AMA) nominations for "Favorite Artist" in the Contemporary Inspirational category this week. Casting Crowns, who won this category at last year's show, celebrates its fourth consecutive nomination while Third Day is honored with its third career nod. The 36th Annual AMAs will air Sunday, November 23rd (8:00-11:00 p.m. ET/PT) on ABC.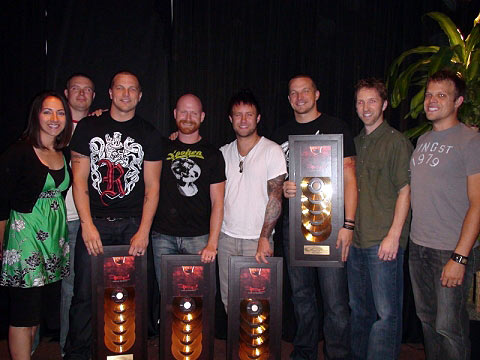 Photo Caption: Red pictured with members of the Provident Label Group radio team at plaque presentation.
Red Recognized for Success of 5 No. 1 Radio Singles: Modern rock band Red was presented with a plaque in recognition of the 5 No. 1 radio singles at Christian Rock radio from its debut album End of Silence (June 6, 2006). The band is currently on tour with Staind, Seether and Papa Roach. Red is pictured above with members of Provident Label Group's radio team. For more information on Red, please visit www.myspace.com/dropofred.
Brandon Featured on all AT&T Phones; "Give Me Your Eyes" Holds No. 1 Spot for a Fourth Week at Radio: New Artist of the Year Brandon Heath is currently the Christian Featured Artist on all AT&T phones. This week, Brandon's hit song "Give Me Your Eyes," from his sophomore album, What If We, remains the No. 1 song at Christian radio for a fourth week on the AC-Monitored chart. The smash hit also takes the No. 1 spot on iTunes Top Christian Songs for a twelfth week with nearly 100,000 single downloads. He is currently on the Art*Music*Justice Tour with Sara Groves, Derek Webb, Sandra McCracken and Charlie Peacock. For more information on Brandon, please visit http://www.brandonheath.net/.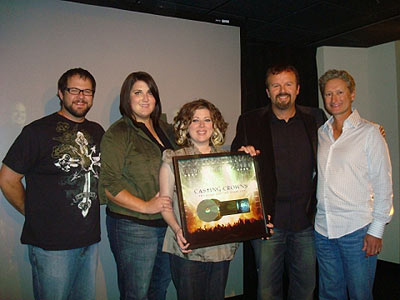 Photo Caption: Casting Crowns celebrates the RIAA Gold certification of The Altar and The Door Live DVD/CD. Pictured (L-R): Band members Juan DeVevo, Megan Garrett, Melodee DeVevo and Mark Hall with Terry Hemmings, President and CEO of Provident Music Group.
Casting Crowns' The Altar And The Door Live is Certified RIAA Gold:
GRAMMY-winning, multi-platinum artist
Casting Crowns
celebrates its sixth consecutive RIAA milestone today with the Gold certification of its third live DVD/CD release, The Altar and The Door Live. This project, released on Aug. 19, captures the band's monumental 2007-2008 headlining tour in 5.1 Surround Sound, which closed as one of Christian music's top-attended tours of all time with nearly 500,000 fans attending in more than 80 cities. This certification comes on the heels of the band's fourth American Music Awards nomination, announced Tuesday, and the release of Casting Crowns' first Christmas album Peace On Earth. The new album reached No. 1 on iTunes Christian albums chart, and No. 3 on iTunes overall Holiday albums chart topping new seasonal releases from Faith Hill and Elvis Presley. Peace On Earth also debuts at No. 4 on Billboard's Top Christian Albums chart, and No. 1 on both SoundScan's Christian Retail chart and Christian Seasonal Overall charts, as the highest charting Christmas album of the week. For more information on the band, please visit www.castingcrowns.com.
Tenth Avenue North Partners with Compassion International: Tenth Avenue North (Reunion Records) is proud to announce its new partnership with child sponsorship organization, Compassion International. Mike Donehey, lead vocalist and songwriter for Tenth Avenue North, stated, "One of the things we love most about Compassion is that it's not about Compassion. If you go to one of their sites you won't see a Compassion banner, but instead you'll see the church in that area giving to their community exactly what it needs. The empowering of the local church to be the hands and feet of Jesus is what we want to be about, and its what we feel Compassion does best." Wess Stafford, President, Compassion International commented, "I'm thrilled that Tenth Avenue North will be joining Compassion's effort to release children from the evil of poverty throughout the world in Jesus name. I'm confident that the Lord will use the message and example of Tenth Avenue North in a mighty way to draw caring sponsors into the lives of children who so desperately need to hear His message of love and hope." For more information on Tenth Avenue North, please visit www.tenthavenuenorth.com.
###