SARA GROVES' ART*MUSIC*JUSTICE TOUR SUCCESSFULLY WRAPS AND IMPACTS WITH MESSAGE OF JUSTICE AND HOPE
AUDIENCES RESPOND NATIONWIDE TO SPONSOR OVER 500 RWANDAN CHILDREN FOR FOOD FOR THE HUNGRY, AS FINANCIAL GIVING SURPASSES GOAL SET FOR INTERNATIONAL JUSTICE MISSION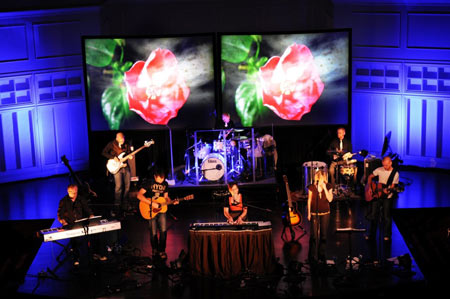 NEWS SOURCE: The M Collective
November 6, 2008
NASHVILLE, TN.... 11/6/08....This September and October, critically-acclaimed singer-songwriter Sara Groves gathered a group of fellow-acclaimed artists and friends Brandon Heath, Derek Webb, Sandra McCracken and author/artist Charlie Peacock, to join her on the ART*MUSIC*JUSTICE tour which benefited both the International Justice Mission (IJM) and Food For the Hungry (FH). The tour was such a success on so many levels that plans are already underway to put together a follow-up tour in the fall of 2009.
" I can't say what a joy it has been to collaborate with these incredible artists to take a small step towards a night like we had on the Art Music Justice Tour," remarked Groves. "To be surrounded with like-minded artists with a common goal and message, to ask the larger questions about what Jesus is doing in our world, and how we can be the art of God was very life-giving. The responses from audiences confirmed what we had hoped, as they responded generously to the work of Food for the Hungry and International Justice Mission."
In over 20 cities, the artists brought a unique concert opportunity to "add to the beauty, seek justice and give God praise," each evening, desiring to further educate the church on God's heart for justice, gain advocates for the oppressed, and show evidence of a God at work in this world. Each evening brought with it inspired music and videos of God's people in action and their heroic experiences across the globe. Incredible stories of rescue from the International Justice Mission were told, while giving audience members the opportunity to be involved in Groves 'adopted' village in Rwanda thru Food for the Hungry.
As the tour wrapped, 550 kids had been sponsored in the Rwandan Village of Gisanga that the AMJ tour and Groves family support, and their goal to raise $50k for the International Justice Mission was surpassed. Food for the Hungry (www.FH.org) works in more than 26 developing countries providing disaster and emergency relief, and implementing sustainable development programs to transform communities physically and spiritually. The International Justice Mission (www.IJM.org) is a human rights agency that secures justice for victims of slavery, sexual exploitation and other forms of violent oppression.
About the shows, Heath stated, "The sound and feel of the night couldn't have been more like a family joining other families to end slavery," while Derek Webb and Sandra McCracken echoed those sentiments, commenting, "we have all been knit together on this tour like a traveling music community, and at the end of the day, we've been able to be part of this larger story of redemption through IJM and FFH."
To further cement their commitment to the oppressed, the Groves family will be traveling to Rwanda in March with Food for the Hungry. They will be taking a team of 12 people with them, working on clean water projects, an IJM day to hear from their office about the legal challenges for Rwandans 14 years after tragic genocide, and just loving the kids in the Village of Gisanga. Grove's site will have updates, pictures, and video footage from the village to keep the FH sponsors plugged in to what is happening there.
Aside from the incredible success seen on the road each night, the tour also received critical acclaim, including the following from Relevant Magazine's official blog, a sponsor of the tour:
"Over the years, there have been many Christian festivals/events/tours, trying to promote some kind of cause/get people involved/push a message. The vast majority of them are quickly forgotten, tossed into the large bin of failed trends within our own subculture. This tour, however, is unique in that rather than pushing a certain action ("wear this purity ring!" "sign this petition against [fill in the blank depending on the year]!") the audience was encouraged to take what they'd learned, pray deeply about it, and discover their own role in ending injustice."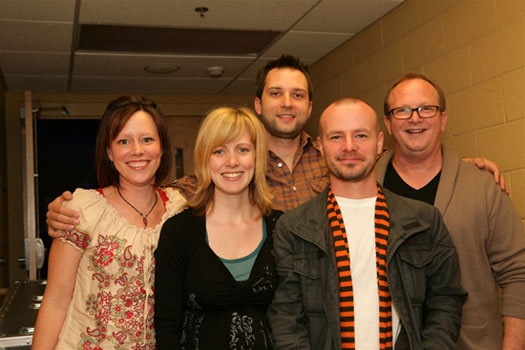 AMJ Tour Artist's backstage before a show: Sara Groves, Sandra McCracken, Brandon Heath (back), Derek Webb, Charlie Peacock (photo credit: Danielle Smith)
###