ROBERT PIERRE GIVES AWAY OVER 33,000 COPIES OF SOPHOMORE ALBUM TO BENEFIT THE JAMES FUND EARLY ON IN NATIONWIDE PROMOTION
Identity To Release To All Stores Nationwide in Feb. 2009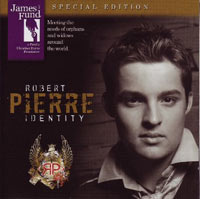 NEWS SOURCE: The M Collective
November 12, 2008
Nashville, Tenn. Nov. 12, 2008… In its seventh week, 33,246 copies of Robert Pierre's sophomore record Identity have been given away for the benefit of Family Christian Stores' The James Fund. With a $10 donation through the Barnabus Bear program to the organization, shoppers are receiving Identity before it is released to all stores nationwide in Feb. 2009.
"I am so pumped to work alongside Family Christian and the James Fund," says Pierre. "It's been my privilege to be raised in a home with a heritage of giving. For generations, my family has been involved with missionaries to build and run Christian orphanages."
With the promotion starting in mid-Sept., the store is expected to distribute100,000 copies of Pierre's album before Christmas. With the donation to The James Fund, an organization that helps widows and orphans both locally and worldwide, shoppers not only receive Identity, but a Barnabus bear that is given to an orphan in the consumer's community or in a third world country.
"The Family Christian Stores James Fund is enjoying the partnership with Robert Pierre, in support of orphans and widows," says The Family Christian Stores James Fund president Steve Biondo. "As we invite our customers to adopt a Barnabus Bear on behalf of orphans, the customers are pleased to be receiving the new release from Robert as a gift. Customers have returned to comment that Robert's music is strong and energetic. Parents appreciate Robert's challenge to the youth of America to find and enjoy your Identity in Christ."
Identity will release to all stores nationwide in Feb. 09 with three additional tracks. The record is also currently available on iTunes. Produced by Matt Bronlewee (DC Talk, Steven Curtis Chapman, Tobymac), Identity includes 10 tracks such as "Breaking My Heart," "Don't Miss This" and "I'm Not Perfect." Four of the new songs were even written by the high school sophomore who titled his record Identity after performing for over a quarter of a million people on the road and realizing that his generation was having an Identity crisis and needed to be reminded of their Identity in their creator.
Pierre is currently on the iShine Live tour with Luke Benward, The Rubyz and Paige Armstrong. Visit www.Robertpierre.com or www.ishinelive.com for the most updated tour information.
Family Christian Stores' Foundation, The James Fund, is a non-profit organization dedicated to meeting the needs of orphans and widows around the world. God's direction and purpose for this mission is defined in scripture: "Religion that God our Father accepts as pure and faultless is this: to look after orphans and widows in their distress..." James 1:27 (NIV) Family Christian Stores http://familychristian.com/, through The James Fund, partners with its customers in a shared mission: Reaching out to orphans and widows by showing them the love of our Heavenly Father. In addition, The James Fund provides adoption assistance to partner agencies as well as hands-on orphan care and quality of life initiatives that make differences in the lives of orphans and widows. The James Fund, is a 501(c)(3) non-profit organization founded by Family Christian Stores in 2003 to meet the needs of orphans and widows in the communities it serves.
Robert Pierre is a 16 year-old sophomore who plays high school basketball, leads student worship at his church, is involved in student leadership at his school and is a national recording artist. Identity will be the follow-up project to Inside Out, Pierre's freshman release on thinkaboutit records.
http://www.myspace.com/robertpierre
http://www.robertpierre.com
###