MATTHEW WEST, SANCTUS REAL HEADLINE WAY-FM/WORLD VISION TOUR
Tour to Reach 12 WAY-FM Radio Markets Across the Country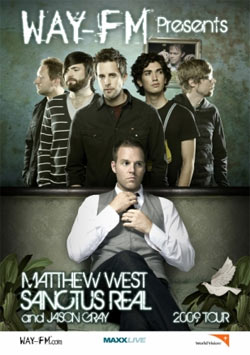 NEWS SOURCE: Savvy Media
January 26, 2009
(NASHVILLE, Tenn.) Jan. 26, 2009 – Award-winning Sparrow Records acts Matthew West and Sanctus Real will join WAY-FM and World Vision for the organizations' first-ever national tour. Designed to bring World Vision's ministry to the local station level, "The WAY-FM/World Vision '09 Tour," also featuring special guest Jason Gray, will kick off Jan. 28, 2009 in Charleston, SC, and visit 12 WAY-FM radio markets through Feb. 20, 2009.
"I'm ready to hit the road this spring with Sanctus Real," says Matthew West. "WAY-FM has some of the greatest listeners in the world, and it's going to be a blast visiting all these WAY-FM cities. Of course, the chance to team up with an outreach like World Vision is an honor, and we hope these concerts will be more than just music but a chance to change the world by teaming up with such an amazing ministry."
"As we're getting ready for the 'WAY-FM/World Vision '09 Tour,' we see this as a unique opportunity for us to reach a whole new audience with our music," says Sanctus Real frontman Matt Hammitt. "We're great friends with Matthew West and so appreciate the ministry of both WAY-FM and World Vision. To be partnered with such great people is an honor and a pleasure. We know this will be a great tour on all levels and hope a ton of people come out and join us!"
"As the World Vision - WAY-FM partnership came together, we realized a national tour would be a great way to bring the story of the ministries of both organizations directly to our audience," says Lloyd Parker, WAY-FM Chief Operating Officer. "Because both Matthew West and Sanctus have a heart for what we do, and they also receive a lot of airplay on WAY-FM, having them co-headline the tour made sense."
"The World Vision Artist Associates Department has hoped for a tour with WAY-FM for many years," says Jenny Lockwald, World Vision channel/product executive director, artist associates & volunteer programs. "This year along with the World Vision radio department we have produced a tour specific to the WAY-FM markets in conjunction with Maxx Live. The tour features Matthew West and Sanctus Real and introduces Jason Gray. We felt that the combination of these artists in concert would be attractive to the WAY-FM audience, as well as share World Vision ministry and need in serving the vulnerable and needy in over 100 countries on a daily basis."
The WAY-FM/World Vision Tour '09 itinerary:
January 28 Charleston, SC
January 30 Tallahassee, FL
January 31 Huntsville, AL
February 5 Panama City, FL
February 6 Ft Myers, FL
February 8 West Palm Beach, FL
February 10 Rome, GA
February 12 Bowling Green, KY
February 13 Clarksville, TN
February 14 Louisville, KY
February 19 Wichita, KS
February 20 Denver, CO
MATTHEW WEST:
West catapulted onto the Christian music scene in 2003 with his debut single, "More," which was the most played Christian AC song of 2003. The multi-Dove Award nominee and sought-after songwriter released two critically-acclaimed recordings, Happy (2003) and History (2005); has been a mainstay at Christian radio with memorable hits like "Only Grace," "History" and "Next Thing You Know"; and has toured with such artists as tobyMac and Jeremy Camp on the wildly popular 2008 "Boomin' Beyond Measure" tour. In addition, West has penned songs for Rascal Flatts, Billy Ray Cyrus, Natalie Grant and Mandisa, among others. West's third studio recording, Something To Say, released January 15, 2008 and debuted on Nielsen SoundScan's Christian Retail Chart at #10, while West was the best-selling Christian artist on iTunes the week of its release. The album's debut single "You Are Everything" additionally peaked at No. 1 on Christian AC radio and was the most played Christian song of 2008, while "Something to Say" climbed to No. 7 at AC radio. Most recently, West wrapped the 27-city "Something to Say" fall tour featuring label mate Josh Wilson. For more information on Matthew West, visit www.matthewwest.com or www.myspace.com/matthewwest.
SANCTUS REAL:
One of the top Christian rock bands today, five-member Sanctus Real's breakthrough album, The Face of Love, released in April 2006, landing at No 2 on the Billboard Top Heatseekers chart and amassing a string of radio hits including No. 1 songs "I'm Not Alright" and "Don't Give Up." While The Face of Love was inspired by real-life heartache and rediscovered joy, the band's fourth studio release, We Need Each Other, marks a completion of that healing process and is a call for unity. Described by multiple media outlets as Sanctus Real's best project to date, the record's title track was a No. 1 hit on Christian Hit Radio. We Need Each Other also received a 2009 GRAMMY Award nomination for Best Rock Or Rap Gospel Album. Popularly known for its captivating live performance, the group toured with Third Day last spring and headlined the "We Need Each Other" tour with special music guests Tenth Avenue North and VOTA in fall 2008. For all the latest Sanctus Real news, go to www.sanctusreal.com, www.myspace.com/sanctusreal, and www.emicmg.com.
WAY-FM MEDIA GROUP:
WAY-FM Media Group was founded in 1987 by Bob Augsburg and his wife Felice as a single station, WAYJ, in Fort Myers, FL. Today WMG, including CHRSN, has over 100 signals in 26 states. Markets served by WMG include Denver, CO; Nashville, TN; West Palm Beach, FL; Louisville, KY and Charleston, SC. For more information visit www.wayfm.com.
WORLD VISION:
World Vision is a Christian humanitarian organization dedicated to working with children, families and their communities worldwide to reach their full potential by tackling the causes of poverty and injustice. For more information visit http://www.worldvision.org/.
For more information on Matthew West, visit the JFH Artists Database
For more information on Sanctus Real, visit the JFH Artists Database

[2022]
Jan. | Feb. | March | April | May | June | July | Aug. | Sept. | Oct. | Nov. | Dec.
[2021]
Jan. | Feb. | March | April | May | June | July | Aug. | Sept. | Oct. | Nov. | Dec.
[2001 - 2021]
Visit our complete MUSIC NEWS ARCHIVE