COMPASSIONART: CREATING FREEDOM FROM POVERTY CD/DVD, RELEASES IN U.S. TODAY AMIDST ACCLAIM, FEATURES 19 GENRE DEFINING ARTISTS
Associated Press, New York Times, Billboard, USA Today, The Tennessean, CCM, Forbes, Numerous Other Publications Cover Unprecedented Effort To Engage People Everywhere To Help End World Poverty

The Art of Compassion Book Also Available Today

NEWS SOURCE: Hoganson Media
January 27, 2009
(Nashville, TN) January 27, 2009 – The award-winning CompassionArt charity launches its CompassionArt: Creating Freedom From Poverty CD/DVD today amidst widespread acclaim. The album, which includes a 50-minute DVD documentary, and its companion book, The Art of Compassion, written by the 12 world-acclaimed CompassionArt songwriters, are available now at retail outlets everywhere. All song, artist and author royalties received from these projects will be forever donated to the poorest of the poor.
Martin and Anna Smith, CompassionArt cofounders, are parents to six children and have been on an unusual journey over the last couple years. While Martin was visiting the slums in India prior to him taking the stage that evening with his gold-selling band Delirious?, he visited a missions project in the red light district and fell in love with a little girl whose mother was trapped into working as a sex slave to feed and clothe her. Martin and Anna investigated the possibility of adopting the little girl, but the process came to a halt when miraculously the mother decided to leave her trade and start a new life with her daughter. Hurt to the core by the dichotomy of staying in "5-star" hotels and visiting slums like these around the world, the couple decided they were going to do something radical - and the CompassionArt idea was born. Instead of bringing the little girl home, Martin and Anna decided to "adopt" all 70 of the children in that project.
The first of 16 charitable projects chosen by CompassionArt was Hand of Hope, the organization working with these children, offering relief and restoration for families caught up in Mumbai, India's sex trade. The charity also offers food and education for children scraping for survival on a rubbish dump in Phnom Penh, Cambodia. More information on all the CompassionArt charitable projects can be found at http://CompassionArt.tv. (Martin and Anna's story is further penned by the couple in The Art of Compassion book.)
As this story has captured attention worldwide, numerous media outlets internationally over the last six weeks have run print and/or online news, including the Associated Press, New York Times, USA Today, Washington Post, Forbes and FOX News. CompassionArt is also featured in the current issue of Billboard magazine, which further ran as a Reuters wire story, online at Yahoo!, and internationally from Canada.com to The Peninsula, Qatar's leading English daily.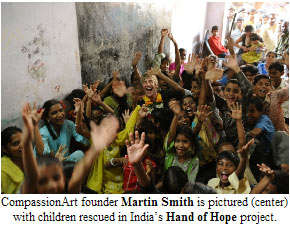 In a CompassionArt Arts & Entertainment cover feature Sunday in The Tennessean, fellow CompassionArt songwriter Michael W. Smith reiterates the profound impact CompassionArt has made on him. "I promise when I say this, it was one of the most amazing times of my career," said Smith. "In all the things I've done, and I've traveled all over and been with presidents and won awards, this one is very much at the top of what I'll remember the rest of my life. Because it was life changing for all of us." (For the full story, go to www.tennessean.com.)
"My hope is that this project is a huge financial success," shares Chris Tomlin in a CCMmagazine.com cover story. "And without shame, I can say that out loud because every cent goes to the 'least and the last.' …I really see 'on earth as it is in heaven' stamped on this one!" (For the full story, go to www.CCMmagazine.com.)
Music critics are also offering their praise for the CompassionArt: Creating Freedom From Poverty CD/DVD and book:
"The entire package is a solid-to-stunning collection of talent, heart and mission." – CCMmagazine.com
"Every song is a standout…The artist lineup alone makes this album a must-have, but the story behind these songs makes it a collection like no other." – Charisma
"CompassionArt, the Christian music who's who that came together earlier this year to help eradicate world hunger…" – Dallas Morning News
"The songs that make up the CompassionArt compilation CD are filled with hope and equality. The lyrics do not demean the poor and oppressed that they talk about, it does not pity them, and it does not brush over the injustice that they experience…The artists of CompassionArt bring a sweet aroma of love and challenge to those that listen." – WreckedForTheOrdinary.com
"If you only want to find a couple songs for your worship set list, look first to 'King of Wonders.' … The others to make sure you have in your service are 'Shout Praise' … and 'So Great,' which is a great number to get your choir involved. The highlight, however, is how this album names God for our culture: 'Friend of the Poor,' 'King of the Broken,' Healer of nations. When you hear and join your heart with the sacred sounds here, you know exactly what worship has to do with poverty: everything." – Worship Leader
"…this is an excellent album, packed with superior songs and uplifting performances by some of the most seasoned artists in the CCM industry…" – Soul-Audio.com
The 19 genre-defining songwriters/guest vocalists featured on the 14-song charity album, CompassionArt: Creating Freedom From Poverty, include: (Songwriters) Paul Baloche, Steven Curtis Chapman, Stu G, Israel Houghton, Tim Hughes, Graham Kendrick, Andy Park, Matt Redman, Martin Smith, Michael W. Smith, Chris Tomlin and Darlene Zschech; and (Guest Vocalists) Kirk Franklin, Amy Grant, Joel Houston, Leeland Mooring, Christy Nockels, tobyMac and CeCe Winans. Together, they combine for: 101 million albums sold, 103 No. 1 songs, 32 GRAMMY Awards and 9 GRAMMY nominations last month alone, 202 Dove Awards, 18 Stellar Awards, 3 American Music Awards, and 116 CCLI Top 500 songs sung by millions in churches around the world.
Available now in the US through EMI CMG, the recording's current radio single "King of Wonders" is being heard on the K-LOVE Radio Network and other stations across the country. CompassionArt: Creating Freedom From Poverty also released last November in Europe and Scandinavia through Fierce!/Kingsway, Asia, Africa and South America through Integrity and Australia and New Zealand through Crossroads.
CompassionArt, a charity based in Littlehampton, England, held a songwriters' retreat in January 2008 and began recording songs from the retreat a month later for the CompassionArt: Creating Freedom From Poverty album at the famous Abbey Road Studios in London, England, with later recording sessions in Nashville, New York and Los Angeles. Six of the songs are being offered in a groundbreaking, limited time giveaway at http://widget.nabbr.com/compassion_art.html. Requesting donations for the songs, the goal is to engage people everywhere to help end world poverty. As CompassionArt inspires people to give of themselves, one donor downloaded the songs and offered $1,000 to help with CompassionArt's goal to help the poor.
In addition to the recording and documentary, the 12 CompassionArt songwriters have written compelling, candid stories for a companion book, The Art of Compassion (FaithWords/Hachette Book Group, Hodder & Stoughton), releasing simultaneously with the album. This book tells firsthand accounts of extreme poverty around our planet as these songwriters move from ignorance and apathy through paralyzing awareness and end with a call to action, showing us the brutal cost of comfort in the Western world.
CompassionArt is not associated or affiliated with, or otherwise sponsored or endorsed by, Compassion International, Inc. Compassion® is a registered trademark of Compassion International, Inc.
More information on CompassionArt, including song clips, sheet music, news and more can be found at http://CompassionArt.tv.

[2022]
Jan. | Feb. | March | April | May | June | July | Aug. | Sept. | Oct. | Nov. | Dec.
[2021]
Jan. | Feb. | March | April | May | June | July | Aug. | Sept. | Oct. | Nov. | Dec.
[2001 - 2021]
Visit our complete MUSIC NEWS ARCHIVE