- PROVIDENT'S FRIDAY BUZZ -
FOR THE WEEK ENDING FEBRUARY 6, 2009
CASTING CROWNS PERFORMS AT NATIONAL PRAYER BREAKFAST IN WASHINGTON, D.C.

MICHAEL W. SMITH INDUCTED INTO THE
GOSPEL MUSIC HALL OF FAME

MYSPACE FEATURES RED ON HOMEPAGE THIS WEEK WHILE ITS SMASH SINGLE "FIGHT INSIDE" RETURNS TO NO. 1.

THIRD DAY'S "REVELATION" NO. 1 THIS WEEK ON
R&R AC MONITORED CHART

JOHN WALLER TO PERFORM AT WFSH-THE FISH ATLANTA'S
VALENTINES MARRIAGE CEREMONY

FIREPROOF BLAZES DVD SALES RECORDS
NEWS SOURCE: Provident Label Group
February 6, 2009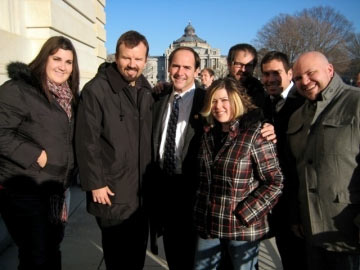 Megan Garrett, Mark Hall, Zach Wamp-Tennessee Congressman, Melodee DeVevo, Juan DeVevo,
Hector Cervantes and Andy Williams
Casting Crowns Performs at National Prayer Breakfast in Washington, D.C.: Yesterday, Grammy-winning artist Casting Crowns was the featured guest performer during the National Prayer Breakfast in Washington, D.C. The platinum-selling band played its mega-hit songs "Voice of Truth" and "Who Am I" for President Obama, former British Prime Minister Tony Blair and the more than 3,000 attendees, including dignitaries from more than 180 nations. Casting Crowns spent the day with Congressman to the third district of Tennessee, Zach Wamp, touring the Capitol building and performing again last night during a worship service at the Washington Hilton Hotel. The band's participation is profiled in national media stories including audio clips in the Associated Press and the White House blog. To learn more about Casting Crowns, please visit: www.castingcrowns.com.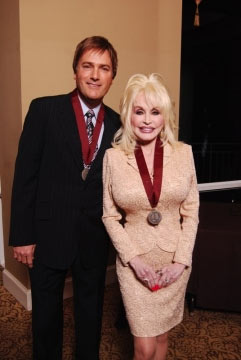 Michael W. Smith and Dolly Parton, Gospel Music Hall of Fame Inductees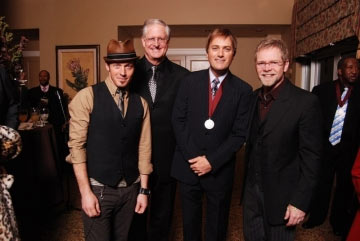 TobyMac, John Styll, Michael W. Smith and Steven Curtis Chapman
(Gospel Music Hall of Fame photos by Aaron Crisler / The Judy Nelon Group)
Michael W. Smith Inducted Into the Gospel Music Hall of Fame: Family, friends, fellow GMA Gospel Music Hall of Fame members and other representatives from the music industry were present Monday evening to pay tribute to Michael W. Smith as he was inducted into the Gospel Music Hall of Fame. Steven Curtis Chapman and TobyMac were present to offer induction remarks before Michael gave his acceptance speech. Inductees at this year's ceremony included Dolly Parton, Dr. Bobby Jones, Lari Goss and The Dixie Hummingbirds. For more information about Michael W. Smith, please visit: www.michaelwsmith.com.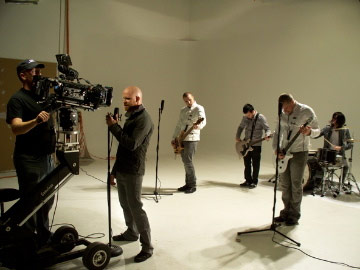 RED's Smash Single "Fight Inside" Returns to No. 1.: The buzz continues to grow surrounding the return of RED, Essential Records' GRAMMY-nominated modern rock band. The debut single from Innocence & Instinct, the epic "Fight Inside," retook the top spot on the Radio & Records Christian Rock chart for the week of January 26, furthering anticipation for the February 10 full album and Deluxe Edition release. In addition, the "Death of Me" music video was featured this week on MySpace Music. The video, shot in Birmingham, Ala., and directed by The Erwin Brothers, will be featured on the Innocence & Instinct Deluxe Edition. For more information about RED, please visit: www.myspace.com/dropofred.
Third Day's "Revelation" No. 1 This Week on R&R AC Monitored Chart: Atlanta based rock band, Third Day continues its successful run at radio with a No. 1 on the R&R Christian AC Monitored chart. The single has been No. 1 on the Christian Radio Weekly (CRW) AC radio-impressions chart for the past four weeks. This is the second single from the band's Revelation (7/29/08) project to claim a top spot at radio; the first of which was "Call My Name" which scored a No. 1 on R&R's Christian AC Indicator chart on June 2. It was also No. 1 on R&R's Christian AC Monitored chart on June 9. The song remained No.1 on both charts for 11 weeks. In addition, "Call My Name" was a No. 1 on the R&R CHR Chart on June 9, where it held strong for 6 weeks. Third Day kicks off its 34-city Revelation Tour on March 5th in Champaign, Ill. with special guests, GMA's 'New Artist of the Year' and Double GRAMMY Nominee, Brandon Heath and high-energy, Australian pop/rock band, Revive. For more information about Third Day, please visit: http://www.thirdday.com/.
John Waller to Perform at WFSH-The Fish Atlanta's Valentines Marriage Ceremony: Beach Street recording artist, John Waller will be participating in WFSH-The Fish Atlanta's Valentine's Day event on Feb. 14. The station is inviting 50 couples out to Stone Mountain Park in Stone Mountain, Georgia, to simultaneously renew their vows during one huge ceremony. John will perform at the ceremony as well as at the reception that follows. For more information about John Waller, please visit: www.johnwallermusic.com.
**BIG news on Fireproof DVD, see below for press release**
Fireproof Blazes DVD Sales Records
No. 1 CBA SoundScan Video....Ever
NASHVILLE—Feb. 5, 2009—FIREPROOF debuted on DVD on Tuesday, January 27, and by week's end sales in Christian bookstores alone had broken the previous DVD sales record from 2004 set by Jonah, A VeggieTales Movie.
With this achievement, Sherwood Pictures—the production arm of Sherwood Church in Albany GA—holds three of the top five spots on the Christian DVD chart: Facing the Giants is no. 2; Flywheel is no. 5.
FIREPROOF opened in 839 theaters at no. 4 in the nation and was the number one independent film in theatrical release in 2008 as well as one of the top highest-grossing Christian films—along with Narnia and Amazing Grace—since The Passion of Christ.
"These record-setting sales at Christian retail stores, after a highly successful theatrical run, confirms that there is a large audience hungry for content that encourages in these difficult times and feeds the need for products that reflect their faith and lifestyle," Terry A. Hemmings, president and CEO of Provident Music Group, said. "We're thankful for our partnership with Sherwood Pictures and Sony Pictures Home Entertainment. It took a tremendous effort from everyone involved to achieve these unprecedented numbers."
Bob Rubin, executive vice president for Sony Pictures Home Entertainment, which distributed the DVD at mass-market retail, said, "We are thrilled with the response both at Christian retail and mass-market retailers. This strong sales performance is especially impressive in light of today's economic climate and clearly indicates a broad market for faith-based entertainment. We are delighted that FIREPROOF resonates so well with its audience."
FIREPROOF, marketed by Provident Films and Sony Pictures Home Entertainment's Affirm Films, is the story of a fireman, Caleb Holt (Kirk Cameron), who can save strangers but not his own marriage. The Love Dare, a book/plot device in the movie, also a book by Stephen and Alex Kendrick, topped the New York Times Advice Paperback list for 14 weeks at nos. 1 or 2. After 18 weeks, it still ranks no. 5.
Now in time for Valentine's Day and National Marriage Month, Christian bookstores across the nation are selling the exclusive Christian retail version of the FIREPROOF DVD—The Special Collector's Edition— which contains all the bonus material sold outside the Christian market plus 32 minutes of CBA-only material: a movie-production video blog, bringing behind-the-scenes to life; "Fun with Mr. Rudolph" (film fans know Caleb Holt's next door neighbor); additional firehouse commentary from Wayne (Caleb's fellow fire fighter), and the Casting Crowns video of the movie's hit song, Slow Fade.
Churches, therapists, Sunday school groups, and organizations already are purchasing site licenses for group showings of the movie famous for myriad reports of marriages strengthened and couples reunited after taking in the movie's message.
FIREPROOF is the third movie from Sherwood Pictures, headed by Sherwood Church Senior Pastor Michael Catt, Executive Pastor Jim McBride, and Ministers Alex Kendrick and Stephen Kendrick. Sherwood's first film, Flywheel, in 2004, has sold 200,000-plus DVDs. Its second, Facing the Giants, in 2006, earned $10.1 million at the box office and has sold more than 1.6 million DVDs in 58 countries (14 languages).
Written by brothers Alex (director) and Stephen Kendrick (producer), and with a 1,200-member cast and crew, Fireproof stars an all-volunteer cast of almost all first-time actors.
FIREPROOF is dubbed in Spanish and has subtitles in English, French, Spanish, Chinese, Portuguese, Chinese, Russian, Korean, and Arabic. The movie's total running time is 1 hour and 58 minutes.
For more information and to download photos, go to: www.Fireproofthemovie.com
Nashville-based Provident Films, specializing in grassroots marketing, is a division of Provident Music Group and designed to produce and distribute faith-based films. Provident Music Group, a division of Sony Music Entertainment, is one of the world's leading Christian entertainment companies. Provident Music Group operates under the umbrella of Sony Music Nashville and comprises Provident Label Group, Provident Films (designed to produce and distribute faith-based films), Essential Music Publishing and Provident-Integrity Distribution.
Sony Pictures Home Entertainment is a Sony Pictures Entertainment company. SPE is a division of Sony Corporation of America, a subsidiary of Tokyo-based Sony Corporation. SPE's global operations encompass motion picture production and distribution; television production and distribution; digital content creation and distribution; worldwide channel investments; home entertainment acquisition and distribution; operation of studio facilities; development of new entertainment products, services and technologies; and distribution of filmed entertainment in more than 100 countries. Sony Pictures Entertainment can be found on the World Wide Web at www.sonypictures.com
###

[2021]
Jan. | Feb. | March | April | May | June | July | Aug. | Sept. | Oct. | Nov. | Dec.
[2020]
Jan. | Feb. | March | April | May | June | July | Aug. | Sept. | Oct. | Nov. | Dec.
[2001 - 2020]
Visit our complete MUSIC NEWS ARCHIVE