NEW ARTIST, PRESS PLAY TO RELEASE DEBUT DREAM RECORDS PROJECT,
LIFE IS BEAUTIFUL, ON MAY 19 THROUGH UNIVERSAL MUSIC GROUP
Press Play and Dream Records to donate all record sales to the Los Angeles-based Dream Center to help rescue lives and to bring relief to inner-cities worldwide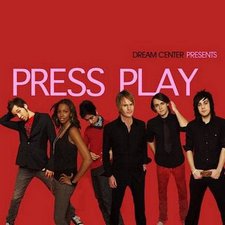 NEWS SOURCE: L.A.B. Media
March 5, 2009
(LOS ANGELES, Calif.) March 5, 2009 – Dream Records' debut artist, Press Play will release its debut project, Life Is Beautiful through Universal Christian Music Group/Fontana Distribution, on May 19, 2009.
The first recorded project from Dream Records, Life Is Beautiful is a powerful 13-track CD that features songs written and performed by Press Play members, featuring life changing lyrics, skillful musicianship and passionate vocals. A blend of pop, rock and urban flair, Life Is Beautiful positions Press Play as banner talent for today's most avid music fans.
Made up of Dave Hanley, Tyler Ray Logan, Anthony Rick, Paige Adkins, Tate Huff and Brian, the band showcases its varied talent and diversity throughout the project on the electric songs performed by Press Play members. The record features guest appearances by top performers such as Darlene Zschech (Hillsong), IROCC and Tyler Williams (Everybody Hates Chris). Group member Paige Adkins, daughter of popular comedian Sinbad, brings a powerful and soulful vocal edge to the debut single, "Life Is Beautiful."
"We are thrilled to have incredible partners such as the Dream Center and Dream Records. The work that this organization does for the community is unparalleled and we are honored to be in the position to help them touch even more lives through our new distribution relationship." - Rhoda Lawrence, Universal Music Group
Brought together by a common passion for music and for seeing lives transformed, Press Play has exploded into a multimedia experience onstage. Both on and off-stage, the members of Press Play give their time to the vision of the Los Angeles Dream Center. The Dream Center, founded by Matthew Barnett, is a non-profit outreach dedicated to helping inner-cities across the U.S. providing food, clothing, shelter and daily needs to over 40,000 people every week, just in the Los Angeles market alone. Open 24 hours a day, 7 days a week, Matthew Barnett is providing solutions to our community and society's troubling issues, such as human trafficking, abandoned teens, gangs, homeless families, drugs and violence.
The band performs for thousands of individuals from all walks of life each week in both New York and Los Angeles, making the L.A. Dream Center (www.dreamcenter.org) its home base.
All money and proceeds from the sale of the Life Is Beautiful project will go directly to the Dream Center, feeding, housing and clothing millions of people each month. Located in the heart of poverty, hopelessness and violence, the Dream Center provides shelter, life rehabilitation, education, basic needs, job training and numerous resources through their 273 programs and outreaches.
For more information about Press Play and Life Is Beautiful, please visit http://www.thisispressplay.com.
For more information about the Dream Center, please visit, www.dreamcenter.org.
ABOUT DREAM RECORDS/THE DREAM CENTER:
The Dream Center, a volunteer driven non-profit organization, provides social, physical, spiritual and long-term needs to hurting communities. This vision was birthed in 1994 when Matthew Barnett came to Los Angeles. He found that he first had to address the physical needs of an impoverished community before anything else. The vision now includes being an integral part of larger collaborative effort to impact issues of moral decay, substance abuse, hunger, health care, chronic homelessness & poverty that exists in Los Angeles and in urban areas throughout the world. Now reaching well over 40,000 people each month, the Dream Center and its many programs reach, train and encourage those who are otherwise excluded. The Dream Center has 273 outreaches, feed 22,000 people weekly, houses at least 750 people on a daily basis, distributes 1 million pounds of food per month, clothes 5,000 people each month and has changed thousands of lives.
ABOUT UNIVERSAL MUSIC GROUP DISTRIBUTION:
Universal Music Group Distribution has been the industry market share leader for the past eleven years, and consists of four major divisions: Universal Music Distribution (UMD), Fontana, Vivendi Entertainment (VE), and UMGD Digital. UMD handles the distribution and sales for such labels as Universal Motown Republic Group, Island Def Jam Music Group, Interscope Geffen A&M Records, A&M/Octone Records, MCA Nashville, Universal Records South, Lost Highway, Mercury Nashville, Verve Music Group, Decca Label Group, Universal Music Latino, Universal Music Enterprises, Hip-O, UTV, Sanctuary Records, Fonovisa, Disa, Machete Music, ABKCO, Concord Music Group, Hollywood, Emusica, Lyric Street, RMM, Thump, Rounder, Walt Disney, Big Machine, Show Dog Records, VI Music, Sybersound, Hidden Beach, Palm Pictures, and Universal Music Christian Group among many others. Fontana is the company's independent sales, marketing and distribution arm, Vivendi Entertainment is its theatrical and home entertainment division, and UMGD Digital manages and distributes all of Universal Music Group's digital assets, including mobile.
ABOUT UNIVERSAL MUSIC GROUP:
Universal Music Group is the world's leading music company with wholly owned record operations or licensees in 77 countries. Its businesses also include Universal Music Publishing Group, the industry's leading global music publishing operation.
Universal Music Group's record labels include Decca, Deutsche Grammophon, Disa, Emarcy, Fonovisa, Interscope Geffen A&M Records, Island Def Jam Music Group, Lost Highway Records, Machete Music, MCA Nashville, Mercury Nashville, Mercury Records, Philips, Polydor Records, Universal Motown Republic Group, Universal Music Latino, Universal Records South, and Verve Music Group as well as a multitude of record labels owned or distributed by its record company subsidiaries around the world. The Universal Music Group owns the most extensive catalog of music in the industry, which includes the last 100 years of the world's most popular artists and their recordings. UMG's catalog is marketed through two distinct divisions, Universal Music Enterprises (in the U.S.) and Universal Strategic Marketing (outside the U.S.). Universal Music Group also includes eLabs, its new media and technologies division; Bravado, its merchandising company; Twenty-First Artists, its full service management division; and Helter Skelter, its live music agency. Universal Music Group is a unit of Vivendi, a global media and communications company.
###

[2021]
Jan. | Feb. | March | April | May | June | July | Aug. | Sept. | Oct. | Nov. | Dec.
[2020]
Jan. | Feb. | March | April | May | June | July | Aug. | Sept. | Oct. | Nov. | Dec.
[2001 - 2020]
Visit our complete MUSIC NEWS ARCHIVE