JONNY DIAZ
INO RECORDS NEWEST ARTIST SIGNING IS ALREADY GENERATING HUGE BUZZ AT RADIO WITH
"MORE BEAUTIFUL YOU"
CD Set To Release May 5th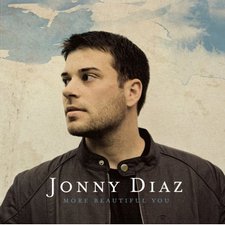 NEWS SOURCE: Vining Media
April 2, 2009
Nashville, TN (April 2, 2009) - INO Records is proud to announce an addition to their talented artist roster with the recent signing of singer, songwriter and storyteller Jonny Diaz. Diaz (pronounced "DYE-az") will release his first project with the label, More Beautiful You, on May 5th. This is in fact Diaz's fourth CD release, his first with INO Records while the first three were released independently.
With all songs written or co-written by Diaz, the project was produced by Steve Wilson (Hawk Nelson, Josh Wilson). Following in the footsteps of his previous projects, More Beautiful You continues to reveal Diaz's inspiring lyrics and catchy melodies and instrumentation, while illuminating his heart to the listener, a heart that is passionate about reaching his generation with the message of God's love, forgiveness, and grace.
"Instead of focusing solely on the idea of God's grace, More Beautiful You moves through many different aspects of the Christian faith," Diaz shares. "One theme that is prevalent throughout the record is truth. We are called to speak and live truth even in a culture that doesn't agree."
The project's powerful first single, "More Beautiful You," is already generating quite a buzz at radio. Written by Diaz, the song aims to tell women they were created by God with a specific purpose in mind. "The idea that they need to look a certain way in order to be feel beautiful is completely false," Diaz explains. " Through this song I hope to get the attention of females and tell them the truth found in God's word, that there could never be a more beautiful you!" The chorus sings:
There could never be a more beautiful you
Don't buy the lies, disguises and hoops they make you jump through
You were made to fill a purpose that only you could do
So there could never be a more beautiful you
"More Beautiful You" was just released three weeks ago to radio stations nationwide. The song is currently at #19 on the R&R AC-Indicator charts and #28 on R&R's AC-Monitored, and 40 stations have already added the single and are consistently receiving positive responses from their audience, wanting to hear it again and again. Here is what just a few stations are saying:
Bob Thornton of KXOJ, Tulsa, OK:
"This song is what Christian radio is all about. After the first listen I knew it was an immediate add for KXOJ. After our first spin I knew it was an immediate hit for our listeners. Wow!"
David of KHIS, Cape Girardeau, MO:
"The lyrics to this song just slap you upside the head. I'm gonna bump it up to a higher rotation."
Kenny Robinson of WMSJ, Freeport, ME:
"With my daughter turning 12 this summer... this is a message I want her to hear so badly. I was in tears, listening the first time through!"
Gary Thompson of WJQK, Grand Rapids, MI:
"I heard it for the first time... and was blown away!"
Jon Hamilton of WSCF, Vero Beach, FL:
"...I honestly was more enthused about it than any song I've heard in a while. It's sort of WHY we do this Christian radio thing... Job well done. Adds right away."
Dave Masters of KSLT, Rapid City, SD:
"I normally don't necessarily bow to any form of hype or even perceived psuedo-hype, but I decided to gather every female I could find into the control room for a spin on Jonny Diaz. WOW!!! There were shouts, there were tears, there were oohs & ahhs, not one was unaffected emotionally. That is relatively RARE in that setting. Not exactly scientific research but that was enough for me. I'm clearing a spot for it THIS WEEKEND. I'll do whatever it takes to get a song like that on the air!"
Diaz is currently on the road performing at churches and conferences while also touring with Building 429. In his music career, Diaz has had the opportunity to open in concert for Steven Curtis Chapman, MercyMe, Bebo Norman, Shane and Shane, and numerous other Christian musicians. He has also performed at some of the largest Christian music festivals in the country such as Atlanta Fest, Alive and more. Visit www.jonnydiaz.com for the most updated tour schedule.
WHO IS JONNY DIAZ?
When he headed off to Florida State University on a baseball scholarship in the fall of 2002, Jonny Diaz was prepared to focus his time and efforts on his athletic skills. However, God had other plans and He began a work in Diaz's life that led him to put down his bat and glove and instead, pick up his guitar. He was the fourth of four brothers to attend college on a baseball scholarship - two of his brothers have played ball at a professional level (Matt Diaz is currently the left fielder for the Atlanta Braves) - making this an enormous decision. But by listening to God's will for him, Jonny Diaz embarked on an exciting music adventure and ever since, his tremendous songwriting talents, his vocal and guitar playing skills, and his ability to connect with audiences, have sparked a grassroots buzz that has taken his music nationwide.
Jonny's debut album, Shades of White, released in the summer of 2003 and two years later, he released Everyday God. He traveled to Nashville to record his third project with producer Mitch Dane (Jars of Clay, Bebo Norman). They Need Love released in March 2007, which included the hit song "Hold Me," a tune that immediately caught the attention of radio stations across the country and hit the top 40 charts in 2008.


[2020]
Jan. | Feb. | March | April | May | June | July | Aug. | Sept. | Oct. | Nov. | Dec.
[2019]
Jan. | Feb. | March | April | May | June | July | Aug. | Sept. | Oct. | Nov. | Dec.
[2001 - 2018]
Visit our complete MUSIC NEWS ARCHIVE