STEVEN CURTIS CHAPMAN RECEIVES TOP HONORS WITH EMOTIONAL WINS AT THE
GOSPEL MUSIC ASSOCIATION'S 40TH ANNUAL DOVE AWARDS
ARTIST OF THE YEAR AND SONGWRITER OF THE YEAR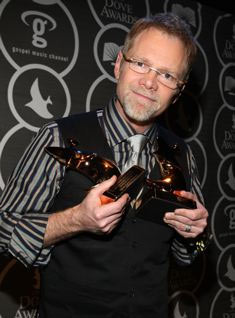 *photo: Steven Curtis Chapman accepts awards for Artist of the Year
and Songwriter of the Year (wireimage)
NEWS SOURCE: The M Collective
April 24, 2009
April 24, 2009…Nashville, TN… Gospel Music Association's most honored artist, Steven Curtis Chapman accepted two awards, for artist of the year and songwriter of the year, on an emotional and moving night at the 40th Annual Dove Awards. Chapman was honored less than a year after the tragic loss of his daughter Maria. The ceremony was broadcast LIVE on Gospel Music Channel at 7pm (CST) from the famous Grand Ole Opry in Nashville, TN.
Sparrow Records' 10-million selling, award winning artist received multiple nominations with wins in the coveted Artist of the Year and Songwriter of the Year categories. For the first time in the history of the Dove Awards, Artist of the Year nominees were voted on by Gospel music fans in the days leading up to the ceremony and throughout the telecast. Chapman was also nominated in three other categories, including two for "Song of the Year" with both "Cinderella" and "You Reign," a song he co-wrote with MercyMe. Chapman's total Dove wins now total 56 over the course of his music career--more than any other artist in the history of Gospel Music. Last night's honors now make seven "Artist of the Year" awards and ten "Songwriter of the Year" awards for Chapman's Dove legacy.
Chapman and his band, which includes sons Caleb and Will Franklin, gave a powerful performance this evening of the Dove nominated song "Cinderella." Chapman wrote the song about his daughters Stevey Joy and Maria Sue. Since the death of his youngest daughter Maria Sue Chapman who passed away in an accident on May 21, 2008, the moving ballad that compels us to treasure each moment, has an even deeper urgency. Following their loss of Maria, Steven changed this song's poignant last line in live performance to "'Cause all too soon the clock will strike midnight/But the truth is... The dance goes on."
Chapman is currently wrapping up the incredibly successful United Tour alongside close friend Michael W. Smith, concluding on April 30 in Paducah, KY. The tour highlights the chance for concert goers to become involved with Show Hope, a foundation caring for orphans around the world, and will finish just in time to celebrate Chapman's eldest son, Caleb's marriage.
###
About Steven Curtis Chapman:
With his release of THIS MOMENT, Chapman has sold over ten million records including two RIAA certified platinum albums and eight RIAA certified gold albums. Along with his 56 Dove and five GRAMMY © awards, Chapman has won an American Music Award, has recorded 45 No. 1 US radio hits and been awarded 56 Dove Awards, more than any other artist to date. Since his recording career began in 1987, Chapman has recorded sixteen projects with Sparrow Records. He has performed at the White House and has appeared on multiple national programs via CBS, NBC, ABC, CNN, MSNBC, CMT, FOX News, the Hallmark Channel and E!, including Good Morning America, Larry King Live, CBS Sunday Morning, The Tonight Show with Jay Leno, and more. More than five years ago, Chapman and his wife Mary Beth created The Shaohannah's Hope Ministry after bringing their first adopted daughter, Shaohannah, home from China. The ministry's goal is to help families reduce the financial barrier of adoption, and has provided grants to over 1700 families wishing to adopt orphans from around the world.
And for more info on Steven Curtis Chapman, visit the JFH Artists Database.