LANAE' HALE GEARS UP FOR STREET WEEK OF NEW CD, BACK & FORTH , WITH 30,000 FREE COPIES AT CBA RETAIL AND DIGITALLY ONLINE
HALE BOOKED FOR MAJOR MEDIA APPEARANCES RELEASE WEEK IN CHICAGO, ILLNOIS AND DALLAS, TEXAS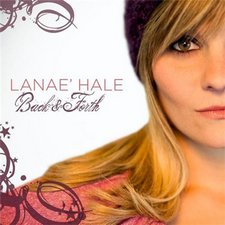 NEWS SOURCE: Bozeman Media
April 30, 2009
Nashville, TN (April 30, 2009) ---- One of Christian music's most heralded new artists, Lanae' Hale, is gearing up for street week on her first full-length CD, Back & Forth. Starting on release day, May 19th, and lasting until May 23rd, (or while supplies last), Centricity Music is offering an incredible deal to music fans. Free copies of Back & Forth will be available to any consumer that makes a CD purchase of any artist that week in nearly six-hundred CBA bookstores across the country. (Stores are listed below). The promotion is on a first-come, first-serve basis with thirty-thousand physical copies being given away at retail and through digital downloads. This is an unprecedented promotion by Centricity Music that involves a partnership with some of the biggest retailers in the industry.
"We believe that Lanae's new CD, Back & Forth, is an amazing record that people will flip over when they hear it and, hopefully, they will be telling their friends about it," says Steve Ford, Vice President, Sales and Marketing, Centricity Music. "When we started talking about building awareness and a fan base for Lanae' we were challenged to think outside the box. When someone said 'hey, why don't we give it away for free' we all laughed that uncomfortable laugh. Then we said, 'why not?' It's crazy to plan on giving a record away for free for a week, but again why not? When we presented it to distribution they thought we were crazy also, but then joined us in the chorus of why not?"
Hale will be doing a whirlwind week of press in Chicago, IL and Dallas, TX, May 19-22, to launch street week. The first appearance will be a taped performance and interview with Moody's national radio show, Midday Connection, followed by an appearance on LeSea Broadcasting's Harvest Show on the 20th. While in South Bend, IN, Hale will also tape Live From Studio B that will air at a later date. When Hale flies to Dallas she will perform live on Daystar's Celebration and will tape a show for Check The Sound. Then bright and early on the 22nd, Hale will appear on the highly-rated morning show, Good Day Dallas. And on May 29th, Hale will return to Chicago to perform on the national TV outlet, WGN America's Midday News, which is the #1 midday newscast in the country. WGN.com will also offer a free download of the new single, "Back & Forth," on its website the day of Lanae's appearance.
The title track is currently going for adds at radio, where it is garnering play on such stations as, the national Air1; KXOJ, Tulsa, OK; WONU, Chicago, IL; WFHM, Cleveland, OH; WYLV, Knoxville, TN; among others. The song was originally featured on an episode of MTV's The Hills. The CD has also received its first review from New Release Tuesday…If you're looking for mature, affable music, then you should definitely give this album a listen. Lana? Hale's Back & Forth shares common ground with Faith Hill and Nicole Nordeman, as well as Sixpence None The Richer, The Cranberries and Melissa Greene. …. Other media in support of the new project includes a July cover story in Susie Magazine, September cover story in Collegiate Magazine, upcoming coverage in Essential Connection and ChristianMusicToday.com, May reviews in JesusFreakHideout.com and Worship Leader Magazine, and a taped interview with JC-TV, to name a few. Hale has already appeared on a 700 Club segment, performed on Family Net's EveryDay With Marcus & Lisa, featured in the Spring 2009 issue of Ignite Your Faith, selected by ChristianMusicToday.com as one of the new artists to watch in 2009, and selected by iTunes as a Song Discovery Download.
Hale's own road to success has been a difficult one but through God's grace her life has become a joyous one that has given her a platform with a powerful testimony. Even though she was raised in a Christian home, Hale suffered with depression and low self-esteem while growing up, which developed into a serious cutting addiction while in high school. What triggered this response was a break-up with a boy Hale thought she would marry and when they eventually parted ways her old self-doubts resurfaced. This progressed to the point that Hale became a cutter to help ease the pain and this lasted through her first two years of college. Finally in despair and helplessness, where she was even considering suicide, Hale knew there had to be a change in her life. She read Psalm 147:3; He heals the brokenhearted and binds up their wounds and clung desperately to that verse, while asking God to heal her. At that point, she began a stronger relationship with Christ and began the path of healing. She started developing her music career, met her "true love" and became a newlywed in May 2008.
For updates on Hale please visit www.centrictymusic.com or www.myspace.com/lanaehale.
###
CBA Stores Involved With Giveaway:
Family Christian Stores - Nationwide
Lifeway Christian - Nationwide
Christian Supply – Spartanburg, SC, Portland
Mardel – Midwest
Northwestern – Minnesota
Cook – Canada
Cedar Springs – Knoxville and Carolinas
Salt Shaker – Knoxville and Carolinas
Baker Book House – Michigan
Christian Supply - Northwest
Kreigel - Michigan
Hearitfirst.com - Online
New Release Tuesday - Online
JesusFreakHideout.com - Online
Musicchristian.com - Online
For more info on Lanae Hale, visit the JFH Artists Database.