JFH EVENING NEWS SHORTS FOR FRIDAY JUNE 19, 2009
News on Seabird, Thousand Foot Krutch, Cindy Morgan, The Almost, mewithoutYou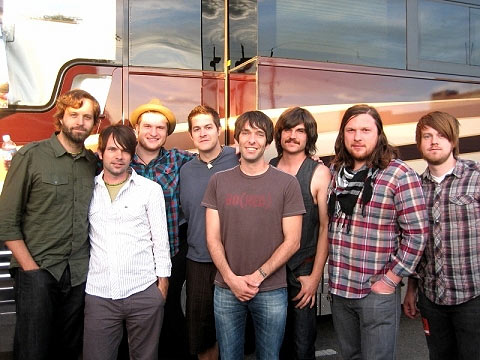 NEWS SOURCE: a Jesusfreakhideout.com report
June 19, 2009
>> Seabird On The Road With Jars Of Clay
CAPTION: Credential Recordings band Seabird breaks for a photo with Jars of Clay before taking the stage at Gothic Theater in Englewood, Colo. on June 4, 2009. The band is currently opening as a special guest on Jars of Clay's "Two Hands" tour, wrapping in Seabird's hometown of Cincinnati on July 18. (source: Savvy Media)
>> Thousand Foot Krutch Fans To Experience Deja Vu
On September 8th, the same day that TFK's new album Welcome To The Masquerade drops, fans will get the opportunity to experience "Deja Vu," a collection of the past 3 albums on 3 discs in one set. EMI describes it as:

"In the past 9 years, Thousand Foot Krutch have made a name for themselves and delighted fans with their infectious rock anthems "Rawkfist", "Move", "Phenomenon", and countless others while selling over 600,000 albums in the process. In September 2009 they will release their brand new album Welcome To The Masquerade generating major awareness which is the best time to remind current and new fans of TFK's rich catalog. In anticipation of this, Tooth & Nail Records will release Déjà vu: The TFK Anthology a 36 song, 3-CD set including all the songs from TFK's three albums: Phenomenon, The Art Of Breaking, & The Flame In All Of Us - all for just $18.99. This new anthology will be a great addition for fans that may not have all TFK's best-selling catalog as well as a great way for new fans to discover and get all three catalog albums for a great price. Collections like this are a great way for stores to carry all of TFK's albums in one SKU and make great gifts for the upcoming holiday season. 36 songs on 3 CD's for just $18.99!"

Hmm... seems a little early to repackage the band's anthology, but if you're new to the band, this will be the set to get.
>> Cindy Morgan To Record Classics In Acoustic
Today, Cindy Morgan sent out a letter to her fans. In it, she asked for them to give her their top 5 favorite songs to get the acoustic treatment. Morgan writes, "I am in the process of going into the studio to do an acoustic favorites kind of record. As I make out the list of the songs from years past that are most special to me I am hoping that, if some of you have the time and inclination you would tell me which five you would like to hear... you can go back to old records.. I have a couple from the first two already on my list. Can't promise they will sound much like those versions but it should be fun." For more info, visit cindymorganmusic.com
>> Aaron Gillespie of The Almost To Perform Washington
The Almost posted this interesting newsbit today on their MySpace... "Aaron will be performing at the closing rally for How It Ends in Washington, D.C. on June 23rd. The rally will take place at the ellipse between the National Mall and the White House. For more information head to www.howitends.tv

Joseph Kony's brutal insurgency has outlasted four U.S. presidents and 11 straight sessions of Congress. It is now Africa's longest-running war and it's time for it to be over. By taking action now, U.S. policymakers can put a stop to the LRA's atrocities across central Africa and help put northern Uganda and the surrounding region on track towards lasting peace. Help rescue these child soldiers.

With your help, the biggest lobby day in American history will be history in the making, leading to long overdue peace and safety for the children caught in the crossfire of Joseph Kony's war. For two days this summer, concerned citizens (and some high-profile cheerleaders) from every corner of the country will descend upon D.C. with one message: the time for peace is now, and this is how it ends. The program will include lobbying trainings, VIP speakers, a kick-off rally and will culminate in an unprecedented outpouring of activism on Capitol Hill, with hundreds of meetings taking place between Members of Congress and their constituents."
>> mewithoutYou Debuts New Video On Entertainment Weekly
mewithoutYou's video for "the Fox, the Crow and the Cookie" is playing exclusively now at Entertainment Weekly. "We really enjoyed making it and are excited for you all to see it," the band stated in their announcement. Check out the unique video here
For more info on these artists, visit the JFH Artists Database.


[2022]
Jan. | Feb. | March | April | May | June | July | Aug. | Sept. | Oct. | Nov. | Dec.
[2021]
Jan. | Feb. | March | April | May | June | July | Aug. | Sept. | Oct. | Nov. | Dec.
[2001 - 2022]
Visit our complete MUSIC NEWS ARCHIVE