JFH NEWS SHORTS FOR SATURDAY JULY 4, 2009
News on Family Force 5, Andrew Peterson, Pettidee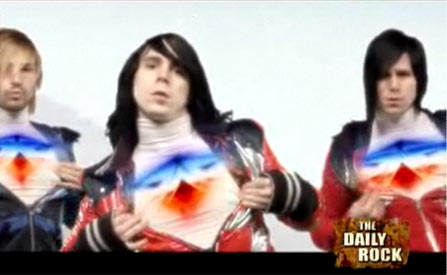 NEWS SOURCE: a Jesusfreakhideout.com report
July 4, 2009
>> Family Force 5 Release Anticipated "Dance Or Die" Video
*7/6/09 UPDATE* Apparently this link was not sent to us by anyone associated with the band. Guitarist ChapStique posted on Twitter yesterday, "Just to clarify-the DOD video you saw today was NOT full-length, and we have NO clue how it leaked. The real 1 will release soon. I promise!" and the included link now shows the video was removed. ChapStique also left this quote on the video page, "Thank you VERY much for removing this. I'm in the band, and I'm curious to know how you received this. I heard there was a message from Chappy (seriously…this is Chappy)…please let us know. We sincerely appreciate you taking this down…the full-length video is even cooler than this one."

We're not sure how the first one leaked in the first place, but we'll keep you posted for when the REAL video "releases."

Original JFH post (7/4): After months of buzz and hype over the next Family Force 5 music video, we received an email from "Chappy" today with a link for the highly anticipated new video. Check it out now over at TheDailyRock.com!
>> Get Andrew Peterson Heads Out On The Road For July CD Release Tour
Yesterday, the Andrew Peterson team announced some July tour dates... "Over the past 12 months, Andrew has performed over 40 free CD release shows. We traveled all over the Midwest last Fall, then covered the West (all the way from Prescott, AZ to Portland, OR) this Spring. Lots of miles in the rental car, but we've seen some beautiful country and met some amazing people. Well, we believe in the album so much and the tours were so successful that we've decided to do another run of FREE CD Release shows for Resurrection Letters, Vol. II. This time we're traveling to the northeastern part of America. The whole night is about exploring our response to Christ's resurrection. The concert is intimate, solo, and acoustic. Andrew will play each song from his new CD and explain the stories behind the songs, and how and why he wrote them. We hope to see you there. For Andrew Peterson's Tour Schedule in July, CLICK HERE."
>> Pettidee Launches Pettyville.com
Sick of the newer MySpace (honestly, who isn't?!), rapper Pettidee has launched his own community site at Pettyville.com, "What up Yall, Truthfully, I just wanted a new place to re-connect with my fans and cool people! I'm going to start spending most of time on www.pettyville.com. I miss the old myspace. so we created a kick it spot, something for more than music. We'll be slowly moving things there. Come kick it."
For more info on these artists, visit the JFH Artists Database.


[2021]
Jan. | Feb. | March | April | May | June | July | Aug. | Sept. | Oct. | Nov. | Dec.
[2020]
Jan. | Feb. | March | April | May | June | July | Aug. | Sept. | Oct. | Nov. | Dec.
[2001 - 2020]
Visit our complete MUSIC NEWS ARCHIVE