JFH NEWS SHORTS FOR MONDAY JULY 27, 2009
News on Hawk Nelson, Family Force 5, Take It Back!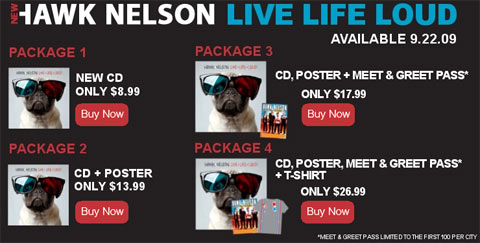 NEWS SOURCE: a Jesusfreakhideout.com report
July 27, 2009
>> Hawk Nelson Launch Live Life Loud Preorder Specials!
With the September 22 release of Live Life Loud approaching quickly, Hawk Nelson has posted four preorder options on their official webstore! The band will be releasing the album art officially tomorrow, but you can get a glimpse of the cover in the webstore today (featuring Jason's pet pug!). Check it out and preorder today! http://hawknelsonstore.skyroo.com/s/hawknelson/. Today, the guys filmed a brand new video for the album's title cut "Live Life Loud" in San Francisco! Be looking for that soon...
>> Family Force 5 Release Full-length Video And Exclusive Content
Just a few days ago, Family Force 5 launched a site on Modlife.com that includes the "full-length" version of their new "Dance Or Die" video. Although not extraordinarily different from the versions seen previously, it does feel more complete than previous cuts. Also, while at Modlife, fans can sign up for exclusive content. Check it out at: http://modlife.com/familyforce5
>> New Take It Back! EP Up For Preorder
You can now pre-order Take It Back!'s Rumors of Revolt in Facedown Records' online store. http://facedown.merchnow.com/products/bycode?code=PE Only 1,000 copies are being made of this limited edition EP and it features 3 brand new songs and 2 covers (No Innocent Victim's "To Burn Again" and Black Flag's "Rise Above"). Check out a new song called "New Empires" on their myspace profile http://www.myspace.com/facedownrecords and make sure to get your pre-order in now as these are sure to go fast! Rumors of Revolt is out August 18th. (from Facedown Records)
For more info on these artists, visit the JFH Artists Database.


[2021]
Jan. | Feb. | March | April | May | June | July | Aug. | Sept. | Oct. | Nov. | Dec.
[2020]
Jan. | Feb. | March | April | May | June | July | Aug. | Sept. | Oct. | Nov. | Dec.
[2001 - 2020]
Visit our complete MUSIC NEWS ARCHIVE