SEABIRD JOINS BANDS MEESE AND BARCELONA ON TOUR
Band Returns to Studio For Highly Anticipated Sophomore Album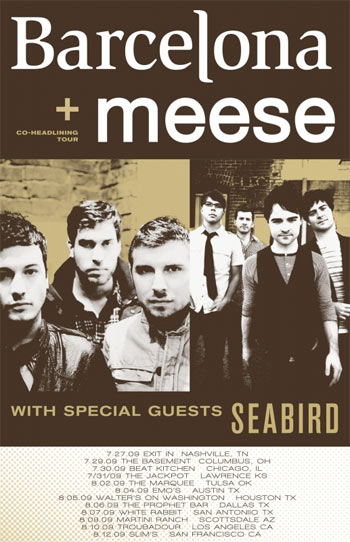 NEWS SOURCE: Savvy Media
July 27, 2009
(NASHVILLE, Tenn.) July 27, 2009—Credential Recordings break-out artist Seabird wraps its summer tour stint with Jars of Clay to join new Atlantic Records band Meese and Universal Motown group Barcelona on the road through late August. Seabird will also return to the studio this fall for its highly-anticipated sophomore release, in stores December 2009.
Kicking off Monday, July 27, at Nashville's Exit In, Seabird will open for Denver-based band Meese, who released its full-length debut, Broadcast, this summer and piano pop-rock group Barcelona, whose music was most recently featured on the season finale promos for ABC's award-winning medical drama "Grey's Anatomy." The tour will visit major markets including Chicago, Houston, Dallas, Phoenix, Los Angeles and San Francisco. An up-to-date tour itinerary is available at http://www.meesemusic.com/tour/.
Also in the works for Seabird is a follow up to its 2008 label debut, 'Til We See The Shore. The yet-to-be-titled sophomore album features top-notch production by Paul Moak (Mat Kearney, Sixpence None The Richer) and Matt Hales from Aqualung and is slated to release in December. The project's first single will be serviced to radio this fall, while Seabird will debut music from its forthcoming record on a 30+-city tour with David Crowder Band beginning Oct. 1, 2009 in San Antonio. Follow Seabird's tour and studio blog at youtube.com/seabird.
"I've never been as excited to be back in the studio as I am right now, says Seabird frontman Aaron Morgan. "To be honest, I was a little worried that we wouldn't find songs that were as exciting as our debut album. I now believe with everything in me that this record is a natural progression to a more moving experience than anything we've recorded to date."
Consisting of brothers Aaron (vocals/keys) and Ryan (guitar) Morgan as well as Preston Lane (drums), the Cincinnati-based band initially formed in 2004 when entering a local "battle of the bands" competition. Released June 24, 2008,'Til We See The Shore, a collaborative effort with producers Jacquire King (Modest Mouse, Kings Of Leon, Tom Waits, Switchfoot) and Allen Salmon (Mute Math, This Beautiful Republic), is an attempt to meet its fans where they are, to craft an album that "share[s] the emotions, victories, and defeats we all experience as normal, everyday people," says Aaron.
Music from 'Til We See The Shore has received phenomenal national publicity, featured on episodes of "Numb3rs," "Grey's Anatomy," and promos for ABC's 12-time Emmy-nominated series, "Pushing Daisies." The band was also recently recognized by its hometown as "Artist of the Year" at the Cincinnati Entertainment Awards. For more information on Seabird, visit: http://www.seabirdmusic.com/ or www.myspace.com/seabird.
For more info on Seabird, visit the JFH Artists Database.


[2021]
Jan. | Feb. | March | April | May | June | July | Aug. | Sept. | Oct. | Nov. | Dec.
[2020]
Jan. | Feb. | March | April | May | June | July | Aug. | Sept. | Oct. | Nov. | Dec.
[2001 - 2020]
Visit our complete MUSIC NEWS ARCHIVE