DESPERATION BAND WILL LIGHT UP THE WORLD IN SEPTEMBER
Desperation Band CD, Digital Songbook Offers New Worship Music Inspired By Orphan Rescue
NEWS SOURCE: Spinhouse PR
August 6, 2009
COLORADO SPRINGS, Colo. – August 5, 2009 – After four critically-acclaimed live albums, including their recent Everyone Overcome, the Desperation Band, a worship band birthed out of the student ministries at Colorado Springs' New Life Church, returns Sept. 15 with Light Up The World. Their first studio release is a project inspired by "Heartwork," a student-driven ministry at their church which is helping to build orphan homes in Africa.
The enhanced, 16-track CD and companion digital songbook feature brand new songs recorded in the studio, plus bonus live versions of their popular hits "Rescue" and "I Am Free" and an EPK that unpacks some of the inspiration behind the new project. In addition, the full album digital download to be offered through iTunes will also feature a music video for the title track, "Light Up The World." The CD-ROM digital songbook will feature fully transposable sheet music, chord charts, lead sheets and lyric text files for all 16 songs.
The students' "HeartWork" ministry – and the new CD – began with a challenge from a local philanthropist with a heart for orphans. He challenged the youth to give $60,000, and he would match that donation dollar for dollar for World Orphans (worldorphans.org). During an eight-week challenge in 2008, the youth at New Life Church, aged 12 to 18, earned and donated money -- from piggy banks, allowances, extra jobs and contagious generosity. They gave an impressive $67,000, which when matched, has provided for the building of four indigenous, church-based homes for orphans in Uganda and Kenya. At this year's Desperation Conferences, they decided to keep it going. The youth, coming from all over the country, donated an additional $60,000.
Jon Egan, band frontman and co-producer of Light Up The World, recalls the students' reactions. "In the middle of worship, the kids came forward to make donations, bringing something to touch other lives... what I saw that night was young people truly worshiping for the first time ever. And, as I watched the students give all that they had, I started to realize that the best way to reach a young person in Colorado Springs was to help them reach a young person in Uganda. Reach a generation by helping them reach another! We call it 'Destiny rescuing destiny.'"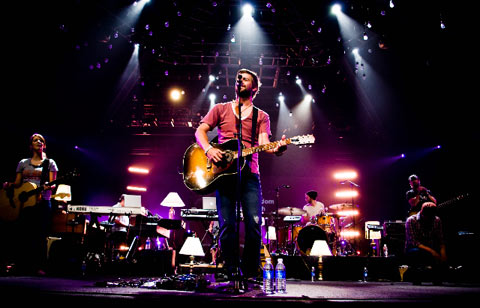 John Egan of Desperation Band at Desperatoin Conference in June 2009
(photo credit: Carter Moore)
"It is a story of sacrifice, a story of worship and a story of Jesus at work in a generation," Egan adds. "This project is prayer and intimacy colliding with compassion and purpose. I think so often believers are waiting on a move of God when God is waiting on a move of man. We are realizing now more then ever that God's love and power is inside us. We have what we need to turn this planet upside down. We just need to act!"
For more information about Desperation and future "HeartWork" projects, visit www.desperationband.com.
Egan, who is also New Life's Youth Worship Pastor, penned most of the songs for Light Up The World including the title track which was inspired by the first youth offering and the songs "Be The Change," "Joy Will Come" and "Burning Tree," which he co-wrote with Hillsong Music's Mia Fieldes. The result is an album of high-energy, passionate new worship songs that convey a deep and defining hunger for God.
The track list for Light Up The World:
1. You Started It All
2. You Hold It All
3. Be The Change
4. Mercy Is Falling
5. God Be Praised
6. Dawn Till Dusk
7. Highest Place
8. Great God
9. Joy Will Come
10. The Morning
11. Light Of The World
12. Solid Rock
13. Holy Ground
14. Angel's Song
15. Rescue
16. I Am Free
17. "HEARTWORK" Video
Originally formed in 2001, the Desperation Band grew out of New Life's Desperation youth movement for local churches. Led by Egan and made up of several committed musicians, the Desperation Band leads worship on a weekly basis at New Life's services, weekly prayer meetings (Revival Town) and youth group meetings (tag), and also ministers at concerts and churches throughout the U.S. The band's songs are sung in churches throughout America and around the world including favorites such as "Rescue," "I Am Free," "My Savior Lives," "Overcome" and more. Many of these songs have been covered by other bands and churches, the most notable being the Newsboys' recording and performing of "I Am Free." The band is deeply involved in New Life's annual Desperation Conferences which draw thousands of high school and college students who are desperate for a deeper walk with God.
The Light Up The World CD (0-00768-46912-5) and digital songbook (0-00768-46910-1) will be available in Christian retail stores through Provident-Integrity Distribution beginning September 15. The CD and digital songbook also will be available through online retailers including Integrity's own www.integritydirect.com and www.worshipkitchen.com.
# # #


[2021]
Jan. | Feb. | March | April | May | June | July | Aug. | Sept. | Oct. | Nov. | Dec.
[2020]
Jan. | Feb. | March | April | May | June | July | Aug. | Sept. | Oct. | Nov. | Dec.
[2001 - 2020]
Visit our complete MUSIC NEWS ARCHIVE