CASTING CROWNS DEBUTS NEW MUSIC COAST TO COAST THIS FALL "UNTIL THE WHOLE WORLD HEARS" TOUR WITH SPECIAL GUEST MATT REDMAN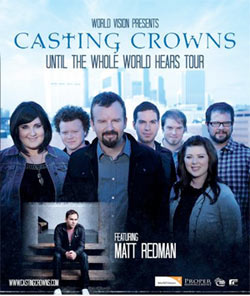 NEWS SOURCE: M.Campbell & Associates
August 20, 2009
Nashville, Tenn. (August 20, 2009) - GRAMMY-winning, multi-platinum artist Casting Crowns will hit 41 cities this fall on its headlining "Until The Whole World Hears Tour," with special guest Matt Redman, debuting new music from coast to coast off upcoming fourth studio release. Tour audiences will be the first to experience multiple new songs from the award-winning band, as highly-anticipated new music from Casting Crowns hits Christian radio airwaves in September. Fans can expect a fresh and powerful God-centered message from lead singer and Pastor Mark Hall, while the band also revisits its blockbuster catalog of crowd favorites like "Who Am I," "Lifesong" and "Praise You in this Storm."
Casting Crowns "Until The Whole World Hears Tour" fall tour launches amid nearly 4.5 million career album sales and bolstered by numerous awards and consistent chart-topping radio success. This fall itinerary follows on the touring heels of Casting Crowns 2008 "The Altar and The Door Tour", which set national attendance records, ranking as the top-grossing Christian music tour of 2007-2008 in Pollstar with 450,000 tickets sold in 83 markets. Highly awarded worship leader, artist and internationally noted songwriter, Matt Redman joins Casting Crowns this fall, with six solo projects and multiple compilation recordings to his credit. "I'm really excited to be teaming up with Casting Crowns for this tour. I've seen the impact their songs have made in so many people's lives - and I hope that by joining our songs, hearts and voices together we'll have some very special nights of worship all over this nation," says Redman. Artists who have covered Matt Redman songs include Michael W. Smith, David Crowder Band, Tim Hughes and SONICFLOOD.
Casting Crowns' message remains rooted in the youth ministry that Mark Hall has led on a weekly basis since 1999. That message carries through in everything, especially the steady, yet rigorous touring schedule the group has maintained since their first record. "As we travel through our journey as Christians, we come to a realization there are lots of people out there who need to hear about Jesus," Mark Hall, lead singer of Casting Crowns explains, "Through our maturity, we begin to see the world as God sees the world and work with purpose to show people Jesus, until the whole world hears." An unwavering pursuit that has inspired Casting Crowns' fourth studio album, Until The Whole World Hears, an offering of encouragement, challenge, hope and truth to a world in need of Jesus. Hall adds, "Our main purpose, above all else, is to know Him more."
About Casting Crowns:
Christian music's GRAMMY, AMA and five-time Dove Award-winning Group of the Year, Casting Crowns is headed by frontman/principal songwriter Mark Hall. The Atlanta-based band served as the featured guest artist at the 2009 National Prayer Breakfast in Washington, D.C., performing for President Obama, Tony Blair and 3,000 dignitaries. Casting Crowns' third studio recording, The Altar and The Door, achieved an historical debut at No. 2 on The Billboard 200 chart with 130,000 first-week copies sold, making it the highest debut in the country that week and the second highest CD seller of any kind in America. The album wrapped 2008 as Billboard's No. 1 "Top Christian Album" of the year, and Casting Crowns was ranked the No.1 "Top Christian Album Artist." The top-selling group has sold more than 4 million records, and delivered eight consecutive No. 1 singles at Christian AC radio.
The seven band members remain active in local student ministry in the Atlanta area. Hall has worked 18 years in student ministry, serving as the Youth Pastor at Eagle's Landing First Baptist Church since 2001.
###
9/17/2009 Santa Ana Star Center Rio Rancho, NM
9/18/2009 Phoenix 1st Assembly of God Phoenix, AZ
9/19/2009 Calvary Community Church Westlake Village, CA
9/20/2009 Bren Center Irvine, CA
9/22/2009 Csub Amphitheater Bakersfield, CA
9/24/2009 Adventure Christian Church Roseville , CA* with Brenton Brown
9/25/2009 Rolling Hills Community Church Tualatin, OR* with Brenton Brown
9/26/2009 Overlake Christian Church Redmond, WA
9/27/2009 Langley Events Center Langley, BC
9/29/2009 Qwest Arena Boise, ID
10/1/2009 Casper Events Center Casper, WY
10/2/2009 Denver First Church of the Nazarene Englewood, CO
10/3/2009 Amarillo Civic Center Arena Amarillo, TX
10/8/2009 Rupp Arena Lexington, KY
10/9/2009 Sommet Center Nashville, TN
10/10/2009 UTC McKenzie Arena Chattanooga, TN
10/15/2009 Bellevue Baptist Church Cordova, TN
10/16/2009 Evangel Cathedral Spartanburg, SC
10/17/2009 Bojangles Coliseum Charlotte, NC
10/18/2009 Macon Coliseum Macon, GA
10/22/2009 Weidner Center Green Bay, WI
10/23/2009 Elmbrook Church Brookfield, WI
10/24/2009 Morris PAC South Bend, IN
10/29/2009 Grove City Church of the Nazarene Grove City, OH
10/30/2009 Akron Baptist Temple Akron, OH
10/31/2009 Lifechangers Int'l Church Hoffman Estates, IL
11/5/2009 RBC Center Raleigh, NC
11/6/2009 Rock Church Virginia Beach, VA
11/7/2009 Hylton Memorial Chapel Woodbridge, VA
11/12/2009 Veterans Memorial Arena Jacksonville, FL * opener TBD
11/13/2009 Bell Shoals Baptist Church Brandon , FL * opener TBD
11/14/2009 Cruzan Amphitheater West Palm Beach, FL
11/15/2009 Germain Arena Estero, FL
11/19/2009 Concrete Street Amphitheater Corpus Christi, TX
11/20/2009 Bell County Expo Center Belton, TX
11/21/2009 Kay Yeager Coliseum Wichita Falls, TX
11/27/2009 USC Aiken Convocation Center Aiken, SC
11/28/2009 Knoxville Civic Coliseum Knoxville, TN
12/3/2009 Mobile Civic Center Mobile, AL
12/4/2009 Alltel Arena North Little Rock, AR
12/5/2009 Mississippi Coliseum Jackson, MS
For more info on Casting Crowns, visit the JFH Artists Database.


[2021]
Jan. | Feb. | March | April | May | June | July | Aug. | Sept. | Oct. | Nov. | Dec.
[2020]
Jan. | Feb. | March | April | May | June | July | Aug. | Sept. | Oct. | Nov. | Dec.
[2001 - 2020]
Visit our complete MUSIC NEWS ARCHIVE