MICHAEL W. SMITH BRINGS HIS "NEW HALLELUJAH WORLD TOUR"
TO THE U.S. WITH ANNOUNCEMENT OF FALL DATES
Special Guests Matt Maher, Phil Stacey and Meredith Andrews
Will Join Smith on U.S. Trek This Fall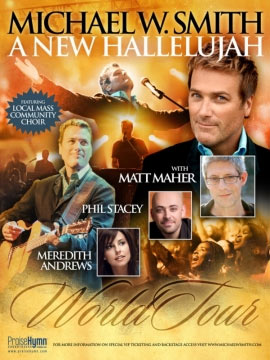 NEWS SOURCE: Provident Label Group
August 26, 2009
NASHVILLE, Tenn. – August 26, 2009 – Following a successful run in 12 European countries over the summer, GRAMMY® award-winning and multi-Platinum selling artist Michael W. Smith will bring his "New Hallelujah World Tour" to the U.S. this fall. Traveling to major markets across the nation in October and November, the tour will feature some very special guests including renowned artist/worshipper Matt Maher, "American Idol" alum Phil Stacey and new artist/worship leader Meredith Andrews.
"The 'New Hallelujah World Tour' has taken us all over the U.S., Canada and Europe," Smith says. "This last leg will bring us back to the States and I'm excited about the artists traveling with me. Matt Maher, Phil Stacey and Meredith Andrews are all artists whose music I really enjoy personally, but they're also artists I respect because they each have something special to share. I'm thrilled to be sharing the stage with them."
Kicking off Oct. 22, in Orlando, Fla., the "New Hallelujah World Tour" will introduce a new element to the U.S. tour dates by adding local voices from the community. Each concert will feature a mass community choir comprised of local vocalists and choir members from multiple churches throughout the surrounding area. The choirs will join Smith as he performs classic fan favorites as well as music from his award-winning album A New Hallelujah (10/28/2008) and A New Hallelujah – The Live Worship DVD (3/17/2009).
The "New Hallelujah World Tour" will be sponsored PraiseHymn.com. A pioneer in the accompaniment track industry, Praise Hymn Tracks was introduced in 1988 and now celebrates two decades of providing music to accompany millions of hymn and contemporary worship singers. The company recently unveiled the new PraiseHymn.com website, a comprehensive source of music and interaction for singers. The site offers Praise Hymn's catalog of nearly 5,000 Christian titles – from out-of-print songs to the latest radio hits – both via download and physical product shipping. It also serves as a multi-faceted interactive experience for vocalists both casual and professional. And, consistent with past tours, this fall segment will also focus on Smith's long-time ministry partner Compassion International (www.compassion.com).
It's been a busy year for Smith, who kicked off 2009 co-headlining the highly-successful "United Tour" with friend and fellow artist Steven Curtis Chapman. In April, Smith's A New Hallelujah album won the Gospel Music Association's Dove Award for Praise & Worship Album of the Year and Inspirational Song of the Year (title track). The summer brought the European leg of the "New Hallelujah World Tour," and Smith has since been performing at a number of high-profile events across the country. Most recently he has been a featured performer at all eight of Sean Hannity's "2009 Freedom Concerts," which have also featured Billy Ray Cyrus, Charlie Daniels, Lee Greenwood and Oliver North.
Matt Maher joins the tour each night as musical host of the concert's first half, and in support of his brand new sophomore release Alive Again (Sept. 22), on Essential Records. The 12-song album, produced by Christopher Stevens (Delirious, tobyMac) and Paul Moak (Mat Kearney, CompassionArt), features Maher's addictive organic-pop sound. Audiences will know him best for his breakout composition "Your Grace Is Enough," which has become a worship standard in Sunday morning church services worldwide.
Billboard magazine hailed Meredith Andrews as one of 2008's "Faces to Watch," when she released her debut worship project, The Invitation, on Word Records last year. The album featured the hit single "You're Not Alone," which vaulted to No. 1 on R&R's Inspirational Chart and became a Top 5 hit on the Christian AC Chart. The album also garnered two 2009 Gospel Music Association Dove Awards for Worship Song of the Year and Praise & Worship Album of the Year. Andrews is sure to wow audiences with her soaring vocals as she performs some of the self-penned selections from her debut release.
"American Idol" Season 6 Top 5 finalist Phil Stacey recently finished recording his new 11-track album Into the Light (Aug. 25), which showcases his acclaimed power vocals and songwriting chops. Produced by Brown Bannister (Amy Grant, Mandisa, Steven Curtis Chapman), Into the Light artfully taps Stacey's longtime love for the church and is his first modern pop offering on Reunion Records.
About Michael W. Smith:
Throughout his 25-year career as a recording artist, Michael W. Smith has amassed an impressive catalog of achievements. His 21 albums have garnered multiple honors including an American Music Award, three GRAMMY ® Awards (from 13 nominations), 44 GMA Dove Awards and 33 No. 1 radio hits. In addition, he holds 16 Gold and five platinum albums for career sales approaching 15 million.
Smith, who was recently inducted into the Gospel Music Hall of Fame, has scored several film projects, written 11 books and has been featured by media outlets including, NBC's Today Show, Good Morning America, NBC Nightly News, Larry King Live, FOX and Friends, Hannity and Colmes, USA Today, NY Times, The Washington Post, LA Times, Newsweek, has been named one of People Magazine's "Most Beautiful People" and has presented multiple times on the GRAMMY Awards show. His tours consistently rank among the best attended in the country, and he has performed to capacity crowds throughout the world.
Constantly giving back to the community, one of Smith's current projects is Rocketown--a nightclub for teens in his hometown of Nashville, Tenn.--which serves as safe place for young people to enjoy music and for artists to be discovered. He and wife Debbie Smith are the proud parents of five children. For up-to-date information on Michael W. Smith, please visit www.michaelwsmith.com.
About Matt Maher:
Matt Maher – artist/worshipper, worship leader, songwriter, singer and recording artist – has taken his calling as a "musical missionary" to create a substantial impact on a national and global stage. As an award-winning songwriter, Maher gained notice as the writer of the internationally renowned modern-worship song, "Your Grace Is Enough." Highly sought after for his poignant yet poetic writing style, Maher has recently had songs recorded by such artists as Chris Tomlin; Bethany Dillon; Phillips, Craig & Dean; Brenton Brown and others. In addition, Maher's songs have appeared in the top 15 ranked songs on the CCLI chart, marking their popularity in church worship-services around the world.
Amid busy touring and writing schedules, Maher finds it important to serve alongside ministries including Life Teen, Adore Ministries, and Catholic Relief Services while still playing an active role with Oregon Catholic Press' spiritandsong.com. Further, he serves as a regular host for Worship Together's "Newsong Café." Maher, recently honored with a Praise Award as Worship Leader's Breakout Artist of 2008, has been featured on the covers of Breakaway and Christian Single, performed live on "FOX & Friends," written for Billboard Magazine and is an active, bylined contributor to OnFaith.com (www.newsweek.washingtonpost.com/onfaith), an interactive conversation on religion.
Maher's 12-song Alive Again, with its title track gaining momentum at Christian radio, releases on Sept. 22. For more information on Matt Maher, please visit www.mattmahermusic.com.
About Meredith Andrews:
As worship leader at Chicago's 12,000-member Harvest Bible Church, Meredith Andrews has already performed in front of tens of thousands across the country. She has shared the stage with well-known artists such as Jeremy Camp, Natalie Grant, Building 429, Brandon Heath and Aaron Shust. While she counts worship artists such as Darlene Zschech, Rita Springer, Christy Nockels and Nicole Nordeman as major influences, Andrews was nominated herself for Worship Leader Magazine's "2008 Breakout Artist of the Year." Her debut project for Word Records, The Invitation, released in 2008 and grabbed the attention of Billboard magazine, which called Andrews one of 2008's "Faces to Watch." The Invitation also garnered two Gospel Music Association Dove Award nominations and produced the No. 1 single "You're Not Alone," as well as Top 10 hits "New Song We Sing" and "You Invite Me In."
Andrews is a partner and spokesperson for Hopegivers International (www.hopegivers.org). For more information about Meredith Andrews, visit www.meredithandrews.com.
About Phil Stacey:
Following Phil Stacey's stint on American Idol, he toured with his fellow contestants over the summer on the 55-city American Idol Tour. He has been featured on Oprah, Live with Regis & Kelly, The Tonight Show, Ellen, The Today Show, Larry King Live and Nickelodeon's MeTV.
In 2003, Stacey enlisted in the United States Navy where he served as a Musician Third Class at Navy Band Southeast in Jacksonville, Florida. He recently completed his 4-year commitment to the U.S. Navy and is still in the Navy Reserves. Born in Harlan, KY and raised in Ohio and Kansas, Phil currently lives in Nashville with his wife Kendra and two daughters, McKayla and Chloe.
For more information about Phil Stacey, please visit: www.philstacey.com.
# # #
"A NEW HALLELUJAH WORLD TOUR" Fall 2009
*Dates, markets and venues subject to change without notice.

OCTOBER
10/22 Orlando, FL First Baptist Church
10/23 Greenville, SC Bi-LO Center
10/24 Winston Salem, NC Joel Coliseum Theatre
10/29 Salisbury, MD Wicomico Civic Center
10/30 Lynchburg, VA Thomas Road Baptist Church
10/31 Reading, PA Sovereign Performing Arts Center

NOVEMBER
11/1 Lowell, MA Lowell Memorial Auditorium
11/5 Sioux Falls, SD Sioux Falls Arena
11/6 Bloomington, IL US Cellular Coliseum
11/7 Dekalb, IL Convocation Center
11/12 San Antonio, TX Summit Christian Center
11/13 Amarillo, TX Trinity Fellowship Worship Center
11/14 Bossier City, LA First Baptist Church
11/15 Wichita, KS Central Community Church
11/19 Johnstown, PA War Memorial Arena
11/20 Akron, OH Akron Baptist Temple
11/21 Albany, NY Washington Avenue Armory
###
For more info on Michael W. Smith, visit the JFH Artists Database.
For more info on Matt Maher, visit the JFH Artists Database.
For more info on Phil Stacey, visit the JFH Artists Database.
For more info on Meredith Andrews, visit the JFH Artists Database.


[2021]
Jan. | Feb. | March | April | May | June | July | Aug. | Sept. | Oct. | Nov. | Dec.
[2020]
Jan. | Feb. | March | April | May | June | July | Aug. | Sept. | Oct. | Nov. | Dec.
[2001 - 2020]
Visit our complete MUSIC NEWS ARCHIVE