WORD ENTERTAINMENT ANNOUNCES PARTNERSHIP WITH UNIVERSAL STUDIO'S ROCK THE UNIVERSE
Word To Implement Extensive Marketing Promotion in Support of "Sunday Bonus Concerts"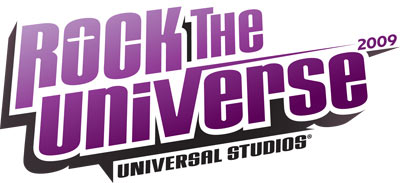 NEWS SOURCE: Word Entertainment
September 8, 2009
(Nashville, Tenn.) Sept. 8, 2009--Word Entertainment announces a partnership with the No. 1 movie and television-based theme park in the world, Universal Studios, via its "Rock the Universe Sunday Bonus Concerts" event, to be held Sunday, Sept. 13 at Universal Studios Florida. In promotion of the event, Word has implemented a comprehensive consumer campaign to both raise awareness of and provide attendees with the ultimate concert experience.
Featuring an all-star line-up of Word Label Group artists including BarlowGirl, Group 1 Crew, Sidewalk Prophets & pureNRG, the "Rock the Universe Sunday Bonus Concerts" series marks the first time that Universal Studios has extended its annual Rock the Universe music festival to a three-day event. Hosting the Music Plaza Stage on Sunday, Sept. 13 from 1:00 pm -6:00 pm, Word Entertainment will additionally use the opportunity to celebrate BarlowGirl's forthcoming Sept. 8 project, Love & War, with a CD release concert for fans.
To promote the concerts, Word Entertainment will be advertising through direct mail, the Internet, at artist shows, and will team up with regional Chick-Fil-A restaurants for artist visits to eight Orlando locations. Furthermore, Word partnered with WAY-FM for an on-air Fly-Away promotion, offering two lucky fans and all-expense-paid trip to the event. Additional information on the "Sunday Bonus Concerts" and VIP tickets are available for purchase at any of the following artist web sites: Barlowgirl.com, group1crew.com, Sidewalkprophets.com and Purenrgonline.com.
"Rock the Universe is among the most highly visible platforms for Christian music today, and we are grateful to them for selecting Word artists to headline the festival's first-ever additional day of concerts," says Leigh Holt, vice president of branding and merchandising for Word Entertainment. "We are also excited to offer our fans an exclusive once-in-a-lifetime artist experience through our VIP packages and appreciate all efforts on behalf of Chick-Fil-A and Way FM to help us publicize the promotion and event."
For more information on Rock the Universe and the "Sunday Bonus Concerts," visit: www.rocktheuniverse.com
Word Entertainment, a Warner/Curb company, is comprised of Word Distribution, Word Music and Word Label Group's Word Records, Fervent Records, Myrrh Records, Canaan Records and Word Music Publishing. Leading the industry with over 50 years of music making history, Word Entertainment represents some of Christian entertainment's top brands, including award-winning artists Diamond Rio, Point Of Grace, BarlowGirl, Mark Schultz, Randy Travis, Selah, Natalie Grant, Aaron Shust, Big Daddy Weave and Francesca Battistelli, in addition to Big Idea's successful VeggieTales video series.
###


[2020]
Jan. | Feb. | March | April | May | June | July | Aug. | Sept. | Oct. | Nov. | Dec.
[2019]
Jan. | Feb. | March | April | May | June | July | Aug. | Sept. | Oct. | Nov. | Dec.
[2001 - 2018]
Visit our complete MUSIC NEWS ARCHIVE