SKILLET MUSIC AND VIDEOS GAIN SUPPORT FROM FUSE, AOL NOISECREEP, YAHOO! MUSIC, THE NFL ON NBC AND MORE
Band Launches New Website at www.SKILLET.com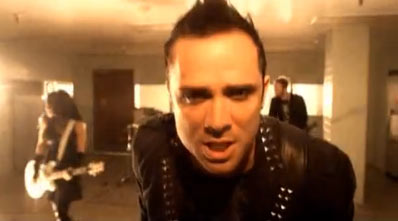 NEWS SOURCE: The M Collective
September 10, 2009
*With sales approaching 100k after just 2 weeks of their latest release, AWAKE (Atlantic/Ardent/INO), SKILLET is getting some major exposure with their singles and music videos for both "Monster" and "Hero:"
**The music video for "Monster," which is the #1 best selling rock music video on i-Tunes®, and was just added to FUSE TV's rotation, premiered on AOL's NOISECREEP ( http://www.noisecreep.com/) and MSN Music last week, as well as Hearitfirst.com on 9/9.
** The music video for their #1 Christian rock single, "HERO," will premiere on Yahoo!Music tomorrow, 9/10. To view, go to http://new.music.yahoo.com/
** In addition, the "HERO" video will have it's Tangle.com premiere on 9/14, it's broadcast TV-U premiere on 9/24, and begin rotation on the Gospel Music Channel in October.
** The radio single for "Monster" is climbing the mainstream Active Rock charts (currently #21 this week), while "Hero" holds strong at #2 on Christian CHR, after landing a #1 at Christian Rock.
*On top of the video use, the NFL and ACC are both using "Hero" and "Monster":
** Along with NBC's use of "Hero" for their promotional campaign heralding the new season of NBC Sunday Night Football, the network has also begun using the song for the NFL's Weekend Kickoff Promos for Thursday night's game between the 2009 Superbowl Champs The Pittsburgh Steelers and The Tennessee Titans.
**SKILLET's video performance of "Monster" will open as the official theme song each week during the upcoming Raycom Sports broadcasts of the ACC College Football season, starting this weekend in the Wakeforest/Stanford game. The video will open each game throughout the fall and be broadcast in over 40 major ACC markets including Atlanta, Boston, Baltimore, Miami, and Washington D.C.. Skillet joins a star-studded list of performers featured in Raycom football and basketball telecasts over the years, including Rascal Flatts, Brooks & Dunn, Daughtry, Sugarland, Alison Krauss, Chris Brown, Lil' Mama, T-Pain and Ricky Skaggs..
**Lastly, the band launched their brand new website at midnight last night. Check it out and for up-to-the-minute news and information, visit www.skillet.com.
###