NEWSONG LAUNCHES 'GIVE YOURSELF AWAY TOUR'
Featuring Special Guests Bluetree and Chynna & Vaughan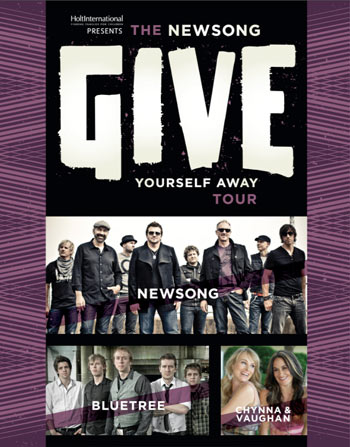 NEWS SOURCE: Turning Point PR
September 18, 2009
NASHVILLE, Tenn.—GRAMMY™ Award-nominated and Dove Award-winning artist NewSong will launch its 2009 Fall "Give Yourself Away Tour" tonight in Chesapeake, Virginia. The 21-city run will lead up to the release of the modern pop act's much-anticipated new album, Give Yourself Away, later this fall. The "Give Yourself Away Tour" follows the 2009 "Winter Jam Tour Spectacular," hosted by NewSong, ranked among the Top 5 largest tours of the year's first quarter according to Pollstar.
The "Give Yourself Away Tour" will welcome special guests Bluetree, Christian music's new artist breakout of 2009, and Chynna & Vaughan, the new faith-fueled duo comprised of Chynna Phillips (one third of the pop supergroup Wilson Phillips) and national indie music favorite Vaughan Penn.
"As if performing our new songs live wasn't enough to look forward to, we get to share the stage with Christian music's most popular new artist and introduce our fans to the next big thing at the same time," said NewSong lead vocalist Russ Lee. "That's pretty incredible."
While special guests Bluetree will be performing in support of their hit album, God Of This City, Chynna & Vaughan will be gearing up to release their Reunion Records debut, One Reason, on September 22. Produced by Vaughan Penn, One Reason conveys themes of redemption, forgiveness, and hope with a musical canvas of authentic, organic, and honest instrumentations and harmony-rich arrangements. Bluetree's God Of This City, meanwhile, spent four consecutive weeks on top of SoundScan's Christian album sales chart before the band had even toured in the United States or Canada. Along the way, the Belfast, Northern Ireland-based modern worship act has seen the album's title track become an anthem sung in churches worldwide.
Holt International, the world's leader in child adoption and relocation services, will sponsor the Tour. Since 1956, Holt International has placed over 40,000 orphaned and abandoned children with adoptive families in the United States. Each year Holt also reaches out to thousands of vulnerable children through programs that improve children's health and that help at-risk families to provide a stable, nurturing home.
About NewSong:
NewSong has had 20 #1 radio hits, eight Dove Award nominations, numerous songwriting awards, and five of the Top 100 Christian radio singles of the past decade, including "Arise, My Love," "Miracles," "Jesus To The World (Roaring Lambs)," and the #1 mainstream AC hit "The Christmas Shoes." In 1994, NewSong launched the first-of-its-kind "Winter Jam Tour Spectacular" (www.jamtour.com) concert series--multi-artist, ticket-less concerts that give thousands the opportunity not only to hear incredible music but to also hear the Gospel message. More than 335,000 fans attended the 35 dates of the 2009 "Winter Jam Tour Spectacular" which ranked among the Top 5 largest tours of the year's first quarter according to Pollstar. www.NewSongOnline.com.
About Bluetree:
Even as Bluetree's debut album was being released in March, God Of This City's title track was becoming an anthem sung around the world. Written by Bluetree during a mission trip to Pattaya, Thailand, "God Of This City" became a message of hope for the people of Pattaya and is now heard in churches internationally, with the Willow Creek Association recently concluding its worship pastor seminar with the song. Also recorded by Chris Tomlin (and the title and theme for the latest Passion project and world tour), the song has been performed by current "American Idol"-winner Kris Allen, and has become a multi-format hit at Christian radio. Bluetree brought its energetic concerts to major Canadian cities and U.S. festivals for the first time this summer. www.GivMusic.com/Bluetree.
About Chynna & Vaughan:
The duo of Chynna & Vaughan is the result of a divine collaboration between two artists with diverse musical backgrounds but shared journeys of faith. Chynna Phillips achieved vast international fame and recognition as a member of the pop sensation, Wilson Phillips. With massive radio hits such as "Hold On," "Release Me," "You're In Love," and "Impulsive," Wilson Phillips sold more than 10 million copies worldwide. Vaughan Penn earned credibility in the national independent music scene by receiving such accolades as "Top 40 Breakthrough Artist of the Year" (New Music Weekly Awards 2007). Her songs have been prominently featured in more than 100 films and television programs including "Grey's Anatomy," "Criminal Minds" and "Numb3rs," among many others. She also toured with such renowned artists as Huey Lewis and The News and Emmylou Harris, among others. www.ChynnaAndVaughan.com.
2009 Fall "Give Yourself Away Tour":
9/18 Chesapeake, VA (Western Branch Community Church)
9/19 Beckley, WV (First Baptist Church / without Bluetree)
9/25 Charlotte, NC (Hickory Grove Baptist Church)
9/26 Moultrie, GA (Heritage Church)
9/27 North Port, FL (South Biscayne Church)
10/2 Marion, IN (IWU Performing Arts Center)
10/3 Manchester, KY (Ramsey Ball Park)
10/4 Saraland, AL (First Baptist North Mobile)
10/10 Madill, OK (Madill Church of the Nazarene)
10/11 Nevada, MO (First Baptist Church)
10/23 Saint Cloud. FL (First Baptist Church Saint Cloud)
10/24 Jacksonville, FL (TBD)
10/25 Woodstock, GA (First Baptist Woodstock)
10/30 Murfreesboro, TN (New Vision Baptist Church)
10/31 Elizabethtown, NC (Elizabethtown Middle School)
11/7 Decatur, IL (First Church of the Nazarene)
11/8 Forsyth, MO (First Baptist Church Forsyth)
11/12 Chattanooga, TN (Tennessee Temple University)
11/13 Anderson, SC (Anderson Christian School)
11/14 Columbus, GA (Columbus State University Hall)
11/15 Corinth, MS (Crossroads Arena)
For ticket information and tour updates, visit www.NewSongOnline.com.
For more info on Newsong, visit the JFH Artists Database.


[2020]
Jan. | Feb. | March | April | May | June | July | Aug. | Sept. | Oct. | Nov. | Dec.
[2019]
Jan. | Feb. | March | April | May | June | July | Aug. | Sept. | Oct. | Nov. | Dec.
[2001 - 2018]
Visit our complete MUSIC NEWS ARCHIVE