Me In Motion, Signs With Centricity Music And Set To Embark On Newsboys The Way We Roll Tour This Fall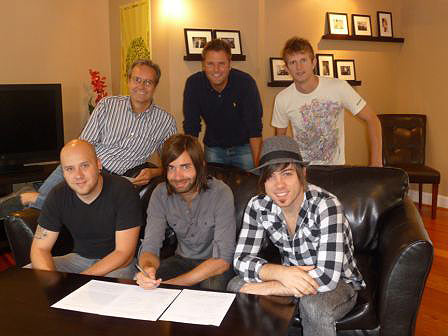 NEWS SOURCE: Bozeman Media
September 22, 2009
Nashville, TN (September 22, 2009) ---- The year 2009 is going to be a life changing time for the band, Me In Motion. The group has signed with Centricity Music and will embark on the Newsboys The Way We Roll Tour October 1st.
"We are so excited to add Me In Motion to the Centricity family," says Conor Farley, Vice President, Centricity Music Publishing. "This is the band we have been looking for as a label since they bring faithful hearts, great songs and a rock'n roll live show that leaves you energized and encouraged. Their vision for ministry is deep but reachable, which gives them a great ability to connect with their fans. Me In Motion consistently amazes me."
Me In Motion's debut project will release to CBA retail in spring 2010 and the good news for fans is that the band will be selling early copies of the new CD at all Newsboys concert dates and digitally online. The first single from the new album, "Losers," has been serviced to CHR radio with an add date of October 16th.
Me In Motion, which is comprised of Seth Mosley (lead vocals/guitar), Tim Wilson (bass/background vocals) and Brian Dexter (drums/background vocals), was formed by Mosley after working two years in a recording studio following high school graduation. After realizing he didn't want to "sit in one place all the time," was when he brought Wilson and Dexter on board to begin the musical journey as Me In Motion. The talent of the group immediately brought them attention which led to 140 tour dates in 2008 and Me In Motion will surpass this number of dates in 2009. But more than playing Brit-influenced rock, it's the message that Me In Motion wants to impact with their audiences.
"We want to inspire people to realize that there is something to be done here and now," says Mosley. "We want to encourage people to be movers and shakers for Christ."
The Christian music industry got to experience the dynamic performance of Me In Motion when they made their debut GMA appearance at Centricity Music's showcase in April. The group received a rousing response from the industry VIPS and there were even standing ovations.
For more information on Me In Motion please visit, www.myspace.com/meinmotion or www.centricitymusic.com.
Photo ID: (left to right back row): John Mays, Vice President of A&R, Centricity Music; Conor Farley, Vice President, Centricity Music Publishing; Chris Hamilton, Manager of A&R, Centricity Music
(left to right front row): Brian Dexter, Tim Wilson, Seth Mosley, Me In Motion
Centricity Music is an independent recording and publishing company based in Bellevue, Washington and Nashville, Tennessee. The company's mission is to nurture the gifts and expand the influence of Christian artists around the world. Centricity Music's artist roster includes Jaime Jamgochian, Downhere, Jason Gray, Daniel Kirkley, Lanae' Hale, Andrew Peterson, High Valley, Matt Papa, Sixteen Cities and Me In Motion.
For more info on Me In Motion, visit the JFH Artists Database.


[2020]
Jan. | Feb. | March | April | May | June | July | Aug. | Sept. | Oct. | Nov. | Dec.
[2019]
Jan. | Feb. | March | April | May | June | July | Aug. | Sept. | Oct. | Nov. | Dec.
[2001 - 2018]
Visit our complete MUSIC NEWS ARCHIVE