MR. TALKBOX HITS AIRWAVES TO RAVE REVIEWS
Byron "Mr. Talkbox" Chambers Releases "Ground Zero," The First Single From His Upcoming Album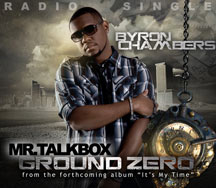 NEWS SOURCE: Springboard Entertainment
November 4, 2009
Nashville, TN (November 4, 2009) – Gearing up for the release of his new album early next year, Byron Chambers, better known as "Mr. Talkbox," is pleased to debut the first single, "Ground Zero," currently playing on radio stations across the country and available for purchase on iTunes.
"I am overwhelmed by the response to my new single 'Ground Zero,'" says Chambers. "Being outside the norm is sometimes scary, but the positive reaction shows that people in this day and age are looking for something different and unique! I'm up for the challenge! Just like the people today, I want something different as well! I AM STOKED!"
Receiving a "Most Added" accolade on the BDS Radio CHR Charts this week, the single has been well received by radio.
"Finally, the missing link for CHR radio! A perfect marriage of cool, trend beats and in-your-face lyrics. A must for radio stations who target today's young adults," says Traci Lee, program director at WHJT in Jackson, MS.
"Ground Zero" flew to the #1 spot on the "Top 5 at 5" on KJTH, The House FM, in Oklahoma. Station program director, Tony Weir says, "This song has a fresh sound that takes the excitement level on The House FM up on the roof! Talkbox is 'fabulous!'"
Jonathan Michaels from WJLZ in Virginia Beach, VA adds, "This song has such an amazing beat that I know our listeners will be cruising around town with this cranking out of their speakers. If you are having one of 'those days' this song will certainly lift you up, put a smile on your face and a dance in your step."
Chambers explains the story behind the song. "One of my producers and a long time friend, Andy Anderson (Group 1 Crew, Martha Munizzi) presented this song idea to me. It talks about God being everything and we being nothing without Him. And, He's the one who makes us who we are! FABULOUS!"
Beginning his career singing and performing in a gospel group with his father, Byron Chambers soon caught the attention of key industry gatekeepers and garnered a spot playing keys and touring with *NSYNC. From there, he has had the opportunity to play with Britney Spears, Gloria Estefan and Jordan Knight, to name a few. Other highlights from Chambers' bright career include: doing a guest appearance on O-Town's "All For Love," arranging songs for and touring with American Idol Finalist, Danny Gokey, writing and arranging Group 1 Crew's #4 Billboard-charting song, "Movin'," co-writing and performing on TobyMac's gold-selling, GRAMMY nominated album Diverse City and doing a guest appearance on the gold-selling album, Portable Sounds, which garnered a Dove award, and a guest appearance on Martha Munizzi's smash-hit song "Jesus Is The Best Thing," which he also co-wrote. Additionally, Chambers has released two solo albums to the gospel market.
Byron Chambers is set to take the world by storm with his "Mr. Talkbox" album early next year. "Ground Zero" can be purchased online through iTunes.
For more information about Byron "Mr. Talkbox" Chambers and for up to the minute news on the forthcoming album, please visit www.mrtalkbox.com and follow him on Twitter at www.twitter.com/MrTalkbox.
# # #


[2021]
Jan. | Feb. | March | April | May | June | July | Aug. | Sept. | Oct. | Nov. | Dec.
[2020]
Jan. | Feb. | March | April | May | June | July | Aug. | Sept. | Oct. | Nov. | Dec.
[2001 - 2020]
Visit our complete MUSIC NEWS ARCHIVE