TOBYMAC'S TONIGHT CAUSES CHATTER
FROM CRITICS ACROSS THE BOARD
RACES TO NO. 2 ON iTUNES® AS OVER 1000 FANS FLOCK TO HOUSTON INSTORE THIS MORNING

"GET BACK UP" SECOND SINGLE GOES TO RADIO MARCH 5
NEWS SOURCE: The M Collective
February 10, 2010
*Forefront Record's multi-platinum, five-time GRAMMY® Award winner and 2010 nominee TobyMac has just released his fourth studio album, TONIGHT, which has already raced to No. 2 on iTunes® overall sales chart.
*Just like its three predecessors TONIGHT is drawing the attention of music fans everywhere, with over 1000 people flocking to a local Lifeway Bookstore in Houston to meet the singer/songwriter this morning following a visit to KSBJ radio this morning.
*TONIGHT is also causing chatter from critics across the board including Billboard, Christianity Today, USA Today, The Washington Post and more:
"This five-time Grammy winner always delivers sonically inventive and lyrically substantive music that appeals to a wide fan base. TobyMac never fails to make music that stimulates the mind, nourishes the soul and makes you want to dance—all at the same time."-Billboard Magazine
"From his days with dc Talk, TobyMac has used his music to proclaim a message of diversity to the entirely too segregated world of Christian music. On his fourth solo album, he lets his music do the talking, as guests ranging from Israel Houghton to Skillet's John Cooper and Relient K's Matt Thiessen join him as he careens from R&B-infused rock to reggae to Auto-Tuned pop." -USA Today
"TobyMac is a gifted melodicist -- there may be no contemporary Christian rocker better at writing hooks."-Washington Post
"The 13 tracks have much in common with previous records Momentum, Welcome to Diverse City, and Portable Sounds—they are designed to be performed live, boast universal appeal, and cleverly mesh hip-hop, rock, reggae, and funk—but a fresh sense of urgency pervades Tonight. there's no argument that Tonight is fastidiously created and executed."-ChristianityToday.com
"Famed contemporary Christian artist continues to experiment with blending hip-hop, rock, pop and urban elements on his fourth solo outing."- Dallas Morning News
" Tonight stands as a declaration of refusal to settle ever, both in life and career. Just when you thought he couldn't take music any farther, you look up, and he's miles ahead of the pack once again."-Underthegunreviews.net
"The first 'must have' album of 2010."-NewReleaseTuesday.com
"The astounding producing talents of Toby shine through like always, and his fourth album as a solo act should still be a widespread favorite by the year's end. All I can say is, TobyMac's still got it, and it's good to have him back and in good form as we've always known him."-Jesusfreakhideout.com
"If you're already a TobyMac fan, your allegiance to his music will be further solidified after one listen to this new album. If you're new to TobyMac's music, hang on. You're in for a real treat. Tonight is going to make your day!"- Gospelmusicupdate.com
"Mac skillfully combines that veteran experience with youthful enthusiasm, channeled once again through his remarkably consistent rap/hip-hop/alternative rock aura, but with some extra juice and more attitude than ever before."-CCM Magazine
* In follow-up to the No. 1 Billboard single "City On Our Knees," the fastest charting and selling track in TobyMac's career that hit No.1 on Christian AC Monitored and CHR, "Get Back Up" will be the second single released from the new record. The track goes for ads at AC and CHR on March 5.
*Recently the multiplatinum-selling artist caught up with KLOVE, Air 1 and Christianity Today's Mark Moring (http://www.christianitytoday.com/ct/music/interviews/2010/tobymckeehan-feb10.html) among others. In addition, TobyMac will be prominently featured in upcoming issue of Billboard, YouthWalk magazine, ChristianMusicReview.org, NewReleaseTuesday.com as well as the covers of Christian Musician and On Course magazines hitting stands this summer.
*KLOVE.com is hosting the exclusive music video premiere of TONIGHT for this week only, while Yahoo! Music will debut the "ShowStopper" music video as well as featuring the Then & Now video. Tune in now to hearitfirst.com to catch exclusive interviews with TobyMac and an eye-catching skin of TONIGHT on tangle.com
*TobyMac recently took a trip to Los Angeles, CA for the 52nd Annual GRAMMY® Awards, in which he was nominated for Best Gospel Song for "City On Our Knees," his debut single from TONIGHT that also topped Billboard's singles chart. As he walked the red carpet he saw some friends along the way: American Idol finalists Mandisa and Matt Giraud. (PHOTOS ATTACHED).
*TobyMac is preparing to embark on the AWAKE TONIGHT tour co-headlining with popular rockers Skillet. The tour kicks off March 4 in Aurora, IL, and tickets are in hot demand for its 20+ tour markets. For more information on the AWAKE TONIGHT tour and for the latest news and information on TobyMac please go to www.tobymac.com.
###
With all three of TobyMac's solo projects receiving GRAMMY® nominations, and his live CD/DVD taking home a GRAMMY® award, the much-celebrated and acclaimed artist is now celebrating his fifth consecutive GRAMMY® nomination with his new single, "City On Our Knees" receiving a nod for Best Gospel song. The track will be included on TobyMac's February 9th release, "TONIGHT," and has topped the sales and radio charts faster than any of his previous singles, spending 8 weeks at #1 on the Christian Audience Chart.
Each of TobyMac's studio releases, "Momentum" (2001),"Welcome to Diverse City" (2004), and "Portable Sounds (2007)," were awarded RIAA Gold Certification, with "Portable Sounds" making his highest solo debut ever on the Billboard Top 200 chart (No. 10), and hitting No. 1 on SoundScan's Contemporary Christian Overall chart in its first week with over 50k in sales. Along with sold out tour dates, back-to-back radio hits, being named the GMA Dove Award's 2008 Artist of the Year, and R&R's Christian CHR Artist of the Year in 2007, TobyMac was nominated for a 2007 American Music Award as Favorite Inspirational Artist. His song "Ignition" was also chosen to play during the 2009 Superbowl as The Arizona Cardinals entered the stadium in Tampa, FL. For more information on TobyMac, go to: http://www.tobymac.com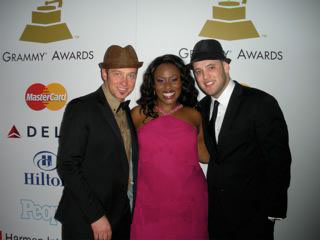 Toby alongside American Idol Finalists Mandisa and Matt Giraud (photo credit: The Media Collective)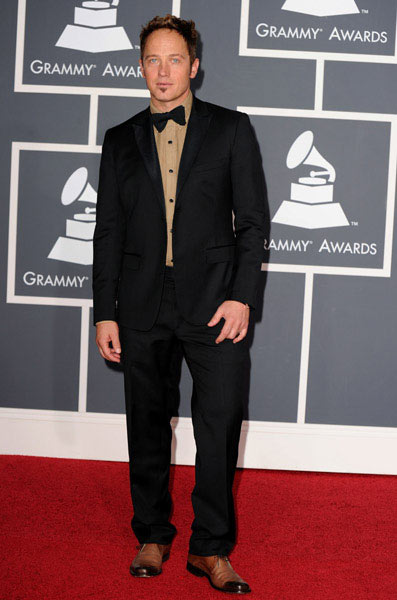 Toby arriving at the 52nd Annual GRAMMY ® Awards (photo credit: Wire Image)
For more info on TobyMac, visit the JFH Artists Database.


[2022]
Jan. | Feb. | March | April | May | June | July | Aug. | Sept. | Oct. | Nov. | Dec.
[2021]
Jan. | Feb. | March | April | May | June | July | Aug. | Sept. | Oct. | Nov. | Dec.
[2001 - 2021]
Visit our complete MUSIC NEWS ARCHIVE